Dear Writer,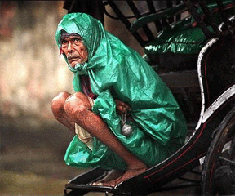 So you have logged on to your favorite site and then taken the cursor to the 'Writers Workshop'. One click of the mouse and you are gazing at my photograph. And what do you see: an old man, gaunt, wet and sad looking, huddled in a rickshaw.

You have accepted the challenge to write an essay or a story based on the photograph. Your gray cells start ticking away and you reach for the pen or the keyboard.

A rickshaw puller strikes a chord in most intellectuals. He has been used as a symbol of suffering, a metaphor for misery by many. Remember Balraj Sahni in 'Do Beegha Zameen' and Om Puri in the 'City of Joy'!

Your mind is also now moving in the same direction.

'How should I begin? What should I call him? Hariram? No, doesn't sound right. Mohammed Hussain? Wait, I should give him a name that is ethnic, different and one that immediately strikes a chord. But first I have to decide in which city or state I should place him.... and so and on....You start working on the plot, the characters, the minutiae of details and then the final denouement. You are more or less convinced that the saga should speak about abject poverty, untold suffering, exploitation, frustration and all the other nouns which would make for a heart rending story or a script for an art film.
Dear Writer,

"It may also happen that you struggle with a story idea and after heading nowhere decide to write a poem - a 'free verse'. In that case your poem might read something like this:

A shroud of poverty

A cloak of misery

Trapped

In the Chakravyuha Of Expectation

Exploitation And Ennui.

The modern Bheeshma Fighting

A never Ending Kurukshetra Within himself.

I am sure your story or your poem will move many hearts, win appreciation and also probably a prize. But let me tell you dear writer you will be completely off the mark as far as your understanding of my personality and predicament is concerned.

I am not a rickshaw puller. Poor, unhappy, struggling et al, none of these words apply to me. My name is Abhay Mishra. I am a retired school teacher leading a contented life with my son and his family. I am a writer. I write short stories in my mother tongue Oriya.

Last month Deepak Jena the producer of 'Anveshan' - a serial based on Oriya short stories came to me. He wanted to make an episode based on my story Mukti. The protagonist of the story is a rickshaw puller called Bullu Patra.

Deepak and I went around looking for someone to play the part of Bullu. We tried a couple of seasoned actors, some new ones and also a few rickshaw pullers. But somehow no one could do justice to the role.

Now, when I was young I used to do a little bit of acting. On an impulse I told Deepak, "Let me try. I might just be able to pull it off."

Deepak looked at me thoughtfully. I am tall and lean. Though I eat like a horse I, surprisingly, never put on weight. I am quite strong and fit but my face is gaunt. I have the 'lean and hungry look' made so famous by Shakespeare's classic character Cassius.

Deepak nodded and I started making preparations to get into the character of Bullu Patra. A couple of days' stubble and a suitable set of clothes borrowed from Mangal, my grandson Somu's rickshaw puller, and I was quite ready to play Bullu.

The entire episode was finished in three days. And do you know what Somu told me, "Grandpa you act better than Anupam Kher." That was the best compliment I ever received!

Well, on the last day I was sitting in the rickshaw preparing for the shot when suddenly it started pouring. I grabbed Mangal's raincoat and put it on. Deepak had an idea and he asked the cameraman to start shooting. Believe me this turned out to be the most poignant shot of the entire episode.

Just then my son Babuli took out his camera and clicked one for posterity. That photograph reached Boloji and the rest, as they say, is history.

So, Dear Writer, don't agonize about my plight and write reams and reams filled with sympathy or empathy.

One last word, don't forget to see the episode Mukti which will be telecast on 3rd January at 8 p.m. on Orissa Doordarshan. And if you like my acting do drop me a line.


With best wishes,
Abhay Mishra."