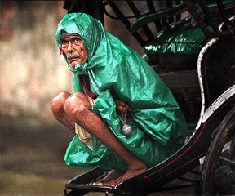 It has been a long monsoon this year in Calcutta. For days at a stretch, it rained and kept on raining without halting for even a minute. Business has been real bad for Bansi during these past few days. There're hardly any people on the road. No one ventured out of their homes in this driving rain except under duress.

Bansi has lived all his life in Calcutta. Ever since he has been a small boy, he earned his own living by pulling rickshaw. He has spent nearly half a century carrying people's weight with him. Now he feels his old bones need rest. Is that in the offing? Sadly, he doesn't think so.

He had pinned a lot of hope and aspiration on his only son. He worked very hard in order to send his son to a reasonably good school. He tried his outmost to ensure that his son received a proper education, something he was denied for whatever reasons during his childhood. So he toiled day and night to make ends meet for his family and his son's increasing medical expenses.

"Bansi Bhai, why are you getting wet in this rain? why don't you go home today?," Nirmalbabu shouted from his medicine shop.

"Nirmalbabu, I'm quite okay. I'll go home after a while."

Why Bansi is getting wet? Certainly no one would want a rickshaw ride in this pouring rain. What's he waiting for?

Bansi doted on his son. When he returned home after a hard day, he would take some sweets and chocolates for him everyday. Though he was illiterate he would inquire from his son how he was faring at his studies in school. His son always told him that he obtained high score in his tests at school. Egged on by this comforting statement from his son, Bansi dreamt that his son would one day become an Engineer or a Doctor. One day, about three months back, his son complained of a severe pain. He took him to the Doctor.

"No, Doctor! This can't be true ! Are you sure what you're saying?"

"Yes, Bansi. Your son is a drug addict."

This morning he had to be admitted to a rehabilitation center. Bansi has himself gone along with him there.

In the afternoon, he returned home. He had his meal, and then took out the rickshaw and started work. After a couple of hours, it started raining heavily and there seemed no sign of abatement.

Since then, Bansi has been getting wet in this rain. He could have gone home as it is highly unlikely he will find any passenger today. Yet, he didn't feel like returning home. He kept on thinking about his son. Where did he go wrong? Why did his son go astray? Is there no God? After all, how can he allow such a thing to transpire?

All these thoughts crowded up in his mind, and a sudden thunder accompanied by a gusty, chilly wind seemed to signal that inclement weather is likely to continue for at least a few days.