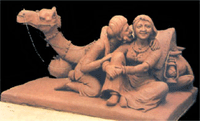 God willed that they would work in the same profession. In different roles. Inspired by the works of great masters like Satyajit Ray and Mrinal Sen he would dream that one day he would make such masterpieces like those of his gurus. He found himself working behind the camera at a rather young age.

Initially Maya worked for a few years in the theatre. When she grew disenchanted with the limited viewership and earnings in her calling, she turned to films. Within a few years she established herself as a brilliant and consummate actress. Her acting prowess had also impressed Ajitesh, and
he decided to cast her in one of his films. She readily accepted the offer. Very soon, Maya was working in a film of the talented Ajitesh in a central role.

***

"Cut! Cut!," Ajitesh blurted out.

"Maya, you need to bring more emotion in your portrayal. We'll do a retake."

In the next shot taken after a few minutes, Maya delivered a stunning performance. It impressed Ajitesh hugely and he complimented Maya. She smiled back coyly. When shooting of a few more sequences were done Ajitesh decided to pack up for the day.

Later that night, Maya told herself that it had been the first time in her career a director has applauded her improvisation on a performance.

In the next few years they worked in a couple of other film projects. Without their realization, one day they discovered they were head over heels in love. Predictably they tied the nuptial knot after a short while.

***

People often say "Behind every successful man there is a woman". It proved to be true for Ajitesh. The career of Ajitesh grew from strength to strength. After capturing the heart of the people of his nation through his films his work began to wow International audiences as well.

Many opine that Ajitesh has been twice married. Apart from Maya he is wedded to his profession i.e. filmmaking. Maya, an incredibly talented actress in her own right, choose to sacrifice her career. Almost. She decided to act only in the films of her husband.

***

At a rather young age the films of Ajitesh hit the bull's eye. His creativity soared. His works managed to carve out a niche among film lovers resulting in wide appreciation.

Little did Ajitesh realize that one day he would be able to reach very close to his goals. He had to burn his midnight oil to attain an enviable position for himself in the cut throat world of filmmaking. Oodles of hard work, heartbreak and triumph fill the path he treaded that had remained unchartered prior to his bold steps. No one today can dispute the fact that after a long innings he has left for posterity huge footsteps across the sands of time. His works like 'The downtrodden', 'The Mirage' and the 'Railway station' would continue to be cherished by film buffs for as long as good works would continue to win appreciation.

It was the year the Berlin film festival decided to honor him with a retrospective of his important works that he met Sandra.

Sandra was a vivacious charming thirty something hugely popular American actress. During their discussion revolving mainly on the state of contemporary Indian and American cinema, Ajitesh felt drawn towards Sandra. Sandra revealed that she was an ardent admirer of the works of Ajitesh. She
also expressed a desire to work in his films someday should Ajitesh ever make a film in her language.

Sandra offered a proposal to Ajitesh to come and direct her in a big project in Hollywood. She promised she would wield her considerable influence to win Ajitesh the backing of the big Hollywood producers. It was unquestionably a very tempting offer which hardly any filmmaker could refuse no matter how big or reputed he was in the film world.

Moreover, it appeared Sandra was quite smitten by Ajitesh. Many considered her interactions with Ajitesh as nothing but flirting.


***

Resting on his bed Ajitesh weighed the prospects on offer that night. Should he accept the invitation and seek greener pastures in an alien land? In all likelihood it will yield rich dividends in the long run. One day he may even win the most coveted of all prizes -- the Oscars, which hitherto has mostly been dominated by American film personalities.

An alluring fantasy involving him and Sandra wickedly began to surface in his mind when ......

***

Three decades later Ajitesh still recalls the incident vividly. What actually made him resolve to decline the offer of Sandra the following day?

The fantasy was rudely broken when Ajitesh remembered a scene just before he was about to board his flight for Berlin. He saw his wife Maya running towards him after he had bade her off at the lounge. Still panting when she finally caught up with him she held his hand coyly and reminded Ajitesh to write to her daily from Berlin. She also requested to bring along with him the newspapers and magazines which would carry the news about the retrospective i.e. the honor bestowed on Ajitesh. A few drops of gentle tears began rolling down her cheeks. With a great effort she regained her composure and finally saw off Ajitesh smilingly.

***

An auspicious day, Ajitesh hurried towards the prayer room this morning. He thanked the Almighty. Ajitesh bared his heart out to Him. He told Him that Maya had indeed filled his life with immense joy and happiness. Besides gifting him a beautiful son who is currently a Professor of Computer Science & Engineering in a University in the United States, she had looked after all his needs with outmost care and dedication throughout all these years.

Had it not been for the love that Maya showered on him and meticulous care during their years of marriage and her personal sacrifices, sacrificing her promising career among others to maintain an equilibrium in the family it was possible that Ajitesh would have gone astray that day thirty years back.

Finishing off his prayers he quickly went about completing the remaining chores of his daily life quickly. For he must inspect whether all arrangements and decorations had been done properly for the evening party at his spacious bungalow. He has invited his circle of close friends to celebrate along with him and Maya the golden anniversary of their happy, married life. His son with his family including Ajitesh's endearing ten-year-old grandson has flown in specially from America to celebrate the occasion.

Just as Ajitesh hurried to finish off some undone task, the phone rang. An International call.

"Hello?"

"Ajitesh? Remember Sandra? I just recalled your wedding anniversary while leafing through my dairy yesterday. Accept my congratulations! Wish you many more years of happy married life!"

Suddenly, the line blanked out. Ajitesh stood there transfixed. Maya's voice calling him
remained unanswered.