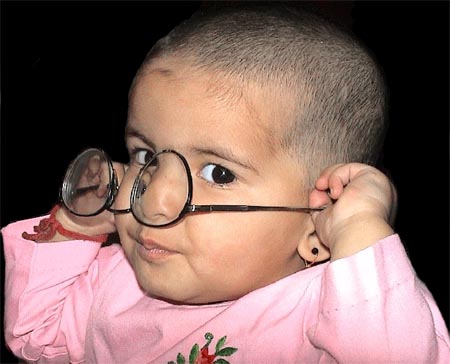 Ashubabu kept observing his son playing with the new toy he gave him today. "How quickly time flies," Ashubabu told himself. It seemed just the other day that Ashubabu and his wife was blessed with a son. When they had remained childless for a long time after their marriage, they went from one temple to another offering prayers and begging the Almighty for an offspring. Their cravings didn't go unfulfilled for long. Arka came into this world as a healthy child to fill the life of Ashubabu and his wife with outmost joy.

Right from the beginning, Ashubabu had observed the growth of his child Arka meticulously. The supervisory role brought to the fore intriguing facts pertaining to the development of the child. "Each child is an individual and the environment in which he magnifies is unique. The milieu actually shapes and moulds him as an individual. Minors possess certain unique traits which makes character study of them quite an involved exercise demanding long working hours at the job. Startling revelations come to light when a detailed analysis is done," so felt Ashubabu.

For decades, the wail of a baby was missing in Ashubabu's house. Arka entered his world six years ago. He vividly remembers the first step Arka took at walking. It was during Diwali, the festival of light, that the toddler took a few strides making it the most memorable Diwali for Ashubabu.

"He is an intelligent boy," Ashubabu told himself and suddenly felt proud of his son's intellect. What really amazes Ashubabu is the spontaneous & witty response Arka comes up with on many an occasion. Once his mother who had given him a pen to write asked for an explanation for his mischief. When she posed her query "Why did you break my pen?," pat came the reply he concocted on the spur of the moment "Dad told me to break the pen you gave."

Inspite of his best efforts, Ashubabu couldn't keep Arka away from the influence of nonsensical Bollywood flicks telecast 24 hours a day on scores of TV channels. One day he was found aping Hrithik Roshan dancing to a film song. His mother asked "Are you Hrithik?," Out came the reply from him "Jao ranna-ghare, tomar bhat pure jachche." (Go to the kitchen, rice is getting overcooked). On another occasion, a popular Hrithik Roshan film had come to the town. One night ( or should we say early morning ), around 2 a.m., Arka woke up from his slumber and announced "I will go to see 'Mission Kashmir' right now. I will take Mom along with me." "He has always been jolly and eccentric," Ashubabu opined.

Once during Diwali, Ashubabu brought some fire-cracker from Ali's shop, whose store is in the same locality. Eventually some of the crackers proved to be a damp squib. Six years into his mortal existence, Arka commented "Ali lokke khub thokaye." (Ali doesn't give customers a fair deal)

Ashubabu looks perturbed today. Why? Well, what he has been informed is hardly heart-warming. Doc has told him that Arka has fallen prey to a serious eye ailment. He has to be operated upon in the near future to restore proper vision. Doc has also advised Arka to don glasses and Arka is making quite a spectacle playing with his spectacles presently oblivious of the gathering storm.

Ashubabu is a businessman. His is a classic rags-to-riches success story. Many people allege that he had used unscrupulous methods to achieve his present status. His critics say that the sheer scale and audacity of the acts of malfeasance and graft indulged by him in his heydays would put any hardcore scamsters to shame. "Who can afford to be a Yudishthir in today's age?," Ashubabu used to console himself.

Soon tears welled up in Ashubabu's eyes. "It's all due to my unethical business dealings. God has punished me rightly. My son has to suffer for my misdeeds. Even if the operation is successful, he will have to wear these glasses for the rest of his life."

Overpowered by emotion, he hugged Arka and muttered quietly "Henceforth, I will try to infuse honesty in my calling."