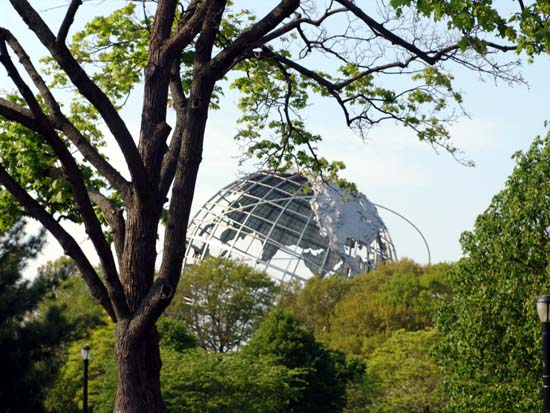 Having lived in Queens, NY for the past 16 years I have driven past the Flushing Meadows Corona Park everyday enroute to my work place in Manhattan. I visited once almost 12 years ago on a picnic when my children had just entered their teens. Priorities, paucity of time and zillions of other excuses can be given for my not having revisited the park again. Don't locals generally pay less attention to monuments that are easily accessible!
However, today, I decided to visit the park and do a pictorial ode not only to satisfy my rediscovered passion for photography but also to provide some more information to our readers.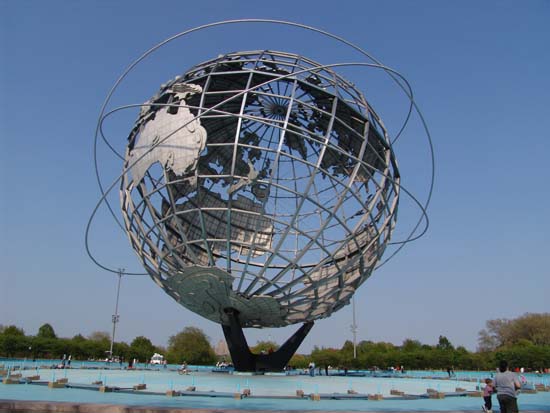 The Unisphere is an unofficial symbol of Queens and is one of the few remaining artifacts from the 1964-65 New York World's Fair. This world's largest globe stands at 140 feet high and 120 feet in diameter weighing 700,000 pounds. It was constructed of stainless steel by the United States Steel Corporation and presented to the fair on April 22, 1964.
Three rings circle the globe, representing the orbits of the first American astronaut, the first Russian cosmonaut and the first communications satellite to orbit the Earth. Since the continents are the heaviest parts of the all-steel sculpture and they aren't evenly distributed, the Unisphere was carefully engineered to account for the unbalanced mass.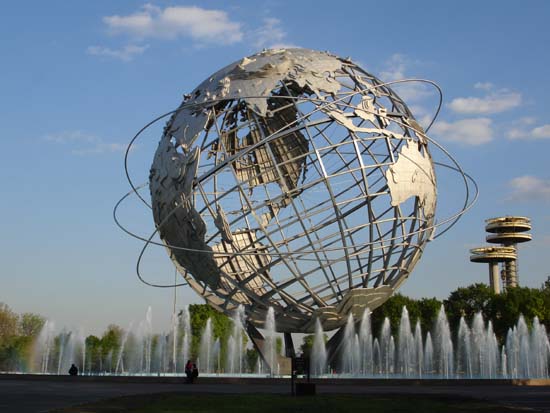 The Unisphere tilts at the same approximate 23.5-degree angle the Earth does as it orbits the sun. It is due to that the sun shines on earth at different angles depending on the time of year and producing the four seasons. There is a large circular area below the Unisphere that is a fountain. This picture (taken during a subsequent visit) shows the waters gushing from the fountain.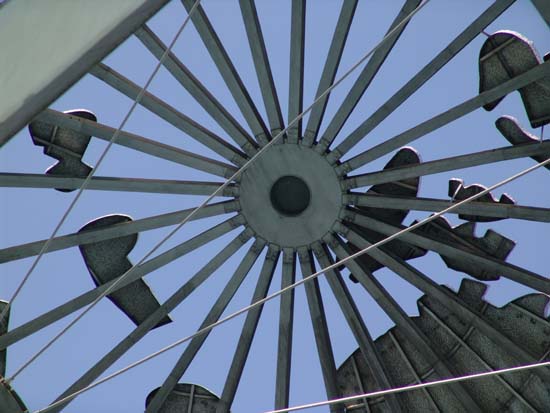 The dedication plaque reads: "Dedicated to man's aspiration towards Peace through mutual understanding and symbolizing his achievements in an expanding universe". This picture shows the top of the Unisphere which is the heaviest part of the globe.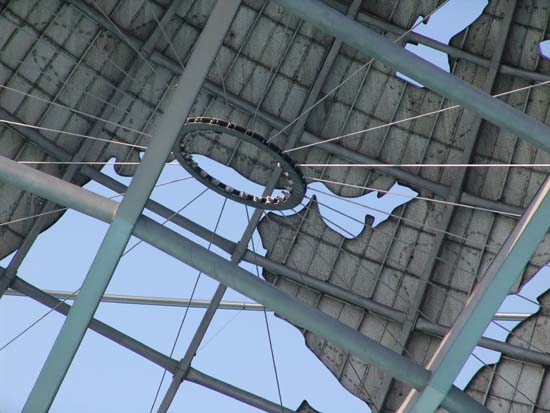 This picture shows the central ring (the core of the earth!) though I think that this was an engineering necessity to secure and balance the globe. Whatever might have been the reason, this ring to me also symbolized the eternally moving wheel of life.
Honored with landmark status by the Landmarks Preservation Commission the Unisphere is not only an engineering marvel but also a community pride.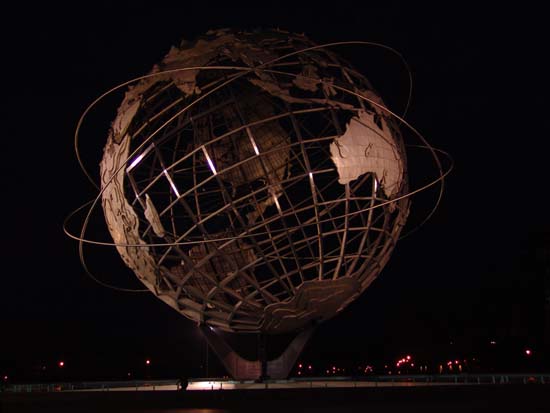 A view of the Unisphere in the night.
Diagonally opposite to the Unisphere are the ruins of NY State Pavilion.