Located diagonally opposite to the Unisphere, are the ruins of NY State Pavilion that was one of the most important architectural marvel of 1964-65 New York World's fair with its "Tent of Tomorrow" consisting of 16, 100-foot columns that supported a 50,000 sq. foot roof of multicolored panels (which was removed in the 1970s) as well as three towers, measuring 60, 150 and 226 feet tall. Fairgoers could ascend top the top of the towers via capsule elevator (seen in the tallest tower) and a panoramic view of the fairgrounds.
A close up of the "Tent of Tomorrow". On the ground underneath was a huge map of New York State (now barely detectable) made of terrazzo panels. Public is forbidden to enter this area any more.
A close up view of the 50,000 sq. ft. "roof" of the "Tent of Tomorrow" on which were placed colorful translucent panels that have since been removed. The steel and concrete Pavilion was designed by Philip Johnson.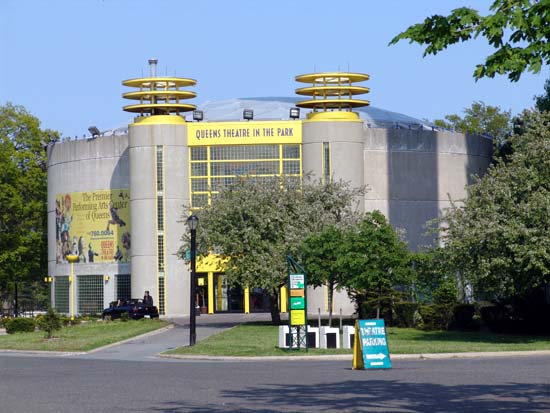 Another remnant of the NY State Pavilion is "Theaterama" which operated until 1985, when it was closed for renovation, reopening in 1994 as the Queens Theatre in the Park.
There is lot more to see around this park. The next page shows the sculpture "Freedom of the Human Spirit".

Previous: Unisphere