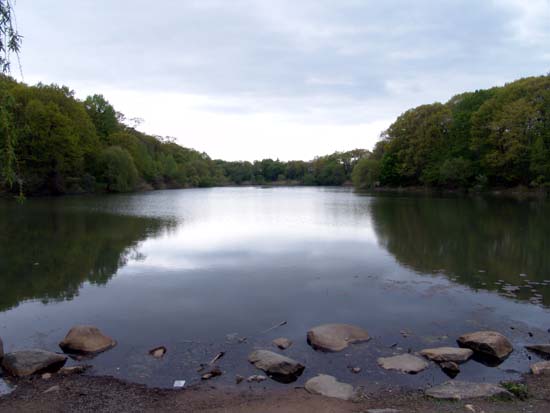 There is small lake in Bayside, NY behind the Queens Borough Community College. About a couple of miles away from my home, it is a great place to be with nature. On this cloudy day of May 7, 2005 when the Sun just would not show up I was just feeling restless. To soothe myself, I figured let me just go to the lake. Ofcourse my favorite gadget, my digital camera, was tagged along.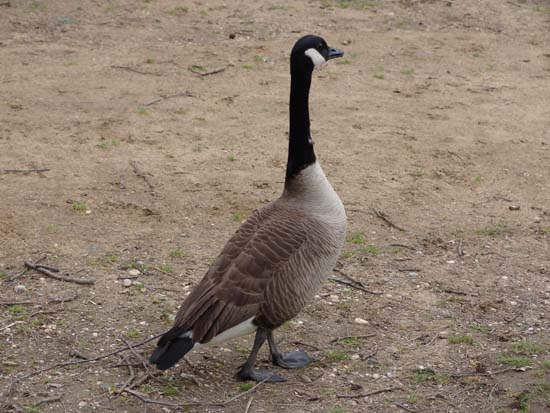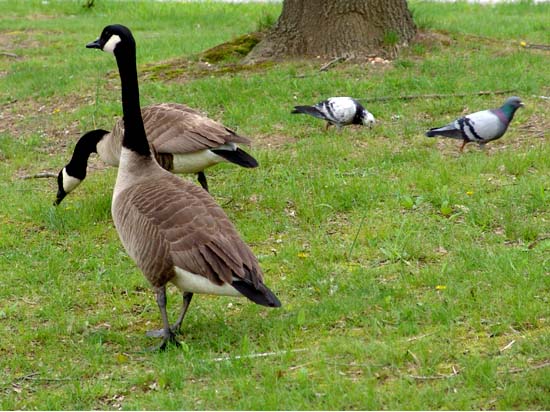 Just before approaching the lake waters, this geese greeted me with all its majesty and proceeded to .... give company to one of its own for some quick snack before going for a swim.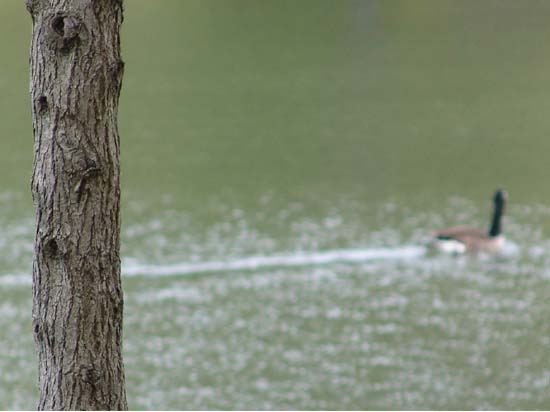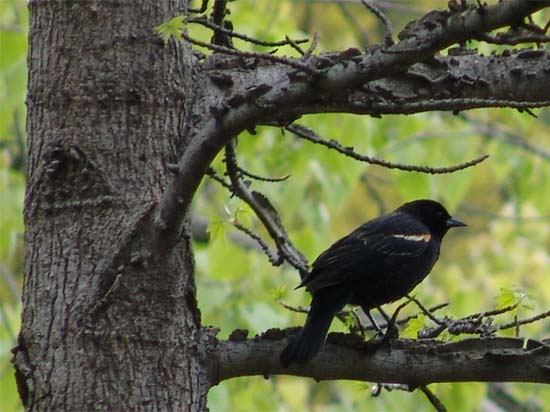 Swimming at a good pace that I could only appreciate the streaming effect in the water. The tree in the foreground had a beautiful bird sitting atop. I had to pace backwards to have some fun with the bird.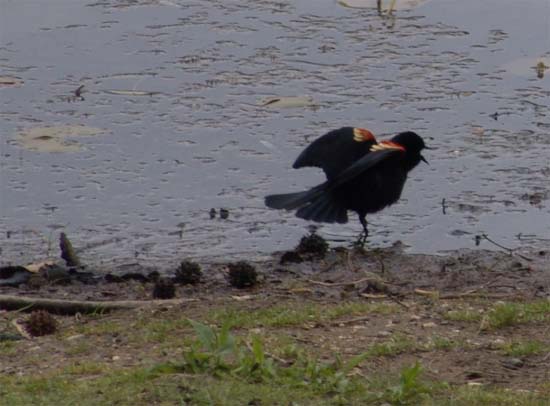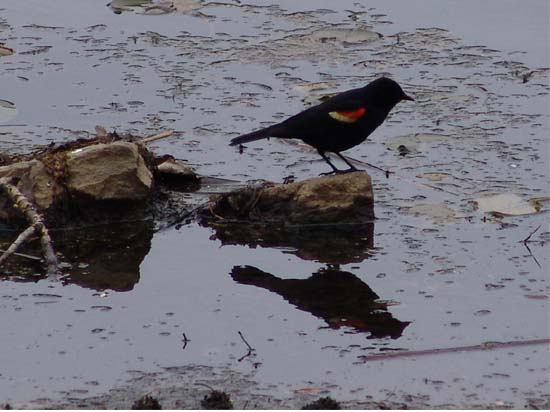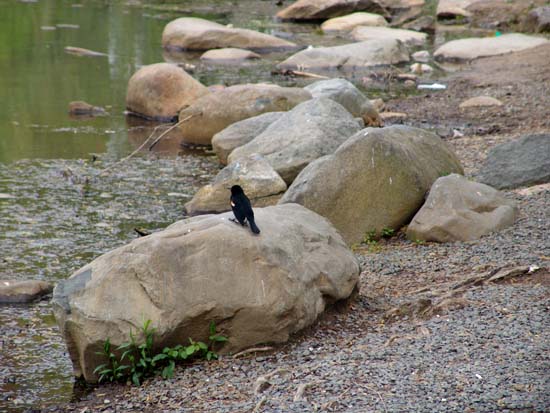 The Red-winged Blackbird (Agelaius phoeniceus) parched atop the tree is perhaps also admiring the zestful swim of the geese in the lake and ready to take off towards the waters. It was fun chasing this bird and capture some interesting photographs. One of the most highly polygamous of all bird species Red-winged Blackbird is perhaps the most abundant North American bird. Red-winged Blackbirds are somewhat smaller than an American Robin. Males are glossy black everywhere except on the epaulets, or shoulders, of the wing. The epaulets are scarlet (the lesser wing coverts) bordered with a buff or yellowish color (the greater wing coverts). I followed the Red-winged Blackbird and tried to capture it in as many situations as possible. My attention was diverted by a sparrow who swished passed me a couple of times and settled on the same rock group wanting to be photographed.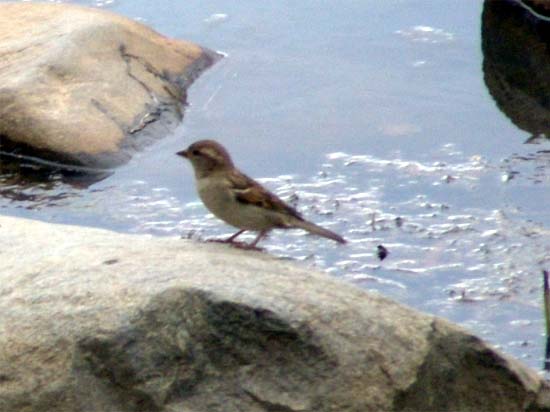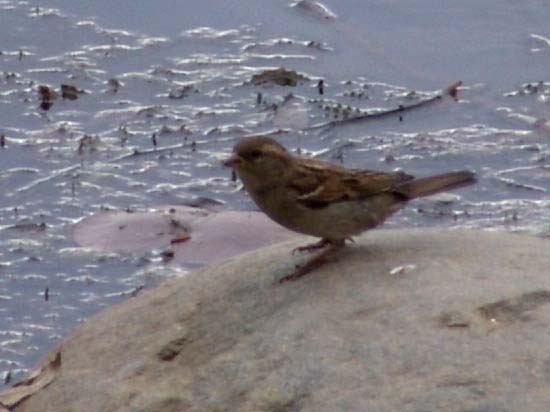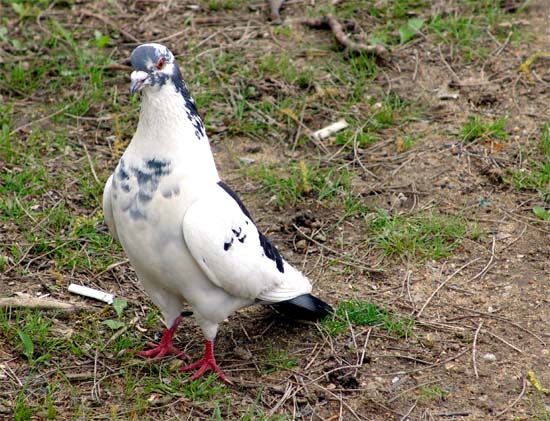 This is my first ever still photograph of a sparrow. These birds are hard to be photographed as they keep fleeting and flying. Another one! Sparrows are perching birds that are generally dull colored – brown, gray, white, or pale yellow – and have cone-shaped bills. Although omnivorous, they mostly eat seeds and feed on or near the ground. Back home in India it is very common to see the sparrows making nests inside homes behind hanging pictures, on ventilators, nooks and crannies etc. The pigeon caught my attention and stood majestically for a great pose.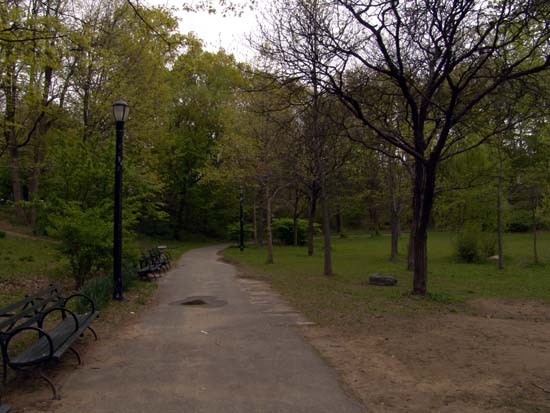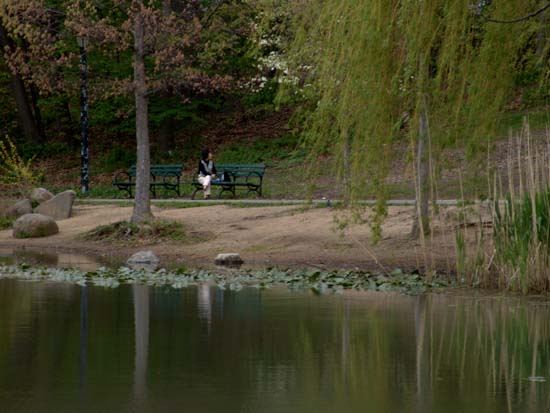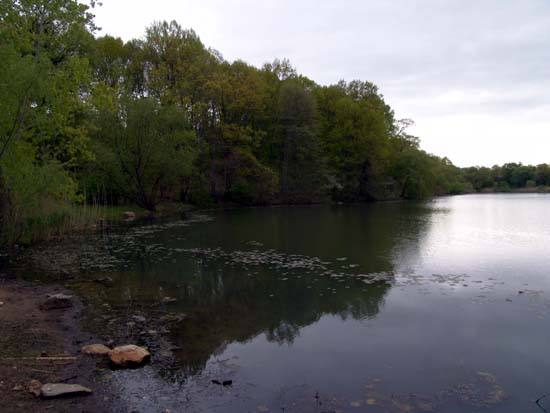 This small lake offers panoramic views and one cannot resist but take "painting" like pictures. Encircling the lake is a walkway which from beginning to end is 7 miles. Benches are provided at regular distances for the viewers to take some rest.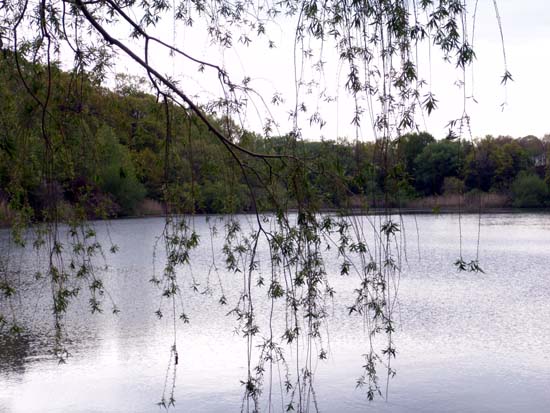 Scenic beauty of the lake.

The lake was revisited again!