Usha Mahto, 30, accompanied her farmer husband to Mumbai from Begusarai in Bihar five years ago, unable to eke out a livelihood from the family's one-and-a-half acre, which fed three families of the Mahtos. In the big city the husband-wife duo earn a decent living collecting old newspapers, making 'papad' in a neighborhood factory and working as domestic help. Monetarily they now fare far better than their counterparts in Begusarai.

But like the many others that come to the city from states such as Bihar, Uttar Pradesh, West Bengal and Madhya Pradesh, the Mahtos live in a shanty home on the banks of Dahisar creek, off Borivali, a suburb in Mumbai, which they have to abandon during the monsoons. "Every monsoon we go back to our native place as water gushes into our homes and destroys everything in its way," says Usha.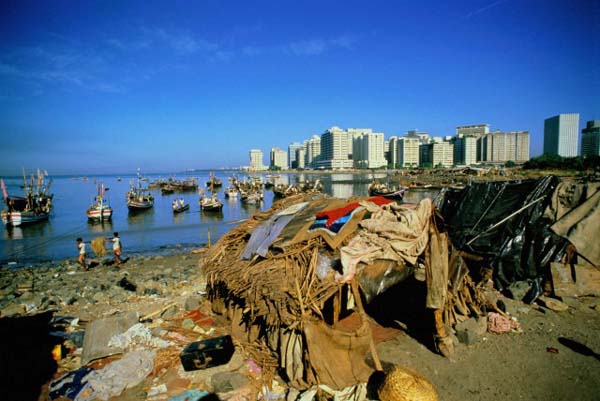 Why does the seawater enter these homes every year displacing thousands of people? Why has the administration not been able to do anything about it? It's high time Mumbai responded to the crisis of global warming that is advancing towards its shores at an alarming rate, bringing with it an erratic and heavy monsoon, dangerously rising sea levels and disastrous landslides.

In fact, just recently, Mumbai received about 144 mm of rain in 24 hours, causing a portion of a rocky hill to slide down on hutments at the Lal Bahadur Shastri Nagar in Saki Naka, a suburb. Ten people lost their lives in the mishap. This was the third time a landslide has occurred in the area - populated with migrants and unskilled laborers - in the last 10 years.

"Mumbai is one of the most vulnerable cities to be affected by global warming due to its high-density population," says Vinuta Gopal, Program Manager, Greenpeace India Climate and Energy campaign. "It has several low-lying areas with huge populations. Even with a slight rise in the sea levels, the city will face havoc, causing not only economic losses but also damaging the lives of people residing in these areas," she adds.

According to a research paper published in April 2009, by the World Bank Development Research Group Environment and Energy team, in the coming years the ongoing global climate change will have a serious impact on some coastal countries and important coastal cities. In the South Asian zone India and Bangladesh have been listed in the "very vulnerable" section, especially cities of Mumbai and Thane in Maharashtra and Bhavnagar and Vadodara in Gujarat.

Climate change is no longer just a doomsday theory but an acknowledged reality. By the turn of this century, global temperatures are expected to rise by nearly 2.5 to 4 degrees Celsius. This will lead to further change in monsoon pattern, erosion of coastal region and damage to livelihoods. According to Dr K. Krishna Kumar, FASc, Program Manager for Climate Dynamics & Climate Change of Indian Institute of Tropical Meteorology, Pune, "Under global warming conditions, extremes in rainfall and temperatures are expected to increase. These can cause hardship to everyone especially women, as it is they who have to look after the family needs during any calamity."

Mumbai, as the financial capital of the country and home to the world largest cinema industry, attracts people from all over the country and is likely to bear the brunt of the phenomena. "Based on published literature, the sea level at Mumbai is rising at a rate of 1.2 mm per year during this century. It is within the ballpark figures of reported global sea level rise," informs Dr Kumar.

According to the IPCC (Intergovernmental Panel on Climate Change), sea level in 2100 A.D. will be about 40 cms higher than what it is at present. Even at this most conservative scenario, nearly 6,000 sq. kilometers in India alone will be flooded, including parts of Mumbai.

Many areas in the city come under LECZ (Low Elevation Coastal Zone), which comprises the region that is less than 10 meters above the average sea level. Reclamation of marshy land for property development in places like Worli, Bandra-Kurla complex and the metropolis's extended suburbs is already making life miserable during the monsoons when a downpour can bring the city to a halt, submerging roads and residential localities alike.

"Mumbai faces profound consequences of climate change... the extent of vulnerability is dependent not only on the physical exposure to sea level rise and population affected, but on the extent of economic activity and coping capacities," states Dr Sanjay Tomar, Fellow, Climate Change Division, The Energy and Resources Institute, New Delhi.

Much before Mumbai became the business hub of India, it was home to the 'kolis' (fisher folk), the original residents of the city. Fisher folk colonies or 'koliwadas' still dot areas like Vasai, Versova, Mahim, Worli and Cuffe Parade. It's from these 'koliwadas' that the kolis reach the high seas with their huge wooden boats or trawlers for their catch of bangda, surmai, pomphret and other varieties of fish. Over the years, this community of fisher folk have been greatly affected by the changing weather patterns.

"We have developed a sixth sense to predict the ferocity of monsoon and the level of high tides. So, our fishermen normally move beyond that line of high tide. But we are also finding that our sea creeks, like the Versova creek, are getting narrower due to reclamation activity in other areas. Squeezed out, the water has to find an outlet, affecting our community living and working in the coastal zone," explains Dr Gajendra Kisan Bhanji, Chairman, National Association of Fishermen.

This has also led to livelihood changes. Though the Bhanjis are 'kolis' they have forsaken their traditional livelihood to become doctors. Says Dr Gajendra Bhanji, who is in his mid-sixties and is a chest physician, "The catch has dwindled now so much that the majority of the next generation in our community is opting for white-collar jobs. Also, earlier, during the monsoon and high tides, there used to be a huge catch of all varieties of fish. Today, we see less of fish and more of cars, scooters and cycles being washed on to our shores!"

Talking about the economic difficulties being faced by her community, Irene Machado, who is in her early 50's, observes, "Koli women were once famous for possessing gold ornaments. Now we buy artificial gold jewelry as our men are unable to bring enough fish loads to lead comfortable lives."

As they are directly affected by climate change, fisher folk need to be prepared for the bad times ahead. Advises Dr Tomar, "They need to be made aware about the potential impacts of rising sea level particularly on human lives, livelihood and property. Secondly, they should be made to understand how important it is to be prepared to face such situations. These communities, especially the women, should resort to savings schemes and insurance schemes to guard against any financial shocks in case of any unforeseen event."

According to John Holmes, UN Under Secretary General for Humanitarian Affairs, the world is going to see more intense disasters as a result of climate change. He recently warned, "The risks of mega-disasters in some of these mega-cities are rising all the time." Mumbai is one such megacity.

Clearly there is a need to arrest the rapid degeneration of the environment. What is required is concerted, timely and effective action. "Our advice to the government and people is to switch to renewable energy like solar and wind energy. Greenhouse emission can be reduced considerably by stopping the usage of thermal power," urges Vinuta Gopal.