Two momentous events separate in time and location have seared our consciousness—the British (Beyond) Petroleum Gulf Coast oil spill on April 20, 2010 and the American Union Carbide Bhopal Gas Tragedy in December 3, 1984. Twenty five years separate these two environmental and human disasters but the greed of big multinational corporations in connivance with state and central agencies still remains insatiable. With a keen eye on profit, big companies compromise safety standards, falsify data, overstate their strength, underestimate their drawbacks, bribe officials, lobby for protection and misinform the public. It is rather difficult to fuse ethical economic standards with ravenous profit-making schemes. Though oil and gas stink most multinational corporations love it.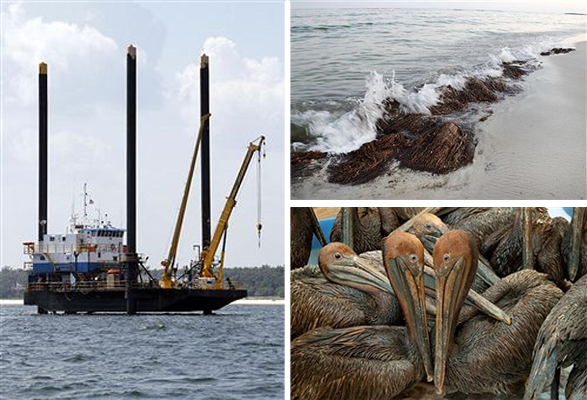 The neo-classical model of economics has reduced our land and environment to a mere abstraction that can be exploited in terms of supply and demand without compunction. Big companies continue to wreck havoc on our human and natural systems devastating our lives in the name of human progress and development. At such moments we often wonder where is the fashionable concept called social corporate responsibility that is often taught as a philanthropic and ethical tool in business management departments to unsuspecting students. Corporate greed like all other forms of human greed need to be kept under strict check by international pay czars or up-to-date legislation based on global standards with teeth for swift punishment. Also the rhetoric of corporate companies must be separated from what they actually do, how long they do what they do, and what they hide. A constant monitoring system both on the part of governments and private groups must be effectively installed in collaboration with the media to thwart their nefarious activities and ulterior motives.

Union Carbide Bhopal Gas Tragedy 1984

Early this month the Indian Supreme Court passed a verdict indicting the American CEO of Union Carbide Warren Anderson who was allowed to escape to the United States twenty five years ago possibly with the connivance of either the state or central agencies in India. Now both the Congress government and state ministries are trying to escape their involvement in the murky plot. Who wanted the truth then? And who wants the truth now? The declassified CIA report of December 8, 1984 and recent revelations by the principal secretary of Rajiv Gandhi, P. C. Alexander, point to political intrigue involving both state and center in releasing Anderson. Now some leaders claim that the worsening law and order situation in Bhopal in the wake of the accident forced Chief Minister Arjun Singh to provide a safe corridor to Anderson out of the country. Some like Rajinder Puri even see the direct hand of Rajeev Gandhi himself. It seems that US President Ronald Reagan phoned Rajeev Gandhi to release Anderson. The media would like us to believe that even P. Chidambaram and Kamal Nath were campaigning for Dow Chemical to get special concessions so it could invest in India. The chief minister of Gujarat Narendra Modi criticized Sonia Gandhi for the complicity of the Congress Party in the murky affair but it has come to light that he had signed an MOU between state public sector company Gujarat Alkalies and Chemicals Ltd and Dow Chemicals in April 2008. This is the case of the pot calling the kettle black.

Seemingly neither the American nor the Indian establishments saw the industrial disaster as the responsibility of the MNC Union Carbide. The company was bought by Dow Chemical Company in 1999 further camouflaging accountability. Dow Chemical was the second biggest Texas polluting company in 2009 and paid 1.14 million USD on eight counts of pollution. Now it is investing again in India with the syrupy connivance of people in power.

Even after 25 years the public would like to know if it was Arjun Singh the chief minister of Madhya Pradesh or influential persons in Rajiv Gandhi's government at the center or the prime minister himself responsible for giving a free passage to Anderson to fly back to the U.S. India has an extradition treaty with the United States and under changed circumstances today when America itself is suffering from another MNC BP, there might be possibility of bringing the fugitive CEO back to justice if India can put together enough evidence. Greenpeace believes that in the 1982 safety audit of the Bhopal factory in the US addressed thirty safety hazards. Anderson knew about them and compromised safety standards causing the death of 20,000 people and affecting 578,000 to date. To make the tragedy reprehensible the out of court settlement made Union Carbide pay a sum of 470 million USD instead of 3.5 billion initially demanded, with each victim getting a measly sum of 550 USD in 1989. In the same year Exxon oil spill in Prince William Sound Alaska forced the company to pay 5 billion USD of which it paid half. Even today there is 425 tons of hazardous waste in Bhopal left by Union Carbide that needs to be cleaned. Who will do it—Dow Chemical or the Indian state government?

Anderson now 90 years lives in a luxury home worth 900,000 USD at 929 Ocean Road, Bridgehampton, Long Island, New York. He is now less of a fugitive and more of a monarch (Sonnenfeld, 1991). It is obvious that in many cases justice delayed is justice denied. Should we stop big companies from doing business? Should we impose heavy penalty on erring foreign companies? Or should we reform the slow and cumbrous judicial system? Jeremy Kahn writing in The Faster Times calls for judicial reform rather than protectionism (Kahn, 2010). The Indian Parliament is debating a law capping liability for foreign nuclear power companies involved in disasters to pay 100 million USD a pittance when compared to the US demand of 100 billion USD from BP. Then Indian law capping liability lacks teeth and may not cover non-nuclear companies. So they can pollute as of before.

British or Beyond Petroleum

The British are desperate to save BP from going down by bringing silly arguments like BP has been a part of America since it merged with American energy Amoco in 1998 and acquired the Gulf of Mexico drilling rights (The Independent, "Cameron Warns Obama over Criticizing BP" 13 June 2010). The new British Prime Minister David Cameron has also chipped in underscoring the sustained "economic importance" of BP to both Britain and America. American President Barrack Obama however is needled by US senators, whose states have been ravaged by oil spills, to push for 100 billion USD compensation, which if realized would force BP to go bankrupt. The British media believes that Obama's anti-British rhetoric is testing Anglo-American relations. Obama claims that American relation with Britain has not been affected. The environmental disaster caused by a British multinational company should have nothing to do with national identity but corporate liability. Obama has called BP the Swedish Chairman Carl-Henric Svanberg, who earns a fat cat salary of 3.8 million USD, to the White House for consultations.

The British are cut up with Obama's off the cuff remark that he would have fired BP's chief executive Tony Hayward if the latter had worked for him. With US pressure rising BP may not pay its quarterly dividends which are essential to maintain equilibrium for UK pension funds. The 6.7% shares lunge in the FTSE has adversely affected pension funds in the UK. If the status quo is not altered by American pressure groups BP might only have to pay 20 to 37 billion USD provided it can be proved that BP failed to meet safety regulations in the deep sea oil drilling.

Now BP is using two kinds of dispersants manufactured by Nalco—Corexit 9500 and Corexit EC 9527A. Corexit (deodorized kerosene) is banned in the United Kingdom as even 2.61 ppm can kill 50% of fish in 96 hours. The dispersants turn the oil slick into small particulates which settle on the sea bed and make things look clean on the surface, but they destroy marine life below. Corexit however is on the approved list of dispersants by the US Environmental Protection Agency though the EPA has advised BP to use less toxic dispersants. BP however refused citing lack of availability. The toxicity of the present dispersants increase when they get mixed with oil. BP has links with Nalco. BPs has poured 1,621,000 gallons of dispersants in the Gulf of Mexico to contain the oil spill and has ordered for an additional 805,000 gallons. The ill effects of the dispersant on humans can result in various diseases, reduced growth, kidney failure and death.

The British rely on BP as the national icon and savior of British deficit. Last year BP paid 1.4 billion dollars in taxes on its profits. The oil spill in the Gulf of Mexico is too far away for the ordinary Britons but the pension funds and BP dividends are closer home.

It stands to logic that a "large, wealthy company" which is eager to pay 1.8 billion quarterly dividends to its shareholders and whose last year's sales and operating revenues were 239 billion USD, should pay 100 billion USD in damages. Since the oil spill began on April 22, 2010 till June 15, 2010, 55 days have gone by. And if we estimate the oil spill at 50,000 barrels a day it comes to 27500000 gallons. If each gallon spill is fined 4300 USD as the US is suggesting the actual fine would come to 118,250,000,000 that is about 118 billion USD. These figures may not be exact and are vigorously contested by BP which would like to work with half the numbers. However the end is not in sight. According to BP officials it would not be before August that the spill can be contained. If this is true then the figure could be doubled and BP would have to pay damages amounting to all the revenue it earned through sales last year.

Both the American government and public are hopeful that since earlier erring companies like Texaco was forced into bankruptcy in 1987 after paying 10.53 billion USD claim, BP too would have to cough up huge sums. And BP's reputation does not help a wee bit whatever they claim to the contrary in those daily briefings on the Internet. BP is known as one of the "ten worst corporations" in the world when evaluated on their environmental pollution and infringement of their human rights record. It also has the dubious distinction of being the most polluting company in the United States vis-à-vis EPA toxic release data of 1991. It has been fined 1.7 million USD for burning polluted gases at its Ohio refinery. It also paid 10 million USD fine to the EPA in July 2000 for mismanaging the US oil refineries. The US Public Interest Research Group or PIRG claims that between Jan 1997 and March 1998, BP was involved in 104 oil spills. Obviously a lot of wealthy shareholders, 37% on the British and 31 % on the American side do not want this to happen.

BP's propaganda regarding its CSR is highly effective as it tries to highlight only the positive aspects of what it has done. In the past BP has invested some money in alternate fuel and green technologies but it has been criticized for proving private funds to public universities of the California Bay Area and closing down its green technology office in London. Its critics call its green technology projects as green washing projects. BP is also a leading producer of solar panels and holds 20% of the global market in this area and it uses this fact to great advantage for image building. It operates the ampm convenience store chain in the US and other countries and is the leading producer of wind power. It is also involved in funding local and international politics. It gave 5 million USD to democrats and republicans in 1990 and spent 16 million USD in lobbing at the US Congress. The moral of the story is that it is not as clean as it claims, nor concerned with the lives of common people unless it serves its purpose or national interest.

BP in its regional spill plan for the Gulf of Mexico and site plan for the Deepwater Horizon rig understated the dangers and overstated its preparedness in the eventuality of a leak. Louisiana governor Bobby Jindal criticized BP for being 'reactive' and not 'proactive' from the very beginning. Now BP's report is examined quite critically and it has been discovered that an expert professor listed in its 2009 response plan died in 2005. It lists walruses, sea otters, sea lions and seals as "sensitive biological resources" when none inhabit the Gulf of Mexico. Also names and phone numbers of marine specialists and marine network officers in Louisiana and Florida are not correct. The Justice Department has to find evidence that BP destroyed key documents or lied to the government (The Daily Yomiuri, June 11, 2010).

Corporate Social Responsibility

Corporate social responsibility is one of the modern movements like environmental or tribal movements that have become the buzz word in both business and academic circles. Both businessmen and academics are cashing upon the divine benefits of CSR making more money for their companies and jobs for their departments. Middle level managers and professors have extolled about the virtues of CSR with other buzz words such as people friendly, eco friendly and sustainable. We have come to hear about the unselfishly egalitarian aspects of CSR. It is really a wondrous transformation of the greed-driven capitalist economy of which the corporate system is a byproduct.

Most critics of CSR are not against it per se but against the recent hype associated with it as a panacea of all corporate evils. It is hard to believe that companies are out there not to make profit. We are not talking of basket cases but any company worth its salt aggressively markets itself to make real profit. And what's wrong in it. Companies are floated for this very purpose both by the shareholders and managers. But in a changed climate of political advocacy of human rights against corporate greed, CSR seems to a new combative tool for companies to be both politically correct and make money as usual. The problem however is that if business corporations give an inch they take a mile.


Definitions and Objections to CSR

In the United States CSR is seen as philanthropy while others see it as improving society, workforce and government. There are arguments in favor of CSR where it is believed that it can support the social fabric of society and promote responsible business practices. But CSR is usually presented as a marketing strategy that articulates business performance rather than encompass social and ethical standards. The recent collapse of American business and manufacturing sectors has revealed the gap between CSR and actual self-regulation. Some CSR models take the company beyond the law into providing public benefits, increase sales, market shares, brand position, retain employees, reduce operating costs and increase investments (Baron, 2001 7-45). There are models of CSR that take into account competitive advantage, positioning, commitment, organizational integration, shareholder's cooperation and self-correction. CSR helps to create a positive image of a company and brings it rich dividends. Though there are many definitions of CSR we must see CSR as the way business companies conduct their core business not the sops they give to society.

A common objection leveled against CSR comes from the advocates of the laissez faire system who complain that CSR infringes upon the human rights of company shareholders as company managers unilaterally divert company resources to society in the name of better management (Sternberg, 1999). Detractors of CSR complain that there should be a stakeholder claim in CSR as to how it is done. A business corporation should be fair and honest to both the shareholders and customers. CSR therefore depends on the model a company chooses and the reasons for its choice. If a company uses CSR for image building through philanthropy it leads to both ethical and human rights problems. You cannot give away money which ultimately belongs to someone else. On the flipside it also follows that if stakeholders possess sole rights they also should bear full responsibility when there are environmental or social disasters. However if a CSR model seeks a consensus of both stakeholders and company managers then it must become more open to the public. CSR must concentrate upon building customer relationships, attracting talented people, conducting risk management and building the company's reputation.

Corporate Reputation and CSR

Corporate business companies such as BP or Coca Cola cannot ignore their reputation as about 90 to 95 percent of their assets are intangibles and the remainder immovable property. Big companies such as General Electric, IBM or Motorola use the rhetoric of CSR to show public responsibility and environmental concerns but while conducting hard-nosed bullying business practices are not so transparent in their dealings. A few years ago Sir John Browne of BP was praised for his aggressive promotion of BP while providing environmental leadership but now we come to know that all along BP compromised on safety costs in oil drilling. This is happening in a powerful country like the United States where both politics and laws are strong. Had it happened in a developing or a poor country, things would have been quite different. BP would have gotten away cheaply and Union Carbide once did.

CSR invariably works for companies and countries with resources and political clout. It is not for companies which are small and weak. Small companies fight for survival, cut costs to make ends meet and do not possess precious resources to waste on CSR. Nor can they follow up on legal battles if they come under the scanner. They function in a world of poverty, deprivation and loss.

Conclusion

It is no longer tenable to follow neo-classical economics of Smith, Mill and Bacon that the world is made for us and for us alone. We must eschew the economic theories of Pareto and Hayek as we can no longer treat nature as a mere variable and commodity. Depreciation of ecological assets has taken place at an increasing fast rate. Economics should no longer be about inflation, economic value of goods or maximization of income. It should take into account our natural world as property that belongs to every one of us (McNeill, Padua, Rangarajan, 2010 1-3). We must learn new lessons from ecological economics and environmental history and change the way we do business. We must rein in corporate greed by modifying corporate social responsibility (CSR) to corporate legal liability (CLL) and connect it to governmental deterrence, legal action and international treaties to scare the hell out of the merchants of greed and death who have many supporters in different parts of the world.
Works Cited
BARON, D. P. "Private politics, corporate social responsibility and integrated strategy. Journal of Economics and Management Strategy. 10:1.
KAHN, JEREMY. "Bhopal Verdict: When Justice Delayed Means Justice Denied." The Faster Times, June 11, 2010.
MCNEILL, JOHN R., PADUA, JOSE AUGUSTO AND RANGARAJAN, MAHESH. Environmental History: As If Nature Existed. New Delhi: Oxford University Press, 2010.
SONNENFELD, JEFFREY. The Hero's Farewell: What Happens When CEOs Retire. New York: OUP, 1991.
STERNBERG, ELAINE. "The Stakeholder Concept: A Mistaken Doctrine." Foundation for Business Responsibilities, Issue Paper 4 (November 1999).