This article, a sequel to the author's book entitled Nellum Samskrithiyum (Rice and Culture), published by the State Institute Of Languages, Kerala, argues that the birthday of rice, once celebrated all over Kerala is still observed in some isolated places. This year, the ritual is observed on the 5th October.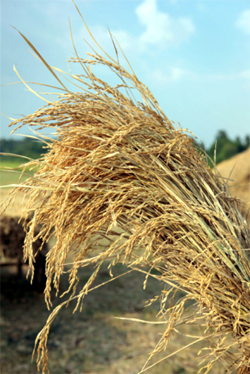 An ancient Indian name for rice, dhanya may also mean any corn or grain, but it primarily refers to paddy. A grain of paddy is dhanya(ka)m. Dhanya, contains starch or carbohydrate and means 'sustenance for the human race.' Food is essential for living. Life, lifetime, livelihood are jivanam. Cooked rice, used as food in general is choru / odana, figuratively it is livelihood. Choru kalayuka, an idiom, means deprive a man of his means of living. A place where boiled or cooked rice is available is called heaven. Rice is life. Life breath is prana. In India, rice is often called 'prana' - the breath of life. Beyond providing sustenance, rice plays an important cultural role in many countries. It is also the basis of both biological and cultural diversity. It is said: jivo jivasya jivanam, which means life, is the life of life. One living entity in order to keep him alive has to eat another living entity. It is a natural law. For the people of Asia, rice represents culture, history, landscape, religious and social ideas. In Kerala, where rice is intricately interwoven with its history, culture and traditions, rice is not just food, it is life itself.
Rice in rituals
Our ancestors, who considered rice as Goddess Lakshmi, handled rice with fear and respect. Nenmaanikyam, a kind of gem, is believed to come into being in paddy. From the surface soil where it grows, to the granary (pathayam, a large wooden chest for storing paddy and grains), rice is worshipped and is a necessary ingredient in many a ritual.
As an offering at temples chorukoda / annadaanam is a popular ritual. The talappoli, an annual feast of Bhagavathy, held at Durga temples in Kerala, is yet another temple ritual. Many virgins and married women line up in their clean white traditional garments, circumambulate the Durga temple with ululas in chorus and offer their worship. In procession, they offer a large dish of rice (paddy), neerajana in a thalam (usually a silver or brass plate) along with flower of the betel nut tree, coconut fragment - all of which symbolise prosperity, in order to get good husbands and happy married life. The poli is rice. This thalam is the lion seat, the throne of Durga. It is this poli which is poured down at the entrance to the Bhagavathy temple.
Chingam (August-Sept.) is the first month of the Malabar era. Lion is chingam (Sinham). The sign Leo, in astrology, is chingam. The 12th lunar asterism, Regulus is makam. Durga Bhaghavathy is Simhini / Lioness. Durga riding on a lion is simhayana, simhastha, simhavaahini. Regulus, a star of the first magnitude, in the constellation Leo, is the fifth sign, and the sixth constellation of the zodiac. Durga positioned on the lion is simhastha. In astrology, the planet in the sign of Leo is riding on a lion. It is makam. In the zodiac, fifth in position, its figure is lion.
Respectful offering when receiving a guest
Durva grass with rice offered to the deity is arghyam, material of worship, offered respectfully. Worship of god using eight substances is arghyam/ arghyapuja. When receiving distinguished guests, they are respectfully offered arghyam; this act is known as arghyadaanam/ ashtaangapujadaanam. Ashtamangalyam, the eight auspicious objects for sacred ceremonies, includes a measure of paddy, some rice, an absolutely white cloth (purity), arrow (warlike character), lighted lamp (uninterrupted prosperity), a looking-glass, and a cheppu (the Malabar equivalent of a powder puff), and a blossom of the coconut palm.
Boiled rice with water is conjee. It also means jivanam. To deprive one of livelihood is conjeekudi muttikkuka. So, the phrase conjeekudi ethuka/ muttuka means to die. Similarly, avante ariyum tannirum ethiyittilla (othilla). Ariyettuka, ariyum tanneerum ethuka, ariyattupokuka means the end of life, to die. 'He has not eaten the last' means 'he did not die.' Ariyude neelam kondu ikkare vannu means 'escaped because their life time was not yet spent.' The obsequial ceremony of placing a few grains of rice in the mouth of the diseased person before cremation or burial is vaaykkari. A solemn offering to the manes/ the departed souls, rites performed in honour of the departed souls is sraadham. Kavalam Madhava Panikkar speaks about a death ceremony called Para Nirathuka, a Nayar ritual. It takes place after the corpse is laid on the plantain leaves before cremation. Para is a measure of volume, equal to 10 edangazhi, or a vessel having this volume used for measuring out paddy of rice. Nirathuka is to spread or to place in line. A coconut-oil lamp, and three paras of rice in front of it are placed at the head of the corpse. Its significance is unknown to Panikkar.
Scattering rice on the head of Kings of Kerala is ariyittu vazcha, a sacred ceremony connected with the installation/ coronation of Kerala kings in olden times. The unhusked rice mixed with pounded brown rice is used in rituals, and this mixture is known as akhshatham. Sayings referring coronation such as amareth pazhayari chaarthi, thirumudi pazhayari chaarthi etc., may be noted. It is about coronation by sprinkling rice of old corn on the head. Such crowning of princes and kings has come to an end in lndia.
Rice given as wages is arippati. It is rice allowance. Employees receiving rice allowance are arippati janangal. Rice and other provisions/ vegetables (given as allowance) for cooking the daily food is 'ariyum koppum.' Allowance of rice and salary is 'ariyum jeevithavum.'
First intake of food - Choroonu
Rice being the staple food in Kerala, feeding purified / cooked rice meal for the first time to a child in his 6th month or after the 7th month of birth, known as annaprasanam / choroonu, is celebrated on an auspicious day. With chanting of manthras the God of fire, Agni, is requested to purify the food. After this a mixture of melted ghee and honey, followed by boiled rice, is served to the child.
Initiation into the letters of alphabet is ezhuthiniruthal / vidyarambham. It is gone through in the 3rd or 5th year of the child. Usually on the Vijayadasami day (Pooja eduppu day), the child's father, or some person specially chosen for the purpose takes the child and makes it write the alphabets, the letters being traced in rice by holding the ring finger of the child. In the initiation of learning, a village teacher or the Karanavar of the family initiates a child by moving his fingers through rice or sand sprinkled on the ground. Writing Hari, Sri, Ganapathy etc., marks the initiation to 'vidya.' The first letter of the alphabet is spelled out with rice on the child's tongue. The ceremony takes place in the presence of the family deity. Others, who come to observe the ceremony, follow this by writing this by letters in a tray of rice. The traditional education begins with this initiation ritual.
Upanayanam is performed for a Brahmin boy as a corrective measure as his natural birth might have taken in an inauspicious time. The initiation into a new birth, into Brahminhood, is decided after fixing up an auspicious time. In this ritual, the boy's father imparts divine knowledge to the son. The child is made to stand on a layer of rice as he cannot touch the earth during upanayanam. On auspicious days, deities are offered rice or paddy in a para, a measuring vessel, called nirapara. If it is naazhi it is called niranaazhi.
Chingam and rice rituals: Puthari
Rice has carved out an important role in many ancient customs and religions, and this is more obvious in Kerala. The first month of the Malayalam calendar, Chingam, signifies the end of the monsoon. The main harvest festival is held on the 10th day of Atham in the month of Chingom when paddy is harvested, and Onam is considered as a new year festival. Apart from that the cooking of new grains and the rituals like 'illam nira' or 'filling the home,' and 'puthari oonu' (eating of new rice), take place.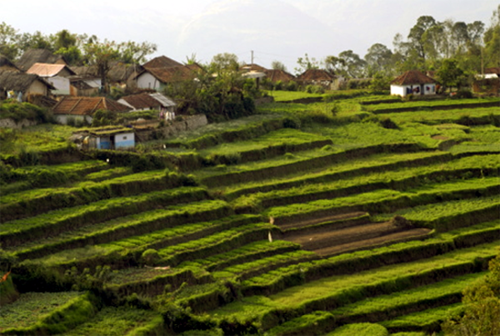 Entirely new rice after harvest is puthari. A ceremony connected with the first harvest is also called puthari. On the day of illamnira, a few grains of rice are added to the meal and partly eaten. Both meals take place before Onam. The ceremony of decorating the house with a handful of the first-cut ears of corn is held before the harvest. Karkkadakam is the last month of the Malabar Era (July –Aug.). The sign of the zodiac is cancer. Before harvest, on an auspicious day in the month of Karkkadakam, a religious rite is performed all over Kerala in the agricultural families. After ceremoniously offering it to god and honouring it at the courtyard of the house, it is hung ceremoniously at the front door, granary and other rooms of the house. This old custom reverentially observed called nira is aimed at dhaanyavriddhi and aiswaryasamridhi (for bringing prosperity).
In proverbs illam nira and puthari are the first fruits and first sheaf etc. Herman Gundert, who defines nira as fullness, describes the nira ritual as one of different ceremonies for bringing wealth and blessing. A handful of ears of corn as the first fruits with different leaves like kanjiram and flowers, are taken home to the accompaniment of cries (hymns), for instance, nirayo nira poli, niranira polipoli or niraniraniro - nira illannira, vallannira, valla vattinira, patthayannira, aranira, kotta nira, etc. It means fill the house, fill the yard, fill the barn, and fill the basket. Chiefly illam nira is the annual cleansing of the house-door with offerings of rice and sticking over it new ears of corn (and 6, 10, or 16 different kinds of leaves) with cow dung (the same thing is done to implements and even to trees). A large basket made of braided palm leaves to hold rice grain is vallam. Illam means 'granary/ house' and nira means 'to fill.' According to a proverb, once illam is filled with new harvest vallom, too should be filled.
In 'Illam Nira' the word illam means house and nira means filling for seeking a bounteous harvest. Before the event, generally performed in August, the house is thoroughly cleaned and washed. Nira patalangal means new ears of corn and different leaves bundled for hanging in (illan)nira ceremony. It is also called nirolam/ nirapatolam/ niravalam.

Niranazhi in the statement 'vilakkum niranazhiyum vachu,' for Ganapathi puja is a nali of rice upheaped. Nirapara is a full measure as given by the tenant annually. Nellu nirannu means that the paddy is nearly ripe. Nirathuka is brighten, trim. Placing a nali filled with paddy etc., on auspicious occasions is niranali. Placing of para heaped with paddy grains, flowers, etc., in ceremonies or on auspicious occasion like ezhunallippu, on receiving people of high status like the king, marriage ceremonies etc., is called is nirapara.
Vishukkani
The first day of Medam (middle of April) is the astronomical New Year day. While the first sight in the morning is kani, the first thing seen on the morning of Vishu is vishukkani. This ceremony, an arranged one, is called kanikaanal. The first object they see on that day will bring luck during the year that follows, for the whole year. Literally, it means the first sight. It is believed that even temporary houses are erected by the combined efforts of several families and filled with costly and auspicious objects. This theatre erected for the Vishu is called kanippura. The Hindus all over the State celebrate it as the Vishu festival.
Seeing a prescribed list of items on Vishu morning is believed to bring good luck to a person. It includes a measure of rice or paddy. Other items are cadjan leaf book, gold ornaments, fresh and white cloth, bell metal mirror, flowers of the Konna tree (Cassia fistula), halved jack fruits, halved coconuts, yellow cucumber, and two standing oil lamps emitting sparkling light, placed before the garlanded idol of Lord Krishna. The yellow flowers of the Indian Laburnum, a species of cassia, called kanikonna, are considered an auspicious sight on that day.

This ritual offers a complete knowledge base, intricately woven around nature. The above-mentioned rituals linked the birth, initiation to learning, employment, phases of agricultural life, temple worship and finally death and cover the entire gamut of a man's life.
Dhanyasamriddhi
Edgar Thurston speaks about a harvest festival celebrated in Kerala on the day of makam, the 10th asterism in the second Malayalam month of Kanni (Aug- Sept.). The ladies of the house take ten or twelve grains of paddy (rice), anoint them with oil and, after bathing them in turmeric-water, consecrate the grains with recitation of certain hymns, and deposit them in the ara or safe room of the house. If there are in the house any female members born under the makam star, the duty of performing the ceremony devolves on them in particular. The cows of the house are decorated with sandal paste and flowers, and are sumptuously fed with various kinds of sweetmeats. Krishnat P. Padmanabha Menon, describes this ritual in his book as a 'festival observed by Namputiris on makam', and says that the festival of 'makam' is really a harvest festival celebrated for Dhanyasamriddhi. It is a prayer for abundance of grain or prosperity in grain. A part of these celebrations was that their women would anoint the grain with sesame oil, dip them in turmeric water, chant specific hymns and deposit these anointed grains in the 'ara', i.e., the store room of the illam (a typical Nambutiri house). The temporal object of the ceremony is securing of food-grains in abundance. Dhanyasamriddhi means increase of grain for prosperity.

When both Edgar Thurston and Krishnat P. Padmanabha Menon considered this ceremony as a harvest festival, it comes to the south including Tiruvananthapuram as a ritual called birthday of rice.

Continued to "Celebrating the Birth of Rice"

Image (c) Gettyimages.com