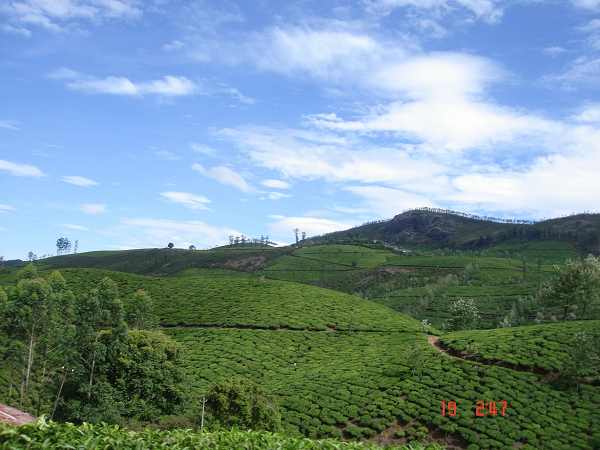 Munnar, the stupendous hill station in the high ranges of the south, situated at an approximate altitude of 1600 meters is in Idduki District of Kerala. It is the land of rolling hills, crystal clear streams and lush ranges with cool, invigorating air. It has been rated the second-best Asian travel destination for 2010.The nearest airport is Cochin, which is about 135 kms. away. The closest railway station is Aluva.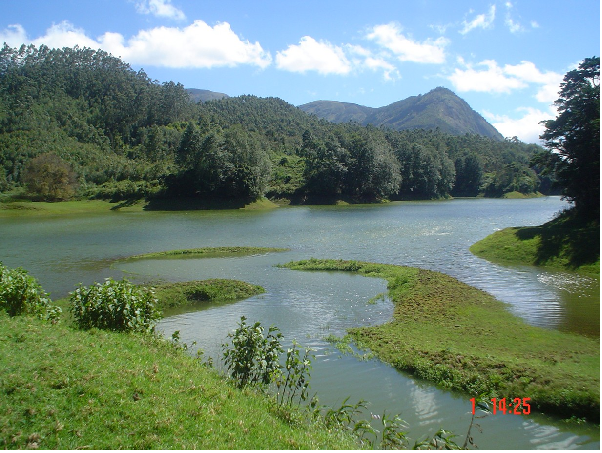 Madurapuzha, Nallatani and Kundala are the three mountain rivers whose confluence has given Munnar its name. (munn = three, aar = river) Once the summer resort of the British, today it undulates with the jade green of tea estates of Kannan Devan Hills Plantations, the former Tata Tea Company.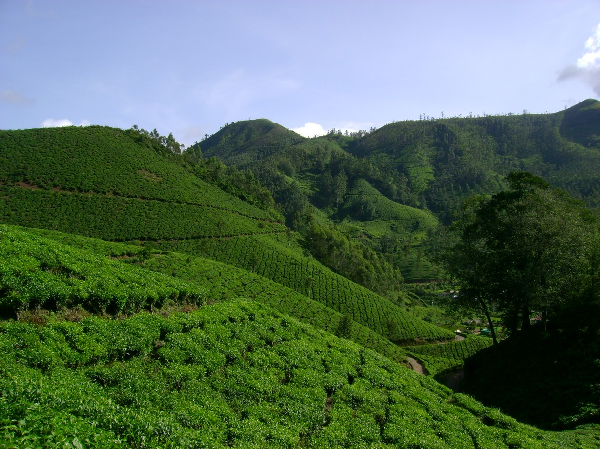 Tea has been its main agricultural crop since the first tea bush was planted by A. H. Sharp in the 19th century, in Parvathi which is now in the Sevenmallay Estate. But the first European to visit Munnar, was Col. Arthur Wellesley, the young Duke of Wellington, in pursuit of Tipu Sultan.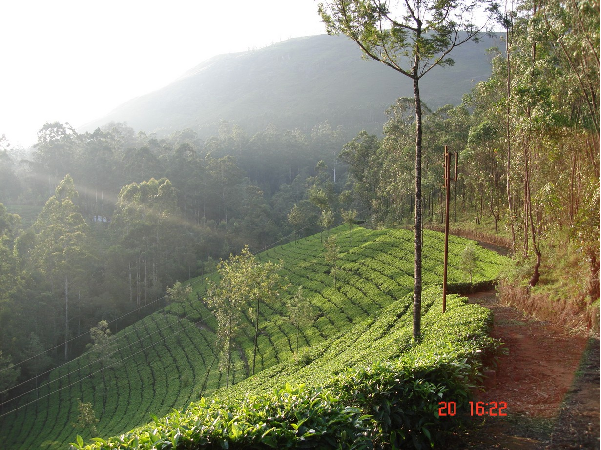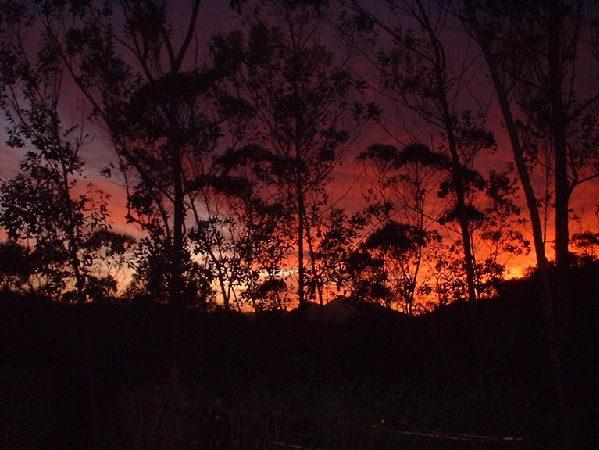 From Sunrise to Sunset.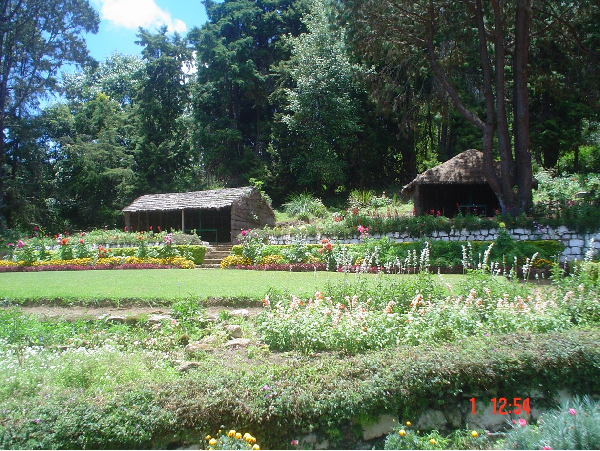 And, from season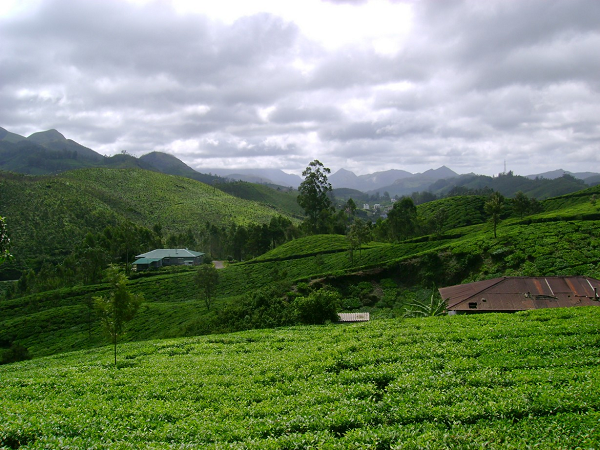 to season this land with its misty lush green hills, waterfalls, lakes and snaking roads, is unceasingly fascinating and a shutterbug's delight. Its wide vistas and varied hues are awe inspiring.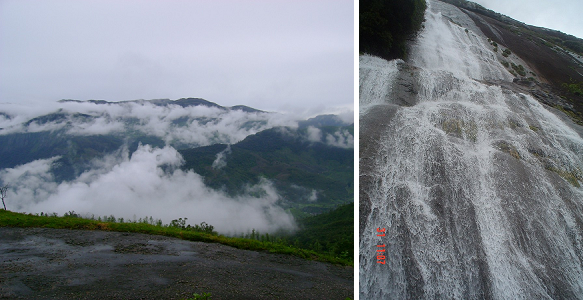 Clouds blanketing Vaghuvurai
The Nyamakad Waterfall.

Continued to "Matupatty"

Comments on this Article
---
| | | |
| --- | --- | --- |
| | Great blog nice n useful information , it is very helpful for me , I realy appreciate thanks for sharing. I would like to read more information thanks. | |
---
Nice site and nice photos..
I really like this..please post like this as in always,,
thank you
---
| | | |
| --- | --- | --- |
| | Thanks Amit, for taking time to go through this and for your lovely comment. | |
---
| | | |
| --- | --- | --- |
| | I sense a rare gift here for marrying words and images perhaps the vanishing tribe of travelogue writers is replenished | |
---
| | | |
| --- | --- | --- |
| | RajeevG, thanks. Am glad you liked the photo essay. This one took a long time materialising, but the appreciation it has received has made it worth the time and trouble. Hopefully, will write another one with photos and inputs from you. | |
---
....I might trigger this thread again !....
Wonderful description of the place, good to read comments too. Along with writing am impressed by photographs too... Combination with photographs does bring closer to Munnar.

Will wait for more photo essays like this....

Best wishes,

RajeevG
---
| | | |
| --- | --- | --- |
| | Thank you, Amlan. I understand perfectly well why you would want to go back to the place. I've been there more than five times, stayed for two months once, but I never get tired of it. Every day, has something different to amaze you with, morning, noon and evening. It is one of my most favorite places. | |
---
This is the best photo-essay of Munnar ever seen by me.......I've been to the place, enjoyed for 2 full weeks, but reading this makes me want to go again!!
P.S. can't help the feeling anyways...its such a wonderful place
---
| | | |
| --- | --- | --- |
| | Thanks Ibohal, for visiting. Do go to Munnar I guarantee you will not be disappointed. | |
---
EECHE,
The sunset photo is awesome. Love the three rivers' confluence. I'm going there in near future for sure. You have highlighted Munnar with your enchanting lines wonderfully well. Thank you.
---
| | | |
| --- | --- | --- |
| | Thanks for the visit Smita. Hope Madhu drops by too and enjoys the photographs, till she can revisit the place. | |
---
| | | |
| --- | --- | --- |
| | Wow! This is a splendid description of the place. Shernaz, absolutely lovely photographs! | |
---
| | | |
| --- | --- | --- |
| | Really beautiful..... now its makes one even more keen and excited to visit this place we only hear of thats called Munn-aar. | |
---
| | | |
| --- | --- | --- |
| | Thanks Vinay. Happy you dropped by here with your response. | |
---
| | | |
| --- | --- | --- |
| | Thanks Shernaz. Beautiful pictures. Was there myself at the onset of monsoons this year. Amazing place. Really God's own country. Wondering if you've been to Atheripally water falls ? | |
---
| | | |
| --- | --- | --- |
| | Glad you could find the time to drop by, Shail. Thanks. | |
---
Dear Shernaz,

This was indeed lovely. I have been to Munnar myself. But your photographs and the write-ups are indeed awesome!

L, Shail
---
| | | |
| --- | --- | --- |
| | Thanks to all of you for your lovely and very encouraging comments, particularly as this has been my first attempt at a photo essay. I am particularly grateful to Rajender Krishan who didn't let me get away with posting just a few pictures. | |
---
| | | |
| --- | --- | --- |
| | The beauty of any good photo essay that the reader should feel and relate with it. Reading this essay, it seems I am in Munnar myself. Thank you Shernaz for making the essay as alive as life. | |
---
| | | |
| --- | --- | --- |
| | Dear Shernaz,with Kashmir being out of bounds because of terrorism etc,I feel your description of Munnar makes it eligible to be called as "Kashmir" of the south.As they say for Kashmir,I think we can safely and confidently say that if there is heaven on earth,it is here (Munnar) it is here,it is here.Lovely natural photographs with lively text made the piece worthwhile.You seem to be good in everything-be it even Photo-Journalism like this !! Kudos ! | |
---
| | | |
| --- | --- | --- |
| | From Sunrise to Sunset. Excellent photographs. The photos say it all. Keep it up with such kind of photographs. Thanks | |
---
| | | |
| --- | --- | --- |
| | It appears as if the heavens have come down to the earth, and it is here and here alone. Thank you, Shernaz for providing views that are awesome and unbelievable. The write-up and the photographs are lively. | |
---