She's a model and she's looking good
I would like to take her home that's understood
She plays hard to get, she smiles from time to time,
It only takes a camera to change her mind...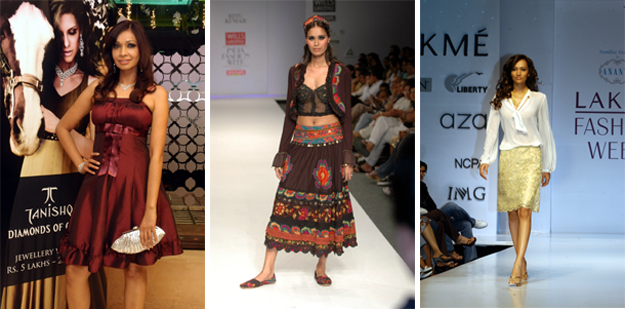 This song by Kraftwerk electronic music band from Germany, way back in 1970, gives an idea of the fascination that models have always held amongst ordinary people. Of course, this interest is at an all-time high today, what with the electronic media beaming images of ad campaigns, fashion shows and after-parties 24x7.
Aishwarya Rai, Sushmita Sen, Priyanka Chopra, Lara Dutta, Noinika Chatterjee, Ujjwala Raut, Dipannita Sharma, Indrani Dasgupta, Naomi Campbell, Heidi Klum, Kate Moss... and hundreds of other beautiful women like them are household names today, whether it is Mumbai, Milan or Manhattan. Day-in-and-day-out their perfect faces look out from newspaper pages, magazine covers and television, as they sell products, project their lifestyles or simply make news with their idiosyncrasies.
But behind all the glamour and success of a handful of women, there are many who have ended up as tragic stories. If there is an Aishwarya Rai, who is the reigning model-turned-actor with a celebrity husband and seemingly "perfect" life, there is also a Viveka Babaji, who found no recourse but to end her life. Whether it was a difficult career switch - from being a top model to an entrepreneur - or a troubled personal life that had forced her to take this extreme step, nobody will ever know.
Viveka Babaji, Nafisa Joseph, Kuljeet Randhawa, Natasha Padbidri... they were all young, beautiful and famous models. And they all died young. Once they stepped off the ramp, their life changed forever and they broke down under pressure. It's not easy giving up the limelight; and it's definitely not easy to constantly have to live up to a perfect image. Every time an incident like this occurs there is a lot of interest in the kind of lives these 'perfect' women lead and the problems - personal or otherwise - they deal with. Former Indian supermodel Lubna Adams, who has made her mark as a successful fashion choreographer, event director and a producer, sheds some light: "Models face as much pressure to perform as any other professional or even a homemaker. But let me assure you that these girls who are now no more with us had very successful professional careers even after they stepped off the ramp."
Adams, who has worked with supermodel Babaji, adds, "She [Babaji] had a good career as a choreographer and her modeling career was also still on. It was obviously for some personal reason that she took such an extreme step."
It is widely believed that models have a very short shelf life - most retire before they hit their early 30s - and find it difficult to cope with a life bereft of the spotlight. Of course, public perceptions are shaped from portrayals in the popular media, more recently Madhur Bhandarkar's National Award winning film, 'Fashion'. Parallels have been drawn between real life examples and the film's three protagonists, especially the character of the reigning supermodel, Shonali Gujral (essayed on screen by Kangana Ranaut), and the ups and downs she goes through - overthrown by a small timer she is unable to come to terms with this change and takes to drugs and alcohol, finally succumbing to them.
But former model Achla Sachdev, who is a well-known video jockey, TV anchor and a successful choreographer, rubbishes the stereotypes. "Work pressure is there in every field. The advantage of our world is that we can start planning for a fulfilling career long before the klieg lights go off! If one has talent, there is no end to success," she says.
Sachdev didn't have a long modeling career - her lack of height came in the way - but Adams had ruled the ramp for more than eight years. "I retired when I was just 25 and at the peak of my career," she says. She adds, "I was always interested in choreography, so while modeling I picked up all the essentials and developed contacts and never found it difficult to start a life after modeling." Today, they feel their life could not have been better.
For models things have rapidly changed over the last few years. The girls are smarter, they know what they want much before they step off the catwalk and they have learnt to identify and use their USP to their benefit. Post-modeling, the avenues are varied and there is enough awareness and information about them. Among other things, there's acting, anchoring, choreography, event management and PR. For dusky beauties - once seen as a disadvantaged lot - there is a thriving international fashion market, as Ujjwala Raut, Madhu Sapre and Sheetal Malhar can easily vouch for.
Of course, former models, who now have to generate and sustain their own businesses, do miss the steady ramp income. Shawar Ali, a popular male model, who has been trying to find a foothold in Bollywood, gives an idea of the kind of money models make these days. He reveals, "It is the most well paid job going. For one photo shoot an established model gets paid more than Rs 1,00,000 (US$1=Rs 45.7) per day and for a fashion show it is above around Rs 40,000 an event. Which other professional gets paid this kind of money! The only thing that one has to do is to look after one's own good looks and who wouldn't like to do that and get paid for it?"
Ali, who worked with Babaji just about a month before her death, observes, "She had a good career and was full of life, fun and laughter. It was her personal life, which I guess she couldn't handle."
So it mostly comes down to how a model deals with the other half of her life. Again the belief is that when it comes to letting off steam, male models are more open - they meet up with friends at the gym and talk over problems, while the women are generally more competitive and tend to bottle things up.
But Adams and Sachdev vociferously deny this too. "Why should girls do that? Even if they come from other cities, their families are just a phone call away. They can talk to them. Family support is always essential for everyone. But then every individual is different and one's ability to cope with problems also varies," they observe.
While Babaji and Joseph were unable to come to terms with their problems, there are some who are hailed as role 'models' in this regard. Take India's first supermodel, Shyamoli Varma or Shy. The face of Pierre Cardin and Lakme, Shy had a successful career but on the personal front went through two failed marriages. Although she sank into a depression for some time, today she is the happy mom of a 13-year-old daughter; she paints and even makes rare appearances on the ramp. In fact, Shy has held couple of shows of her art and is now busy working on her next exhibition. In one of her press interviews, the Pune-based Varma observed, "Just as suddenly as I had let myself go, I took hold of my life. I realised, one fine day, that this was not me. I was a fighter and I had to fight and survive. That was it. The flowers bloomed and the universe came alive again."
Adams, Sachdev and Ali had the final words: "The world of modeling is beautiful. Hard work is the mantra of success in every field. And so is it here."
By arrangement with

WFS




Images
:
Former model Achla Sachdev, who is a well-known video jockey, TV anchor and a successful choreographer, feels that "work pressure is there in every field. The advantage of our world is that we can start planning for a fulfilling career long before the klieg lights go off! If one has talent, there is no end to success". (Courtesy: Achla Sachdev)

For dusky beauties - once seen as a disadvantaged lot - there is a thriving international fashion market, as Ujjwala Raut caneasily vouch for. (Courtesy: Ritu Kumar)

Former model and Miss India, Dipannita Sharma, who has been trying to find a foothold in Bollywood, walks for Nandita Mahtani. (Courtesy: Nandita Mahtani)