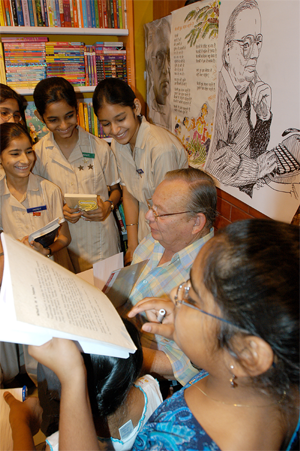 What happens when creativity and commitment meet concern and conviction? A kind of renaissance is ushered in. Eureka is not just a book store it is an idea whose time has definitely come. According to Ruskin Bond it is an ideal 'book nook', a bibliophile's delight!
I had an e-chat with the gutsy duo - M.Venkatesh and Swati Roy - who dared to be different, who cared to listen and thus created a bookstore where every rendezvous with a book is not merely an act, but a celebration.
Ramendra Kumar (Ramen): Venkatesh and Swati, tell us a bit about your background.

Venkatesh : We are friends who have been in the field of media for the past 17-18 years. Swati started off in Indian Express, moved to A&M magazine and then was involved in the startup of agencyfaqs.com (now afaqs.com) - in fact she was the first employee there. She and I got into the books business with Eureka, India's first specialist children's bookstore, in 2003.

Swati : Venkatesh moved from an accounting job to editorial while at A&M magazine. He was with Outlook Money and joined The Brand Reporter as executive editor. Now he is consulting editor at Afaqs Reporter, an advertising and media magazine
Ramen : How did you get the idea about launching 'Eureka'?

Swati : We were frequent visitors to bookstores and discovered that though there are huge bookstores the children's section was a tiny afterthought. We decided to do something about this discrepancy and set up Eureka (which is still not huge), which has a small section for the adults (parents). We thought children needed to spend time and decide which book they would like to read and not have just an Enid Blyton, Hardy Boys or Nancy Drew shelf. Though children's books as a category is moving, it is yet to become the wave that it can easily become if more publishers put their mind to it and give it that platform which is probably happening in the West.

Ramen: What were the teething troubles and how did you overcome them?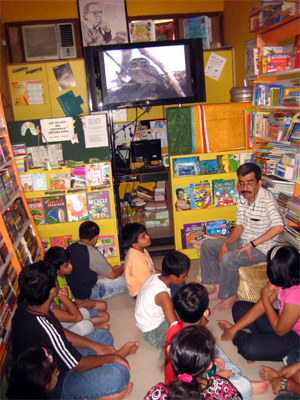 Venkatesh : Money was the first teething problem. We put in our savings, continued working in our respective careers to fund the business. Now, financially we seem to have settled down. Getting customers into a specialist children's bookstore was the second problem. But parents in the last decade or so have been very proactive in their attempt to introduce their children to books. And that helped. Plus, the fact that more and more new Indian authors started writing for children and that some publishers really went all out to make children's literature reach the consumer through distribution channels helped. It is precisely for this reason that Eureka does small events at the store to get the children and see/read the books for themselves.

Initiatives such as reading lists being circulated in schools during holidays comprising new and contemporary authors is a welcome move. More schools now celebrate reading with book weeks and dedicated reading time.

However, reading as a movement can gain credence only if there is more support from the government so that it is an inclusive movement rather than for a chosen few.

Ramen: What is the USP of 'Eureka'?

Swati : Eureka listens. At Eureka we are conscious that the world is becoming a much more connected place now and information moves fast. So, if a book has been launched in US or an author has announced writing a sequel in Germany children know! More than Eureka's it is the children's USP that has helped us keep ourselves on our toes. They know of every new book and author being published.

Therefore to be on top of the situation as a specialist children's bookstore we have to listen.

At Eureka children make buying decisions after browsing freely. However, whenever it is needed we give individual attention and are there to give personal recommendations to children and parents alike.

And finally in order to take the reading experience to a higher level we conduct storytelling sessions and workshops for various age groups. This helps children connect with the stories and at times even gets that occasional reluctant reader get hooked to reading. The beauty of being a neighbourhood bookstore is our customers are growing with us. Literally. So when some of our young readers outgrow the sessions they come back and join us as volunteers.

Ramen: Your website is aesthetically designed, attractive, and fun to navigate and while I was doing just that, I happened to visit the 'Events' section. Can you elaborate on this aspect which makes 'Eureka' so much different from your friendly neighborhood bookstore?

Venkatesh : Like we explained in the previous question, the events are a major differentiator for a bookstore like ours – small, neighbourhood and a single outlet.

Ramen: You have been closely associated with Bookaroo - the most happening children's literature fest in the country. How did Bookaroo come about?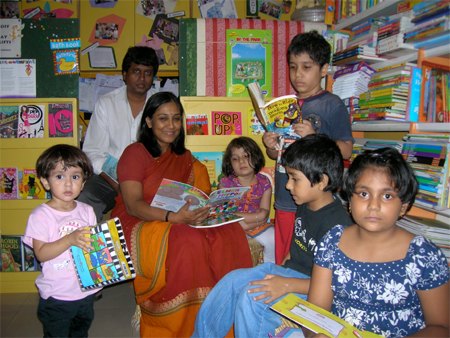 Swati : The origin of the idea emerged after a year of small events at the store. We discovered that we couldn't accommodate more than 25 kids at a time in the store. And that too only of a particular age group. The children needed a bigger canvas where they could get to meet authors from abroad too. The first Bookaroo programme and logistics was slapped together in a record 60 days in 2008. And it set the tone for future Bookaroos. We received enthusiastic support from friends, publishers, authors and our eventual colleagues. The Bookaroo team has been doing a fantastic job since day one. Bookaroo is a Trust and is a separate entity from Eureka, which is the official bookstore of the festival.

Ramen: How would you describe the children's literature scene in the country?

Venkatesh : Very encouraging. You should see the awareness of the children who come in with their enquiries. There have been a few times when they've caught us napping. Also, look at the number of new Indian authors who have written in the past year. I just did a round-up in Mint for summer reads and six of the 10 books were by Indian authors. Publishers like Katha, Tulika, Hachette, Puffin, and even HarperCollins (which wasn't not strong in children's literature has released a few titles) are steadily coming out with new titles by Indian authors, some of whom are really young. We feel this is important because for many years it was the international authors who shaped the children's literature scenario in India. More Indian authors mean more children might consider a career as an author seriously. There is still a long way to go because in terms of popularity international authors still lead. The good news is that it is no longer just a RK Narayan and a Ruskin Bond. Subhadra Sen Gupta, Deepa Agarwal, Roopa Pai, Giti Chandra, Anuskha Ravishankar, Samit Basu, Jerry Pinto, Ranjit Lal, Paro Anand, Shreekumar Varma, young Anshuman Mohan, Deepak Dalal, yourself and many many more.

With events like Bookaroo, specialist children's stores like Eureka and Katha's new venture, things look good for children's literature in India.

Ramen: And finally your future plans for 'Eureka'?

Swati : Right now we want to concentrate on doing our job well. There is so much happening in the children's books arena that it will take a lot of effort to be actually an expert.

As for business plans we would like to concentrate on online sales in the next one year. On customer requests we are developing the website like a portal for children's books and content relevant to children built around books and literature and contemporary issues. Hopefully that should kick off next year.
Eureka is located at 6, LSC, Narmada Market, Opp. Don Bosco School, Alaknanda, New Delhi 110 019
Eureka's Blog