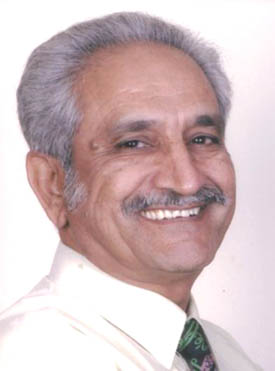 Having had his early education in Punjab, Mr. S.C. Arora did his Honours in Mathematics as well as Postgraduation (Maths) from Punjab University, Chandigarh and his Postgraduation in Education from the University of Bristol (U.K.)
He started his career at the Rashtriya Indian Military College, Dehradun, in the year 1961 and has since served in many prestigious Public schools of the country which includes Sainik School, Kapurthala (Punjab), Lawrence School, Sanawar (H.P). He was the Principal of India School, Kabul (Afghanistan) for 7 years. He established the Apeejay School, Noida as the Founder Principal and was the Principal with this organization for 19 years and then as the Director for Apeejay Schools for 3 years. He has been the Chairman of National Progressive Schools Conference, a body of over 100 Public schools. For the last 7 years he has been the Vice-Chairman of Lotus Valley International School, Noida.
He has been honoured by many organizations like Rotary Club, Lions Club, Giants Club and National Integration Council. He is the recipient of Indira Gandhi Sadbhavna Award and Bharat Gaurav Award for his contribution in building up the nation.
He is widely traveled and an avid reader. He dabbles in writing and has written the following booklets titled - Effective Parenting, Pursuit of Happiness, Nurturing a Winner, Inspired Living, Lessons Learnt from Life, Literate or Educated; and Leadership.
A few of his articles have been published in the National Dailies and educational magazines. He has addressed many seminars and conferences on educational and national themes.
He has enjoyed much love from the children under his care and respect from their parents and his co-workers. He has been appreciated by all for his commitment to his work and for instilling the spirit of excellence in his colleagues.