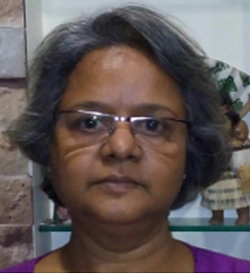 Master in Development Management, Asian Institute of Management, Manila, Philippines (1997) and Master in Social Work, Delhi School of Social Work, Delhi University, India (1973) with BA Hons. Economics, Delhi University (1971).
Trained in – Development Communication, Marketing Management, Organisational Diagnosis, Management of Change, Development Finance, International Relations, Development Paradigms, Strategic Planning and Policies and Policy Reforms.

Have more than 35 years experience in research and implementation spanning over various sectors such as – wharf/jetty development, roads, mines, energy/power, health and family welfare, water sanitation and urban development. Have a plethora of experience in networking with various agencies, Consultants, and NGOs towards directing efforts on holistic and sustainable social development. Was one of the key players in the implementation of WATSAN, Polio related communication, and Family Welfare projects in India.

Worked in India, Armenia, Bangladesh, Bhutan, Sri Lanka, Kyrgyzstan, Cyprus, Nepal, Georgia, Philippines, Thailand, Vietnam, Spain, Cambodia, Vanuatu, Laos.