Written jointly with Sanjukta Sarkar as a report by Development Management Consultants (Kolkata) and Synergyz Consulting (Hyderabad)

The ongoing COVID-19 pandemic has had a deep impact on the way we perceive our world and our everyday lives. The pandemic has created havoc with people waking up to a situation of restricted movement or access, loneliness, joblessness, boredom and helplessness. Further, this pandemic has put extraordinary pressure on not just public health systems, but also on crisis communications.

The Indian government too like other governments in response to the pandemic has resorted to introducing and advocating measures that entail lockdowns, isolation, social and physical distancing. Clear, end-to-end crisis communication with diverse target groups becomes key in advocating such measures introduced to dealing with such a pandemic. However, in a bid to get things rolling on a war footing the citizens could not be consulted and most are still trying to get a grip on the nuances of the disease and its impact. Further, ever evolving situations and the developments caused by the pandemic is generating demands for changed communication and messages that should be easy to comprehend and practice.

Crisis communication or messaging during a pandemic situation becomes very complicated due to limitation in access and delivery mechanisms. Face to face modes become redundant and one can only resort to remote access through media channels. With respect to India, crisis communication is a very complex exercise given its varied dialects, cultures and social norms. Not only 1.3 billion citizens have to be addressed, tailor-made crisis communication plans need to be chalked out for every state and section of the society, especially the poor and marginalised [1]. The efficacy of any crisis communication strategy, especially during public health crisis, depends equally on the accuracy of information disseminated and also its inclusivity. This necessitates understanding how citizens retain and comprehend messages that are being given; perceive the measures being taken and how far would they go to maintain the norms, behaviours and practices expected of them. The early response measures were done on war footing to flatten the COVID – 19 curve and avoid / minimise the 3rd stage of contagion (community transmission stage) as far as possible. However, there is umpteen scope that people are likely to slip back into non-compliance mode unless they are made to understand that these are some of the immediate possible ways to reduce spread of infection and beat the disease curve.

An emergency situation of this kind and proportion demands rapid appraisal of crisis communication at frequent intervals (almost on daily basis now) to feed into the immediate interventions for emerging challenges and contain the disease based on its pattern differing between countries and regions. This article is based on a rapid appraisal done by surveying a small sample (200) of respondents from different parts of India. It was held in the last week of the first stage of lockdown announced by the PM starting 25th March 2020. The respondents were from different walks of life with 14% being students, an age group who are yet to shape up and establish themselves. 52% belonged to the age range of 40-60 years. This is the age group considered to be settled and established in their own lives, but who are, today, having to go through the tension and fear of how their living conditions will need to shift further thus bringing in social, economic and medical stress. The responses were sought telephonically and digitally to assess people's perceptions on,
Risks involved - gauging perception on contagiousness of Corona
Prevention from contracting Corona
Treatment of Corona
Best source for receiving credible information related to Corona
Covid-19 or Corona as it is commonly called has also been referred to as the Chinese Flu by some given that China is the origin for this pandemic. While 99% are aware of the fact that COVID -19 is a virus, 1% called it a germ. This is attributable to the fact that in common parlance bacteria, viruses are often referred to as germs that cause infections.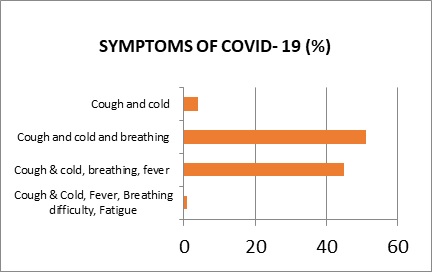 As per WHO, the most common symptoms of COVID-19 are fever, fatigue, and dry cough. These symptoms are usually mild and begin gradually. Patients who become seriously ill, develop breathing difficulty. These being the key symptoms it was noted that only 1% of the respondents knew all the symptoms while 51% stated that the key symptoms were cough and cold and breathing difficulty. One needs to bear in mind that in general cough is identified with having a bout of cold. Infectiousness aspect of Corona is a matter of concern. This is further exacerbated by how in some cases stigmatisation is becoming a big issue. As per some respondents voluntary disclosure could lead to discrimination as also 'hiding the manifestation'.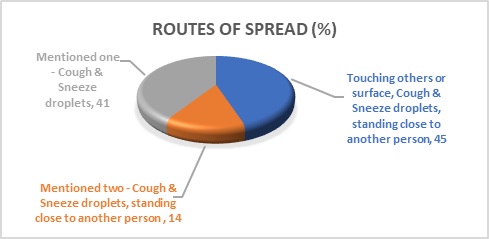 Corona is known to spread primarily through droplets generated when an infected person coughs or sneezes, or through droplets of saliva or discharge from the nose [2]. As a precaution people have been advised to maintain physical distance and avoid touching surfaces. 45% of the respondents are aware of all these symptoms while another 41% stated only droplets generated through cough and sneeze as the main transmission route. 1% stated that the disease can spread through food, water and animals too.

A combination of responses was received on the issue of prevention (social & physical distancing, washing hands with soap & water, using alcohol-based sanitizer, using mask, not touching face). 53% of respondents were aware of all these prevention methods while 48% knew of the above symptoms but did not think that the mask is required. It may be noted that during the initial phases reporting in different media discouraged the use of masks. Overall, some methods of prevention or the other are generally known to the respondents.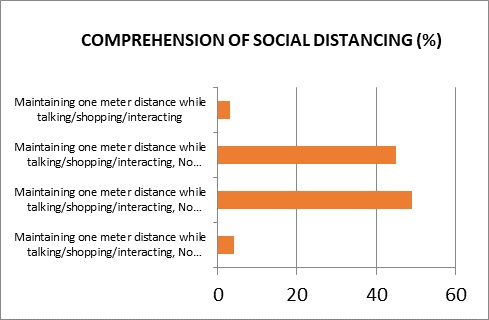 Social distancing [3] has been defined as keeping space between yourself and other people outside of your home. Some of the options or key messages chosen by respondents to define social distancing are maintaining a meter's distance from others, not congregating in groups, avoid anyone showing signs of cough and cold, and avoiding physical contact with people outside home. All respondents comprehend that social distancing entails the need to maintain a minimum distance while 45% are also aware of the need to avoid physical contact.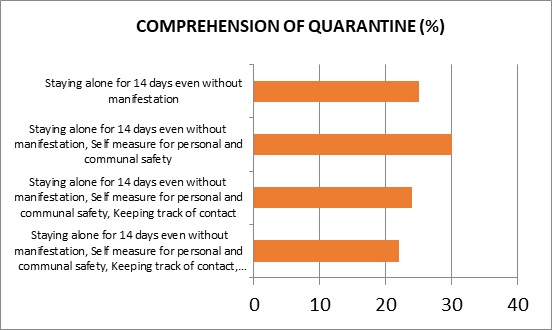 People who have been travelling in the recent past, or exposed to the new coronavirus and who are at risk for coming down with COVID-19 may practice self-quarantine or under the supervision of medical personnel [4] Health experts recommend that self-quarantine lasts 14 days. Two weeks provide enough time for them to know whether or not they will become sick with COVID 19 and be contagious to other people. All respondents were aware of the basic need to stay alone for 14 days even without manifestation. 30% also felt that it is a self-measure for personal and community safety.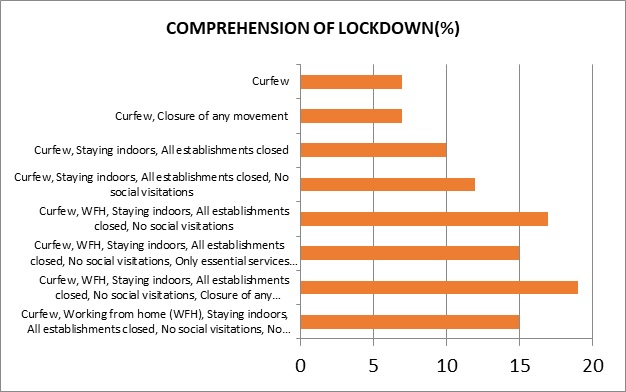 With respect to lockdown all the respondents attributed curfew to be a part of lockdown. Along with this 15% stated that lockdown entailed "Working from home (WFH), staying indoors, all establishments closed, no social visitations, No domestic help or support staff, Closure of any movement and only essential services function". 85% did not mention 'no domestic help or support staff.' This is disconcerting especially if the domestic workers stay away from the home premises and are still being made to come for work. In the Indian context, such workers usually live in congested residential colonies and are vulnerable to any infectious disease.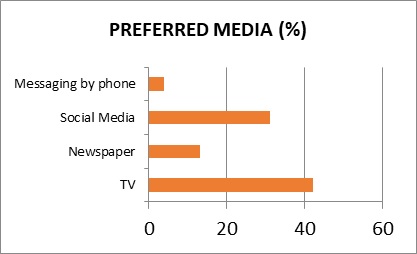 92% of the respondents stated that they are aware of who to contact in case of any doubts related to Corona. It is noteworthy that the 8% that stated that they were not aware belong to the age group 40-70 years and the respondents are also highly literate.

Presently, TV and the internet are the primary sources of information for 87% respondents and for 8% it's the newspapers. 5% stated that the social media is their primary source of information. 20% respondents stated that they had got information from the PM [5] / CMs [6] speech over the period but this isn't the primary source. However, with regard to what would be the preferred media for receiving messages 42% felt that it should be the TV, and 31% stated that they would prefer electronic social media. This is in line with the fact that social media is more easily accessible now especially since many vendors have stopped providing newspapers.

With regard to trustworthiness of source for messages on Corona, 95% were in support of receiving messages from the medical personnel followed by the government sources.

As mentioned previously this survey was done during the first lockdown stage when in a bid to deal with Corona on a war footing, prevention strategies were implemented without having an opportunity to consult the citizens. This resulted in confusion with people often not comprehending the complete range of "Dos and Don'ts" as is evidenced by the following key findings.
49% did not think masks are essential for preventing infection. This confusion can be attributed to the initial messaging that went out to people, stating masks need to be used only by medical and health workers and not by general public unless they themselves are affected.

None of the respondents have stated the need to adopt the good practice of sneezing onto one's own forearm and not into one's hands.

With regard to source credibility, Medical personnel or Govt. spokesperson speaking in TV channels and Newspapers endorsing the same were considered trustworthy sources. None of the respondents acknowledged the role of non-govt. sources in the context of COVID 19.

While most respondents do talk about social distancing and avoiding crowds it is evident that people did not realise that this extended onto areas like markets and shops too. It is well documented that in the initial days people went into panic buying and hoarding mode and were crowding markets and stores. This was also noted when these rules were openly flouted during religious festivals and gatherings.

The long-term benefits of lockdown and the extent to which it applies as a measure are not very apparent to the respondents. Most think it is fine for their domestic workers to commute for work during this period.

Discrimination and stigma still exist as is evinced by people's reactions to medical personnel and COVID 19 patients.

The messages did not have any communication or directive regarding the 'Do's and Don'ts' for preparedness of migrant workers and other vulnerable communities.
In conclusion this study serves as an eye opener of the need for management of crisis communication in a more comprehensive and evolving manner. Clarity during times of uncertainty is the very important. During such uncertain times lack of credible information makes people scared and they resort to consuming anything that is available even if it is irrational. Further, it is imperative to establish a single source of information that is updated frequently [7].

This survey clearly indicates the need for targeted and Strategic Crisis Behaviour Communication (SCBC) tactics and materials to generate maximum awareness among the masses. In India, while the lockdown seemed the only way to contain the infection, it adversely affected the lives of millions of labourers and daily wage earners, who then turned out in large numbers on the roads in a bid to try and get back to their homes. It was also noted that there is a special need for awareness generation amongst the public in terms of preventive measures, precautions to be taken and identification of the symptoms.

Today, the youth are tech-savvy and most connected through social media. Targeted awareness generation via the social media by trustworthy sources will have more outreach as well as ensure accurate information being circulated.

As mentioned previously crisis communication during a pandemic has its own limitations, thus making it very important that there are frequent and periodic reviews with updations based on the new realities. Last but not the least it is very important that in such a scenario of uncertainty and fear messages are empathetic and optimistic.
Continued to "Covid-19: Citizens Behavior Linked Response to Crisis Messaging During Lockdown Period Stage - II in India"
Covid-19: India and Crisis Communication https://www.orfonline.org/expert-speak/covid-19-india-and-crisis-communication-64102/
Myth Busters https://www.who.int/emergencies/diseases/novel-coronavirus-2019/advice-for-public/myth-busters
Coronavirus: Social Distancing and Self-Quarantine https://www.hopkinsmedicine.org/health/conditions-and-diseases/coronavirus/coronavirus-social-distancing-and-self-quarantine
Ibid https://www.hopkinsmedicine.org/health/conditions-and-diseases/coronavirus/coronavirus-social-distancing-and-self-quarantine
PM – Prime Minister
CM – Chief Minister
"Seven Rules of Communication during a Crisis" by Raghu Raman, 2020