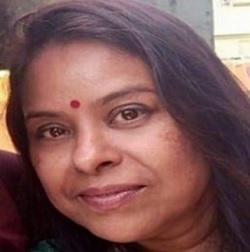 Master in Ecological Sciences, Salim Ali School of Ecology and Environmental Sciences, Pondicherry Central University, India (1992) with BSc in Environmental Sciences, St. Josephs College, Bangalore (1990).

Have nearly 28 years of experience in the social sector with top academic institutions, corporate and social sector funding agencies and I/NGO's. Extensive experience in Development Communication and Formative Research, Social Impact Assessments/Reviews due to Development and Infrastructure projects, Social and Gender Reviews, Integration of Social and Environmental Factors in Community Initiatives and Participatory Assessment Methods, Planning, Analysis, Monitoring and Documentation of Social Development/ Management Programs.

Excellent communication skills with fluency in many Indian languages. Extensive work experience in many states of India, Bangladesh and Sri Lanka.
Covid-19: Citizens Perceptions of Crisis Messaging
During Lockdown Period in India