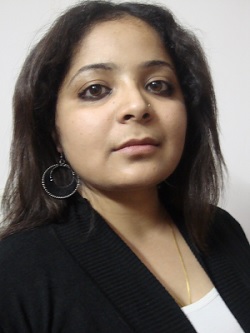 Imagine standing on the top floor of a 21-storeyed building and watching everybody and everything from there, which all seemed as if a set of cells or rather a set of hundreds of thousands of moving masses and the thought that i am going to be one of these moving cells. Alas! Hurting me. Nothing can be more ridiculous and painful to be a part of mass without any special focus and special dimension in life. Fortunately, that dimension in my life is Learning and writing.

Hi! I am Kavita Jha (pet name is Khushi & believe me i love to be called Khushi), working as a government employee in a govt. PSU, BHEL. I don't claim that I am a Poetess or a Writer or a Thinker. Oh no no! I have not achieved that depths in my thoughts. I am just a LEARNER and I love to give words to the things I see or the things happening around me. I learn by writing and i write by learning. Neither I claim to be the '"Elizabeth Bishop" or the "Dorothy Parker", I am still struggling to write and write the crude relaities and harsh facts and the unseen hidden sides.

Longing for Farsightedness, realism, exactness and modernism in my thinking and aspiring to keep on learning and writing always.