Continued from: Tattoos from Rustics to Academics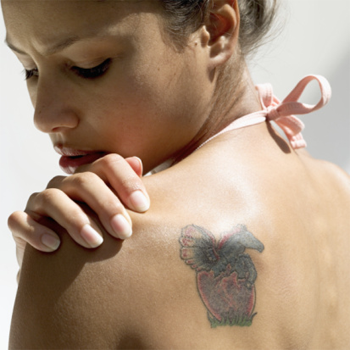 Judith Holland Sarnecki's scholarly work on tattoos has been published in Anthropology of Consciousness and featured in The Chronicle of Higher Education. Dr. Sarnecki explains, "Having a part of your body tattooed serves as a conduit to understanding and incorporating both a physical and psychological loss while also regaining some sense of control and a new sense of individual empowerment." Her recent research interests include gender issues and the subject of tattoos with focus on the history of women and tattoos, how tattoos function in literature and film, and tattoos as a response to personal trauma.
Tattooing has had a long and sometimes dark life, particularly in Japan. The practice of punitive tattooing has existed for at least two thousand years globally. Japan was the last country to abolish it, in 1870. As elsewhere, the Japanese covered these marks of shame with decorative tattoos. The decorative designs became more elaborate as their popularity increased, largely as a reaction to strict sumptuary laws. Tattooing was repeatedly abolished, without effect. Even today, it is illegal to display tattoos publicly in Japan.
In Japan, tattoos are primarily associated with the yakuza—organized crime. A History of Japanese Body Suit Tattooing by Mark Poysden (the author, translator and editor of numerous works on art and the media related texts, specializing in books about Japanese art and history), and Marco Bratt (the co-author of The Sketchbook -KIT 2003 and specializes in Japanese tattoos),traces the origins and development of the Japanese yakuza, ranging over their pre-WWII history, Samurai and Bushido influences, the darker side of Tokugawa rule, and gambling connections and describing what happens when a highly regulated society disintegrates.
The book discusses the artistic influences on these designs. While acknowledging the impact of Kuniyoshi's famous print series on the art of tattoo, this book concentrates on other print artists who depicted tattooed heroes and kabuki actors. For instance, it profiles the tattoo artist Horikazu of the Asakusa district and includes numerous examples of his sketches and work, with explanations of Japanese motifs and techniques. It also comprehensively covers the history of the Asakusa temple complex and the Sanja Matsuri, the Shinto festival held in Asakusa which is a showcase for full body-suit tattoos adorning members of the various yakuza gangs who reside in the district.
Jupiter Ellis is an Associate Professor of English at Loyola College in Maryland. Her research for this book was made possible by the National Endowment for the Humanities, the Fulbright Foundation and the Andrew. W. Mellon Foundation. Tattooing the World: Pacific Designs in Print and Skin is the first book on Tattoo literature and culture. She traces the origins and significance of modern in the works of nineteenth and twentieth century artists and travelers, missionaries, scientists and writers like Herman Melville, Margaret Mead, Albert Wendt and Sia Figiel. Tattooing produces and proclaims the psychological and social place of the tattoo bearer.

Traditional Pacific tattoo patterns are formed using an array of well defined motifs. They place the individual in a particular community and often convey genealogy and ideas of the sacred. However, outside the Pacific, those who wear and view tattoos determine their meaning and interpret their designs differently. Reading indigenous historiography alongside western travelogue and other writings, Ellis paints a surprising portrait of how culture has been etched both on the human form and on the body of literature.

"Tattooing the World is a rich book that explores tattoo as an indigenous form of representation and expression of subjectivity, delving into the complexities of signification and belonging, visual literacy, and contextual understandings of identity formation. The work offers a critical analysis of the politics of display and cultural appropriation, as well as violent extrapolations of tattoo from its original sources, while carefully reading the new forms as they mark new meanings," observes J. Kehaulani Kauanui, Associate Professor of Anthropology and American Studies, Wesleyan University.
The book Titolo: Tattoos, Desire and Violence: Marks of Resistance in Literature, Film and Television by Karin Beeler, explores the tattoo's role, primarily as an emblem of resistance and marginality, in recent literature, film, and television. The association of tattoos with victims of the Holocaust, slaves, and colonized peoples; with gangs, inmates, and other marginalized groups; and the connection of the tattoo narrative to desire and violence are discussed at length.
Michelle Keown (lecturer in Colonial and Postcolonial literature at the University of Stirling, Scotland), in her paper 'Exporting Indigeneity?: Tattooing and Gang Culture in 'Once Were Warriors' focuses in particular on the tattooed bodies of Maori gang members featured in the novel and film versions of Once Were Warriors.
In exploring Maori tattooing as a form of cultural inscription, she examines the way in which Alan Duff's novel (1990) contrasts traditional Maori tattooing with contemporary gang tattooing. Duff critiques the way in which, amongst the Maori gang members described within the narrative, the initiatory function of tattooing (as a test of bravery or manhood), gains precedence over the culturally-specific function, thus emptying the ritual of its original meaning.
In Lee Tamahori's 1994 film adaptation, however, the representation of tattooing and gang culture constitutes a radical departure from Duff's novel.
The paper also considers the reservations of Maori commentators who condemn the commercial appropriation of moko designs on the grounds that the moko is a taonga or cultural treasure which should not be freely dispensed like a 'fashion accessory', but rather reserved for those with an ancestral right to wear it as a sign of commitment to their Maori tribal heritage.
Rachel Bryden, from University of Auckland in his essay Cultural Wounds and Physical Scarring in 'Once Were Warriors' mentions how does the wounding and healing of the Maori body in the book and film versions of Once Were Warriors work to construct a national narrative for New Zealand race relations.
The book and the film resolve these issues in different ways, but both incorporate physical trauma, domestic trauma, and trauma associated with marginalization which allows us to experience the pain of that particular form of violence and then take pleasure from the healing of that wound. These wounds are created in both narratives through tattooing, gang violence, domestic violence and rape. However, the book and film construct and heal these wounds in very different ways and, in doing so, perhaps create different narratives of national identity.
Tattoos are mainstream and have been for several decades now; the literary world actually has a long tradition of wearing tattoos and also writing about them.
Herman Melville wrote with humor about South Pacific tattooists and the tattooed in his 1846 novel Typee: A Peep at Polynesian Life and George Orwell, who rarely conformed with the British establishment, had blue spots tattooed on to his knuckles.
In 1951, Ray Bradbury published a book of short stories called The Illustrated Man – all the stories were linked together by a tattooed vagrant. Each one of the character's tattoos had a story to tell, while Franz Kafka wrote about a nightmarish tattoo machine in his short story In The Penal Colony. Until I Find You by John Irving, not only is it a great story but Irving's attention to detail regarding tattoo history is phenomenal. The list goes on.
Tattoos and Films
The Painted Bride, Film Produced by Amanda Dargan and Susan Slyomovics features mehndi - body painting among Pakistani immigrants Queens, New York. The film explores the important role played by mehndi artists like Hooda who help make traditional wedding customs possible in immigrant Indian and Pakistani communities. It also explores the tensions between American and Pakistani ideas about gender, clothing, custom, and ritual.
Stoney Knows How is a visit with a master of the oldest art in the world - Tattooing. Disabled by rheumatoid arthritis since the age of four, and forced to use a wheelchair, his growth stunted, Stoney St.Clair (1912 - 1980) joined the circus at 15 as a sword-swallower. A year later, he learned to tattoo, and for the next 50 years, he continued to work as a tattooist traveling with circus and carnivals across the country. As we watch him at work, we see the determination which led Stoney to overcome his handicap to heal himself and others with the magic of symbols. The film ends with a visit by New School master tattoo artist Don Ed Hardy who pays Stoney the highest compliment by asking him for a souvenir tattoo.
Tattoos in Museums and Galleries
Tattoo art displays in galleries have become common. In 1995, Elizabeth Hess an art critic when reviewed the tattoo-based art exhibit "Pierced Hearts" at the Drawing Center of New York City, Village Voice "wrote Every artist in town will want to see 'Pierced Hearts' because it's the real thing." The show, which included 300 drawings of tattoo art from the 1800s to the present, turned out to be so successful that it went on a national tour, appearing in such institutions as Miami's Museum of Contemporary Art whose curator, Bonnie Clearwater, described the event as being about 'bringing a popular culture into a world of higher art'."
Meanwhile, that same year, "The Devil's Blue: American Art and Practice through the Port of New York, 1840-1961," another exhibit devoted exclusively to the art of tattoo designs, opened at the South Street Seaport Museum in New York City.
Publications such as the New York Times have continued to cover tattoo art events. In a February, 1997, story, the Times reported: "Thousands of tattoo fans gathered in Detroit recently for one of the nation's biggest tattoo conferences.
Once considered a back-alley art form, tattoos have been moving into the mainstream, bringing new profits to tattoo parlors and even attracting attention from art museums."
Later that year in Detroit, the Detroit Institute of Arts hosted a conference of scholars from around the country to study the tattoo arts. Speakers included anthropologist Margo DeMello of San Francisco University, folklore scholar Daniel Wojcik of the University of Oregon and art historian Dora Apel of Wayne State University. Isabela Basombrio of the museum's educational department pointed out to reporters that "the mainstreaming of the tattoo has produced a number of outstanding artists who have developed their own styles and are documenting their own history."
In its 1996 article on the subject, the medical journal Physician Assistant alerted its readers that cultural attitudes about tattoos in the U.S. have changed during the last two decades and that "Tattooing is a recognized art form in the Smithsonian Institute in Washington." In fact, in 1986, the National Museum of American Art, a part of the Smithsonian, added pieces of tattoo design work to its permanent art collection.
In October of 1997, the Hallways Contemporary Art Center in Buffalo, New York, hosted a gathering and art exhibit entitled "Needlework: A Festival of Woman Tattoo Artists."
America's core cultural reference books, professional journals, newspapers and magazines recognize tattooing as a well-established art form. The tattoo-related arts are studied and celebrated by leading museums, galleries and art institutions across the country.
Art journals of late take serious notice of art created by tattoo artists as well as art derived from that genre of drawing. In April of 1997, in an article entitled "Preparing for a Career in Illustration," School Arts magazine advised America's student counselors that the tattoo arts were a "growing field" offering job opportunities for students trained in fine art principles.
Tattoos in Academics
Finally, Tattooing made its journey to Academics, colleges made curriculum and catalogues for formal teaching of Tattoos – as a Professional Art. International Institute of Tattooing, Tattoo and Piercing School, started a course of study in Orientation and Introduction to Professional Tattooing, and Body Piercing. Students were given a Graduate Degree or Issued Certificate after the Completion of the Course. Student are now able to successfully tattoo clients in a consistent and acceptable manner in a Licensed Professional Studio.

Previous Page
Image (c) Gettyimages.com



References:

Brain, Robert. The Decorated Body. New York: Harper & Row, Publishers, Inc. 1979.

De Mello, Margo. Bodies of Inscription: A cultural history of the modern tattoo community. Durham: Duke University Press. 2000.

Gilbert, Steve. Tattoo History. New York: Juno Books. 2000

Stieg Larsson, trans. by Reg KeelandThe Girl with the Dragon Tattoo, Knopf Publishing Group, 2008.

Mark Poysden and Marco Bratt, A History of Japanese Body Suit Tattooing,

Ellis, Jupiter, Tattooing the World; Pacific designs in print and skin, Irvington, NY, Columbia university press, 2008.

Karin Beeler, Titolo: Tattoos, Desire and Violence: Marks of Resistance in Literature, Film and Television, Ed: McFarland & Company, Pubblication: November 2005.

Rachel Bryden, Cultural Wounds and Physical Scarring in 'Once Were Warriors' University of Auckland. (This essay won the 2007 Literature Compass Graduate Essay Prize, Twentieth Century & Contemporary Section).

Hoag Levins, The Changing Cultural Status of the Tattoo Arts in America, As Documented in Mainstream U.S. Reference Works, Newspapers and Magazines.

Dr. Jung H. Cho, County Health Officer, Camden County Division of Health, Jefferson House, Lakeland Road, Blackwood, NJ, Feb. 23, 1998.

Registration for Tattoo Arts Operator, The Encyclopedia of Religion (16 volumes) Macmillan Publishing, New York, Mircea Eliade, editor, 1987, vol. 2, p. 270.

Tattoo Renaissance, Time magazine, Dec. 21, 1970, p. 58.

A Proclamation, Executive Department, State o f California, The Queen Mary, Long Beach, Calif

Internet