Poetry make things happen with vibes and it resonates in a thinking mind. It spills over white pages and glitter with dignified images, sonorous cadence and rhythm. Rajender Krishan is a gifted poet who enjoys a sublime sense of honesty and integrity with an inviting gallery of images drawing from different sources. His poems are worthy reading as he makes the reader sit and enjoy it. Small things keep happening in Rajender's poetry as he depicts his home of thoughts in a language that is understandable, soothingly global and lucid.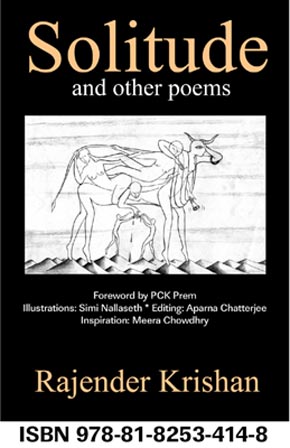 Rajender's sweet and elegant cadence is amazingly attractive. His use of liquid consonantal sounds adds charm to his poems. He notes things that touch him in an artefact of language. Solitude and other Poems is a good write; an inviting reading discourse where a reader is entertained with veritable image gallery, free flow of poetic thoughts and enigmatic expressions.
His poems in this collection usher in a whirlpool of fresh ideas and a new zeal for life and joy of living:
"I have tried hard
To discover solitude
But it remains elusive" ('Solitude'; P. 03)
Rajender follows a traditional way by embracing solitude for his creative zeal. For him, life is a promise; a never ending engagement. Noted poet, PCK Prem in his Foreword to the book says, "The poet wishes a happy future for everyone and desires moksha for man engaged in mundane."
Many of his poems are meditative. There prevails the art of life:
"Buddha
the symbol of
Compassion, Love, Brotherhood and Peace." ('Buddha', P.52)
Sunil Sharma, a renowned critic/writer rightly captures, "His style is completely new." Rajender's poetic world is "amazing Amazon" where poetry is a cleansing process of the mind at the advent of a dawn. His poems are 'immediate' with blessed innocence and sweet cadence:
"Dove
Symbol of peace
Pure at heart
Innocent and divine
Sings with love" (Predator, P.20)
Amitabh Mitra, a noted poet/artist/critic from South Africa rates Rajender's poems as "an absolutely new feel." His symbols unfold variegated experiences of life streaming from different sources. There is a 'tidal festivity' of life and living when we whisker from one page to another. 'Home' is an important fuzzy area for a diasporic poet. A sense of nostalgic past binds Rajender with his homeland. The poetic self-embraces the other through its infinite span of wings. Like many urban Indian contemporary poets, Rajender expresses his dilemma and anxiety to portray life of a modern man who can be defined as missing link. But, the poet doesn't stop there. He leads us to a better tomorrow where parallel lines meet in a finite zone of poesy.

Rajender is an honest member of his tribe who doesn't hesitate to use Sanskrit terms for global readers. It is commonly accepted that Poetry has the power to move hearts. Poems in Solitude and Other Poems make it true. If we follow the trajectory of the chronology of poems in this volume there is a journey undertaken by a man through the wings of his poetic skills.

Movement between sublime portrayals of decay (and death) and the beauty of life's eternal flow of continuance, places Rajender Krishan into company with John Keats' concept of the "negative dialectic." His poetic cadence is impressive, language honed to be the instrument of observation, humility and humor. His control over language is like a competent master and the wordsmith. He reminds us the style of great T.S. Eliot. It captures the essence of split selves of a modern man in a world of wasteland.
Rajender digs out the growing separation of the ethical and the legal: modern society as absurd and alienating. By virtue of his urban Indian and American ethos, nuances and linguistic mileage that reflect various facets of life make Rajender Krishan essentially a postcolonial poet. Rajender writes about the modern consumer life which is unique in many ways.

This new collection by Rajender is a welcome addition to the world of poetry and a worthy entry to the personal and library collections.
Solitude and Other Poems, Rajender Krishnan,
Cyberwit.net, Allahabad, 2013, Rs.225/= ($17), Pp137
Available on Amazon.com India Sites: Amazon.in | Cyberwit.net | Flipkart | Ombooks