I have been reading Rajender Krishan's poetry for many years. These poems have stayed with me as much as I have understood Rajender ji from his environs in New York and have delved into his poetic psyche, strange unrest before a surreal dawn.

His first poetry book, Solitude and other poems is out. Poems are not built on words, they just happen to be there. It's the conscious effort that transcends into poetry and poetry as it is called appears in bursts and sometimes commotion.
As galaxies move inwards, travelling within and without continues. At a busy tube train station, clutching Rajender Krishan's poetry book, I find myself not alone.
This is not a review because Rajender Krishan's poetry can't be reviewed. I cannot call for a literary comparison nor will I try to describe in a literary language, his poetic expressions. That will indeed be sadly incising and destroying the poems itself. Instead, the very evolution of Rajender Krishan to a poet and the poetry statement that he makes is far more important within a global contemporary poetry movement.

To understand him in a far better way, to feel his faintly Punjabi accented English and then to remove him in his entirety from New York and bring him back to Delhi, I requested to talk to Rajender ji on the phone. After 13 years of emailing each other I found myself finally hearing his voice.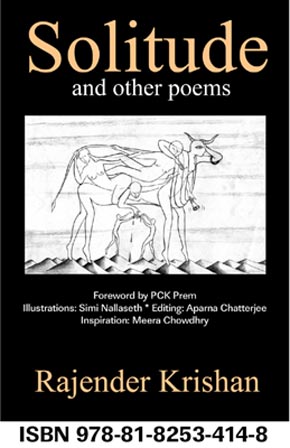 If one wants to know how he entered a special genre of poetry, one must know his upbringing. Meri Paidish Dilli ki hai, (I was born in Delhi). My mind went back to the turbulent times when he experienced childhood. India was partitioned and Rajender's parents arrived to their small Lodi Road residence in Delhi from Pakistan. Everybody then talked about their lives they had left back.

And as he continued talking to me, I remembered internationally renowned artist Arpana Caur whose works on partition delved on the same subject of Migration. Rajender's uncles were all involved in book-selling and publishing business at Delhi. A young Rajender got his first taste of world literature in the back rooms of their hugely popular book shops at Daryaganj and Shanker Market. To my utter surprise and pleasure, we shared our feelings on the then small publishing houses like Hind Pocket Books and Orient Paperbacks and books like Sashti Brata's My God Died Young.

Reading Rajender Krishan's Solitude and other poems bring me in direct confluence with the twirling of Dervishes at Hazrat Nizamuddin. As mentioned in his first poem, Core of the Onion, life remains within life; concepts are born and die in perpetual orders.
The ethereal
apparently caged
behind the skin
remains forever free -
The indestructible Atman
A Monkey's Fall is another of my favorites
Listening to his wails
the societal group
of the lawless jungle
thronged with anxious concerns
but none was a shaman
This poem once again brings me back to Delhi; its myriad cultures and life sustaining touched by many such happenings.

In Wolves
How will the cadaverous
reclaim
what was stolen
in the gruesome ordeal?
A strange question indeed in a world divided into much smaller worlds. I for myself have lost the feeling that Rajender asks in my own world of trauma surgery.
His poem, Migratory Birds
I find myself unable to relinquish and return.

The eagle with its infinite span of wings
is unable to fly again
The trauma of leaving the homeland
continues to haunt ...
As galaxies move inwards, travelling within and without continues. At a busy tube train station, clutching Rajender Krishan's poetry book, I find myself not alone. Each time in a whisper of solitude at a stranger twilight junction, when trees pass by in a resemblance of old dusty thoughts and passengers stare at such aeon of old and new, I live with Rajender's words, answerable only to the unseen.

More on Solitude