Transformation in Indian Democracy – Part IV
Continued from "Politics: Accountability and Transparency"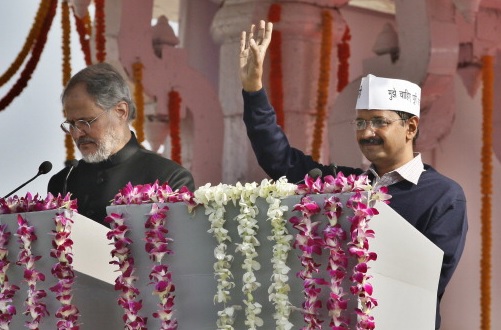 History was made at the Ramlila grounds in Delhi on December 28, 2013. Over 100,000 people turned out to witness the swearing in ceremony of Arvind Kejriwal and his cabinet. I was hoping that after his cabinet was sworn in, Arvind would turn around and ask the large crowd to raise their hands and swear on Bharat Mata to expose and fight corruption tooth and nail to the best of their might. He did not exactly say that but he did do it. This is what democracy is supposed to be: participation and sharing of responsibilities between people and their elected representatives to serve the country. We are far from it, but there is a ray of light appearing in the dark tunnel.

Now that the celebrations are over, let us get back to reality. So far AAP has been fighting the elements of corruption that are external to its own make up and its own organization. The fight was in the people's court where the plaintiffs and accused were clearly identified and issues were reasonably well defined. The struggle was uphill and AAP's victory cannot be underestimated. However, a bigger challenge is yet to come.

Before I elaborate on the new challenge for AAP, let me make a few stipulations. These may not materialize but I will stake my opinion on them anyway. There are two possible outcomes facing the fledgling AAP government:
the support is pulled out from under them by Congress and BJP and they fall in the very near future in which case re-elections are held in the near future;

as a minority government they continue to govern Delhi. It is very clear that their strategy is to carry out their declared manifesto and not enter any alliance with either Congress or BJP.
In my opinion, in any event, AAP will end up running the government in Delhi for the full five year term. Option 2 will be more difficult to carry out for them than Option 1. If they stick with their plan and not make any major mistakes, under Option 1 they will eventually emerge as the government with clear, perhaps overwhelming majority. This will also burst the bubble about the Modi wave. It is a unique challenge for Congress and BJP; all their moves and decisions will be directly judged in the people's court. This is something that is giving them chills right now. They just don't know how to handle it.

If BJP is not careful and if Mr. Modi continues with his current rhetoric of attacking the Congress without providing a clear BJP manifesto for the country, the BJP may be in for a very unpleasant surprise. They may not be able to capitalize on the anti-UPA wave from this point onward since they are not the only alternative choice. Mr. Modi has to clearly take tangible steps to pick clean candidates for the upcoming elections and outline how he is going to clean the corrupt elements from BJP. Regardless of how awkward it looks, at least Rahul Gandhi has started making desperate efforts to clean the image of Congress from this point forward. It may be too late for him but he has got the right idea.

With the stipulation that AAP will serve out the full five year term, the next major challenge they face is to re-engineer the bureaucracy in Delhi. They have no choice but to inherit them. They cannot disown them. They just cannot wash their hands by blaming them. As we all know the Babus are the mightiest next to the Almighty. They have been well versed in corrupt ways by their previous political masters. They are certainly intellectually smart. They are used to a standard of living that cannot be sustained by the regular salary and perks. They will drag their feet and slow down any efforts to meet AAP manifesto objectives. They are well aware that the worst they will face will be a transfer to less attractive positions. All they have to do is to wait it out for five years until the current AAP government fails miserably. After that the business will be as usual.
This is a monumental management challenge for AAP and dealing with it effectively, more than all the other challenges, will eventually determine their future success. How are they going to deal with it?

Fortunately, Kejriwal is an ex-bureaucrat. He is familiar with the tricks of the trade and how to neutralize them. However, he has to do more than just neutralize them. He has to motivate and mobilize the bureaucrats to meet his objectives. To begin with the AAP programs have to be prioritized in terms of the ability of the bureaucratic system to handle them and communicated to the public. Remember, the public may show patience and understanding if genuine efforts are being made and clear progress is visible. They would not tolerate inaction, alternative agenda or failure. All of Saam, Daam, Dand and Bhed will have to be utilized with the existing bureaucracy to tackle this challenge. Clearly, those who are entrenched in corruption have to be transferred out. Many of them may also work as spies for the opposition parties to prematurely reveal internal strategies and tactical moves required to implement new programs. The sincere, honest and particularly the young in the administrative cadre have to be quickly spotted and brought forward through promotions to be assigned to key programs. Outside experts with clear track record of accomplishment in public or private sectors will have to be brought in as advisors to overlook day to day implementation of programs and track progress. The marginal and the sidelined bureaucrats have to be retrained and re-energized under the supervision of the cabinet members and the outside experts. All of this has to begin rather quickly. It will be a fatal mistake to push the manifesto programs through the archaic pipeline of the current bureaucratic setup. Selective outsourcing is another choice to accomplish objectives. It is a double edged sword though. For the corrupt, it is an easy way to squander public funds. However, outsourcing has been very successfully used in the private sector to save time and cost and gain productivity.

Bureaucracy is part of the democracy and in many ways it reflects the character of its political superiors. In private enterprises it has been re-engineered successfully in many instances. Even in democratic governments in the west bureaucratic systems and their productivity have been re-engineered to a significant degree. The challenge for Delhi is unique. There are all indications that Kejriwal and his cabinet along with some top AAP leaders have anticipated this challenge and devised their approach to tackle it.

Continued to "Scalability of AAP"