Transformation in Indian Democracy – Part V
Continued from "Re-engineering the Bureaucracy"
Before we consider the scalability of AAP, let us first try to understand what is AAP? Is it a movement or is it a party? It was not that long ago when the experts called it a movement not a party. Now, it appears everyone concedes that AAP is a party as well. Normally, movements are born out of some pressing necessities to bring about a change in status quo. There are seldom well developed plans after the primary movement objectives are achieved and therefore most movements, however large and successful, are short lived. AAP is also born out from anti-corruption movement led by Anna Hazare.
There is a major difference here. The Anna Hazare movement, like others in the past, slowly fizzled out. However, out of the ashes AAP was born to continue the cause. They were challenged by the established parties to work within the democratic system to enact their reforms. Left with no other choice, the energy of the movement was harnessed by Arvind Kejriwal to form a party.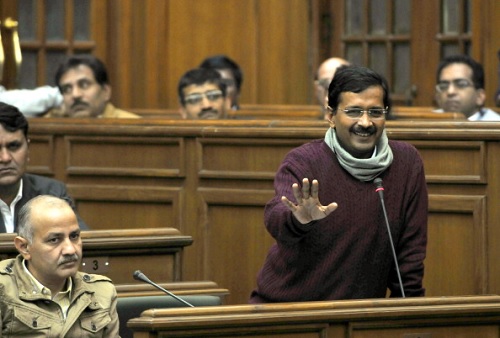 AAP leader and Delhi Chief Minister Arvind Kejriwal addressing assembly
as Manish Sisodia looks on during vote of confidence in Delhi assembly
at Old Secretariat on January 2, 2014 in New Delhi, India.
Five-day-old minority AAP government won critical trust vote.
With the Congress and two other legislators backing,
the confidence vote moved by Education Minister Manish Sisodia was passed 37-32,
with the BJP voting against the five-day-old government.
(Photo (c) Getty Images)
This is where the major difference exists between other established parties and AAP - rest of them are just political parties while AAP is a movement and a party both.
In the normal paradigm, any political party is started by a handful of people. They declare their ideology, a platform and a set of goals and objectives. They then acquire and deploy considerable amount of financial resources to develop regional and national organizations. These organizations grow by inducting people through (partly or completely) ideological identifications, alliances, cast, religion, language and a host of other factors. The party organization and support grows slowly through a lot of hard work by thousands of people over a long period of time. This is why the axiom evolved that it takes a lot of money, people, hard work and time to organize and mobilize a successful party that can win elections.
The AAP on the other hand, as I said before, is a movement and a party both. Movements may be ignited by one individual or a handful of people, but their growth comes from the grass roots – the people. The growth of a movement is from bottom up while that of a party is from top down. This is why movements do not require large sums of money, organizations and time to grow. Once ignited, they can grow like a wild fire. The energy comes from the pent-up desire and need of the masses to participate in the process of cleaning up the filth from the Indian political landscape. The real challenge here is to harness this energy into a structured approach through a dedicated organization that shapes into a political party. As long as the party stays dedicated to the cause of the people and does not betray their trust, there is a chain reaction between the energy of the masses and the organization of the party that channels this energy and feeds it back to the people. This is a high wire act but it can be done. The AAP is riding this tsunami right now. They are treading on thin ice but they have an opportunity to cross the lake without going around it. They have to maintain the movement of the masses and create an organization to faithfully support it simultaneously.
This is hard to understand from the traditional paradigm of the other parties. Not long ago, they were mocking the AAP as a rag tag organization with no financial resources who would not even win a single seat in Delhi. They certainly received a shock treatment. Now, Congress is mocking them again for their ludicrous ambition to contest in national elections. BJP is giving them advice to stay within Delhi and learn how to run a government and leave the national election to the big boys. They have not learned their lessons well. The worst thing they can do is to take AAP lightly again.
There is a peaceful revolution taking place in Indian democracy right now. It is transitioning from state power to people power. It is breaking the traditional and artificial vote bank barriers. There is no need to divide Indians by their caste, religion or background. There is no need to classify people as SC, OBC, Tribal, Minority etc. A person who is un-empowered is one who cannot provide proper food, clothing, shelter, education, health care and security to himself and his family. It is the responsibility of the state (country) to help him help himself to climb out of this disability and become a productive citizen of the country. All the other identifications are simply artificial and counterproductive. They divide us instead of uniting us as Indians. The poor and minorities are beginning to understand it that they are being exploited by opportunistic politicians. It is no surprise to see that the AAP swept most of the votes from the poor and the neglected who were traditional vote banks for SP and BSP.
There are a multitude of challenges facing the Aam Adami Party right now. The foremost among them are:
Stay connected with the mass movement against the massive corruption in Congress and BJP.

Make a genuine attempt to meet the promises made during the Delhi election campaign.

Pursue the declared manifesto sincerely and vigorously. Prioritize and announce action plans to meet them.

While accomplishing items 1 and 2 above, maintain fiscal responsibility in governance. Delay programs if necessary but find alternative sources of revenue or savings in spending to meet budget within reasonable guidelines.

Do not enter any compromise alliance with either Congress or BJP.

Make all decisions, spending, accomplishments and failures public through internet or other media.

As stated before, maintain accountability and transparency of the government as top priority.

Choose carefully places where to contest elections at state and national levels. Particularly target places where Congress and BJP are struggling because of widespread corruption or poor execution. Participate in constituencies where reasonable organizational structure is in place and solid candidates with squeaky clean records are available to field.
The task is formidable but the opportunities are compelling. It is up to AAP to capitalize on them.