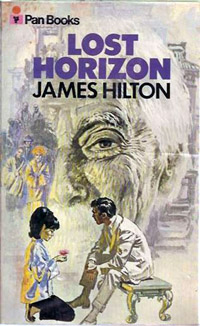 It was the year1975. My uncle, a biochemist at Armed Forces Medical College, Pune presented my mother this book, a book which has been his favorite since its publication. Lost Horizon written by James Hilton was published in 1933.After reading the book; I had asked my uncle, the reasons for it being so special. He looked into my eyes and said 'I believe in Shangri – La, It does exist.' It struck me so strange because I harbor the same feelings till today. He retired as a Principal Defense Scientist and his specialty in High Altitude Physiology and Medicine took him to remote Himalayan areas, only to be mystified by a sheath of preservation, a place that stood the test of reckless time.
As with the other utopias, Lost Horizon is perhaps not a pure invention. It may be based on traditions long current in the Far East of a hidden paradise. Early Buddhist writings call it Chang Shambhala and describe it as a source of ancient wisdom. Belief in it was once wide-spread—in China, the Kun Lun Mountains were rumored to contain a valley where immortals live in perfect harmony, while in Indian tradition there was a place called Kalapa, north of the Himalayas, where lived "perfect people."
In Russia, it was said that if the path of the Tartar hordes was followed all the way back to Mongolia, Belovodye would be found, where holy men lived apart from the world in the land of the White Waters. Shambhala, another name for Shangri-La, was reputed to lie in or north of Tibet, where seemingly impassable mountains enclosed secret valleys that were both fertile and verdurous.
The Russian-born traveler Nicholas Roerich records in his Shambhala (1930) several visits to Tibet. In 1928 he asked a lama whether Shambhala was a real place. The lama answered: "It is the mighty heavenly domain. It has nothing to do with our earth . . . " The question still remains: Did this hidden paradise actually exist or was its reality wholly spiritual?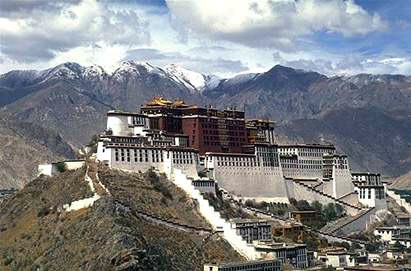 Until being overtaken by the Chinese in 1950, the high plateau of Tibet could claim to be the remotest place on earth. This circumstance helped foster a highly spiritual society ruled from the monastery-citadel Potala at Lhasa by the Dalai Lama. Especially after the closure of Lhasa, which became "the forbidden city" to the Europeans in the 19th century, Tibet also nurtured among Westerners a climate of belief in which they would readily accept miracles.
Buddhist lamas and mystics were credited with extraordinary powers, and many a Western traveler has come back with reports of having personally witnessed unexplainable phenomena. One such report of lung-gom, a training that allowed adepts to overcome gravity and reduce their body weight, so enabling them to move at astonishing speeds, was written by the British theosophist Alexandra David-Neel. She spent 14 years in Tibet in the early part of this century, and observed one of these "runners" bounding along like a ball. "The man did not run," she wrote. "He seemed to lift himself from the ground; proceeding by leaps . . . His steps had the regularity of a pendulum." David-Neel's mystic masters fit the description of a spiritual utopia; should Shangri-La be sought in and around Tibet?
Wherever Shangri-La may be or may have been, it is most curious that the profane "barbarians" foretold by the lama in Lost Horizon should themselves seek to harness the secret utopia where holy men live in peace and harmony.
James Hilton wrote this book with such clarity as if the details of Shangri – la was known to him. Sitting in England in 1930s he could conjure such a remarkable story, that after reading it a couple of times, one finds the geographic locations are still very relevant to the closeness of such a place. James father John Hilton was a school master and his other book 'Goodbye Mr. Chips' 1934 was based on real life experiences of school environment.
Though most often remembered for its depiction of the mythical paradise of Shangra-La, Lost Horizon can perhaps most fruitfully be read as a probing character study and a fascinating contrast of eastern and western cultures. The novel tells the story of Hugh Conway, a brilliant, talented, and immensely complex man. Often misunderstood, even by those who most admire him, Conway is seen variously as a hero, a coward, a slacker, a wise man, and a madman. As the novel opens, an unnamed narrator is having drinks with a novelist, Rutherford, and an embassy secretary, Wyland. Conversation moves to the hijacking of a British military plane in India and the disappearance of a mutual acquaintance, "Glory" Conway. Rutherford later reveals he has encountered Conway in China and received from him an unforgettable tale, which he has written down and passes on in manuscript form to the narrator. It is this text, with its extraordinary account of Conway and his experiences at a mysterious Tibetan Lamasery, Shangra-La, which forms the center of Lost Horizon.
Conway's vision from the airplane windows gives us an extraordinary picture of the Tibetan desolates which are true to this day –
The surrounding sky had cleared completely, and in the light of late afternoon there came to him a vision which, for the instant, snatched the remaining breath out of his lungs. Far away, at the very limit of distance, lay range upon range of snow peaks, festooned with glaciers, and floating, in appearance, upon vast levels of cloud. They compassed the whole arc of the circle, merging towards the west in a horizon that was fierce, almost garish in coloring, like an impressionist backcloth done by some half mad genius. And meanwhile the plane, on that stupendous stage, was droning over an abyss in face of a sheer white wall that seemed part of the sky itself until the sun caught it. Then like a dozen piled – up Jungfraus seen from Murren, it flamed into superb and dazzling incandescence.


Page: 1 | 2 | 3 | 4 Continued