Bundelkhand. The very name of romance. War, love, mystery, history… and Nature …

Though Gwalior, Jhansi and Chanderi are the most popular and tourist-frequented destinations of Bundelkhand, there are more to it, and mostly off the tourist map. It is that 'off' that puts us 'on.'

January 2019, I visited Angkor Wat in Cambodia with family. My better half Jana was happy to give me a 'family-leave' this time. I planned to go alone, because the terrains of Bundelkhand that I wished to travel did not appear that 'family-friendly.' Besides, the schedule was tight, and the tour was supposed to be hectic.

After I had booked train ticket to Jhansi (from Howrah by Chambal express), and from Jhansi to Lalitpur (by Patalkot express), I thought of calling Partha, my school pal, who is currently settled in New Delhi. He has been by best partner in the last few trekking exploration in Gadval Himalaya; and the last trek we had done together was Kedarkantha way back in 2011.

Work and family compulsions had kept us separated for quite some time, 8 years to be specific, the completion of a cycle, so to say, and so I called Partha with ninety nine percent surety of a positive response.

Indeed it was. He called me back to inform that he had booked train to Lalitpur from New Delhi and would be reaching after 2 hours of my landing there. Nothing could be better to prepare for a memorable tour.

I started on 27th February from Howrah. But man proposes and railways disposes as always. The train ran 4 hours late, so that instead of reaching Jhansi at 3.10 pm, I reached at about 7 pm. The plan to make a quick trip to Jhansi Fort had to be abandoned. The news that Patalkot express, that would take me to Lalitpur from Jhansi, was also running 1.30 hours late did not send shock shivers any more.

I spent the first part of the waiting hour straying outside the station to find our huge national flag fluttering high. After some energy smokes outside the railway premise, I returned to the canteen inside the station for dinner. "Where is my train" app showed Patalkot express was steadily late. So I concentrated on Chicken and Chapati.

Finally Patalkot appeared. And now the train entered the Jhansi-Bhopal route. This was my first time on this route, though I had been to Bhopal earlier from the southern side.

I reached Lalitpur at 10 pm, and phoned Partha to learn that he would be reaching at about 11.15 pm. I made some queries about the Retiring Room where we would be staying during our return journey. We could not book the Retiring Room that day because our PNR numbers were different and there was only one room.

After that I stepped outside the railway premise and headed to the nearest hotel. After booking a double bed room (with a bit bargaining that de-escalated the rate of Rs. 800 to Rs. 500 double occupancy), assuring the manager that I would have a male partner with Govt. I-Card, and thereafter stacking my luggage, I went out to wait for Partha, and given the seriousness of the matter, consumed three cups of smoky tea aided by corresponding smokes. I contacted the car agency (whom I had earlier contacted from home, courtesy net search) to confirm next day's itinerary, and he confirmed that a good car would be at the hotel at 8 am sharp.

Partha's train arrived at 11.10 pm, and I welcomed him with a mobile shot and immediately posted it to our Whatsapp group of school pals to announce that we were together again.

At the hotel room, we finalized our next day's itinerary:

1. Lalitpur to Pali – to visit Nilkantheshwar Trimurti Temple
2. Pali to Dudhai – to visit Rock-cut-Narsimha
3. To Chausat Yogini in Dudhai
4. To Bare Surang- Chhote Surang temples in Dudhai
5. Dudhai to Dhaura – to visit Ranchhorji Temple
6. Dhaura to Muchkund Cave
7. Muchkund Cave to Deogarh – and night stay at the Jain Dharmashala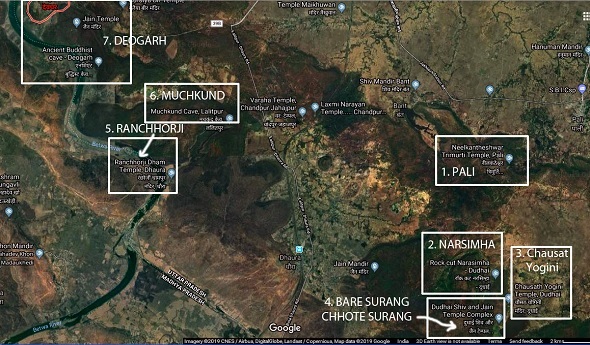 Itinerary Map

Next morning we readied with breakfast of tea and 'Chirer Polau' (Pohaa), packed dry foods and bottled water, and as we were sipping the third cup of tea, our car arrived.

Our pilot for the next 2 days, a strong looking bearded smartly dressed fellow, introduced himself as Bablu. We liked the white Maruti Dzire he brought. Soon we found out that he had good sense of humour, and he could even sense the Bengali jokes Partha and I were sharing. The pilot factor is a very important factor in tours like this, and we were glad to have another friend.

Lalitpur to Pali is 27 km, and Nilkantheshwar Trimurti Temple is another 3 km from there. As our car passed through Lalitpur, we found contrary to our expectation from ignorance on this area, it was quite a large, sprawling and developing town.

Soon our car left behind the urban landscape, and we entered real India, the rural and agricultural India with occasional villages and human habitats.

At Pali road-crossing, where we saw market and shops for the first time after Lalitpur, we stopped for a while. Grapes at Rs. 50 per kilogram and guava at Rs. 20 per kilogram! Unbelievable! The price tags were definite signs to us that this area is not tourist infested. We took good stock. Bablu told us that good food might not be available during the whole day.

At 9.30 am we reached the footsteps of Nilkantheshwar amidst a soothing forest. A flurry of steps leads to the temple to some height. Not a single person other than us, as we ascended the stairs under the canopy of overgrowths on either side.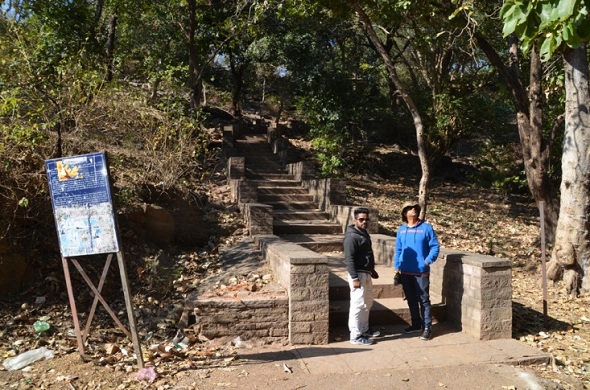 1: Partha and Bablu

The site is ASI protected, but there was no guard, not even any information board. At the top, after negotiating 108 moderate steps, we met a person storing water in bucket. He identified himself as a police constable, but did not quite look the stereotype. He said there is a permanent police camp in the premise. That was heartening.

The temple wall that wombed the actual temple is non-descriptfrom outside with its renovated dumb wall paintings and patch works. This is a great irritation for any sensitive travellers. The erosion of archeological charm by such unimaginative renovations is absolutely unacceptable.

We were however, heartened as we entered the inner premise crossing the low-height door. Well, the smell of history now was quite nourishing. Our constable followed us, and politely reminded that photography is prohibited, particularly of the deity, the Nilkantheshwar. I am accustomed to such forebodings. Soon we entered the inner temple premise and started taking photographs. Now our constable, with eyebrows squeezed but smiles intact, said, "Please finish your photography before the priest arrives." By God's grace, however, the God's priest did not show up so long we had stayed with God.

Local legend goes that the Trimurti sculpture is Svayambhu, that is, it emerged on its own from the hill. Such legends abound in India. If that is the belief of eye of faith, then history suggests that Chandela kings [1] constructed the Temple in the 7th-8th century CE, or as per another alternate opinion, in the 9th-10th century.

A legend goes that Mughal Emperor Aurangzeb sent an army to ground the temple and the idol. However, when some soldiers had struck the statue with sword, milk streamed out, and the swords were broken. The miracle brought change in heart of some of the Mughal soldiers, and they left the place chanting 'Joy Bholenath.'

A Mela (fair) centering the Temple is held every year on the auspicious occasion of Maha-Shivaratri, the day Lord Shiva married Goddess Parvati.


And now we stood at the gate of the main temple. Obviously, the present Temple is a later construction vaunting lack of any aesthetic sense.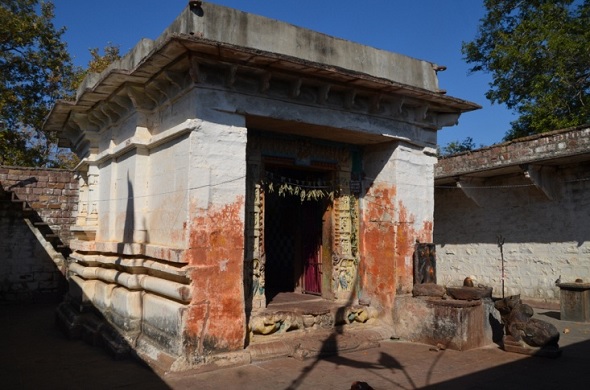 2. The Temple from outside

There is Shiva's Vahana Nandi under the open sky in the courtyard facing the temple door as is customary in Shiva temples. Before it on a raised platform are Shiva-Lingas. A slab relief of either Bhairava or Hari-Hara against the wall is interesting. The police constable, as expected, could not provide any information about the relief.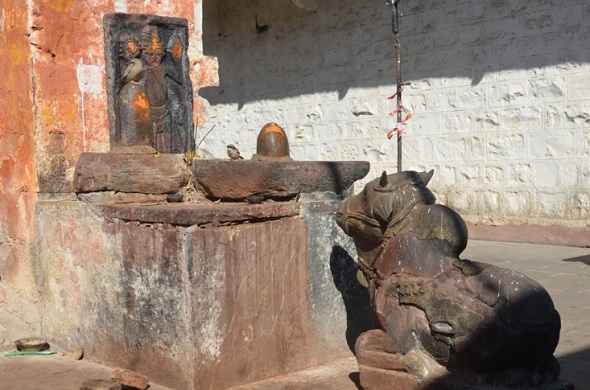 3. Nandi, Shiva-Lingas, and Bhairava (or Hari-Hara) (right side of door)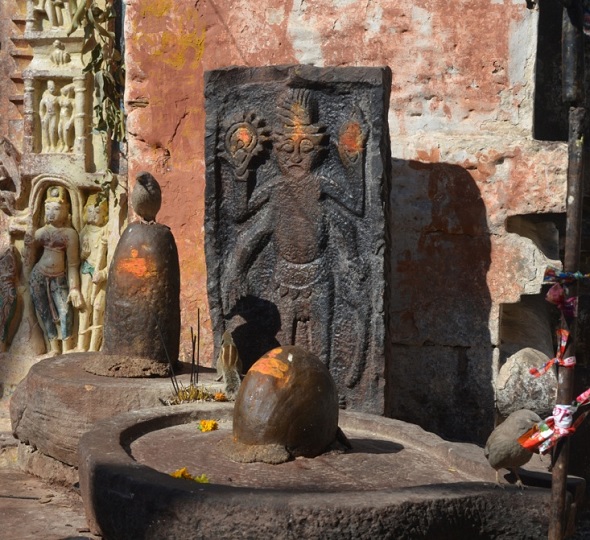 4. Bhairava or Hari-Hara

There are reliefs of Shalabhanjikas and amorous couples on either side of the door Shakhas, however, they are mostly decayed. Reliefs on the Lala tabimba have also not survived ravages of time or savages of crime.

On the wall of the door sill, there are floral reliefs and reliefs of Lion defeating Elephant. As we would find later, this is a recurrent relief motif of temples in this Bundelkhand area.

In my opinion, the Lion other than symbolizing royalty, is also the symbol of Shakti, and the elephant symbolizes instinct. Lion dominating the elephant is a feature of Goddess Jagaddhatri's iconography. In my opinion, the iconography also suggests the power of reversing Matsyanyaya ("Law of Fishes"), that is, Small-Fish dominating over Big-Fish.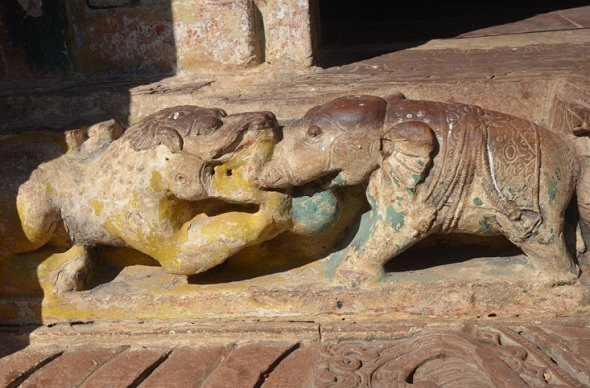 5. Reliefs on the Sill wall – Lion defeating Elephant

We now faced the sanctum of Shiva Nilkantheshwar. An iron bar guarded the sanctum, perhaps to thwart the over-enthusiastic from pouring in.

The bust relief on black stone is unique in beauty and grace. The three faces represent different Rasas, not straitjacket though. To me, the central face appeared combination of Raudra Rasa and Vira Rasa, the face to his right – Bhayanaka Rasa and Bibhatsa-Rasa, while the face to his left – Adbhuta Rasa and Shrngara Rasa. Together, it is all passion spent, so that the whole assures the Bhakta with Shanta Rasa.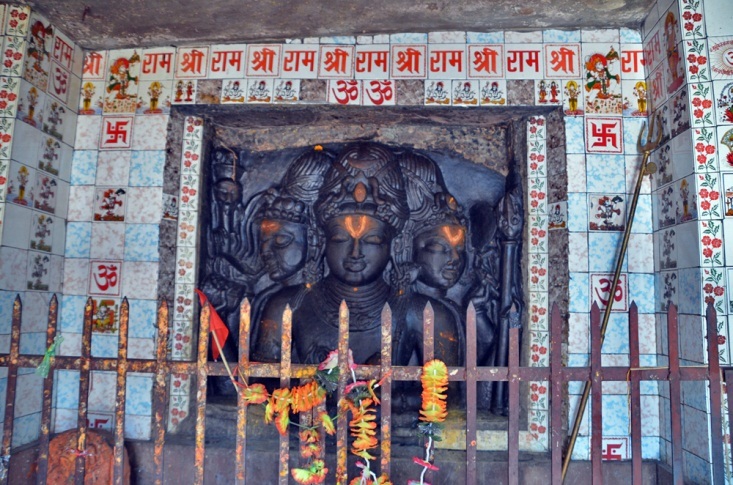 6. Nilkantheshwar Trimurti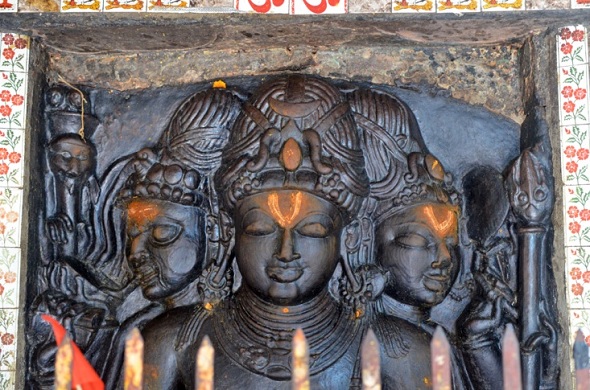 7. Nilkantheshwar (close up)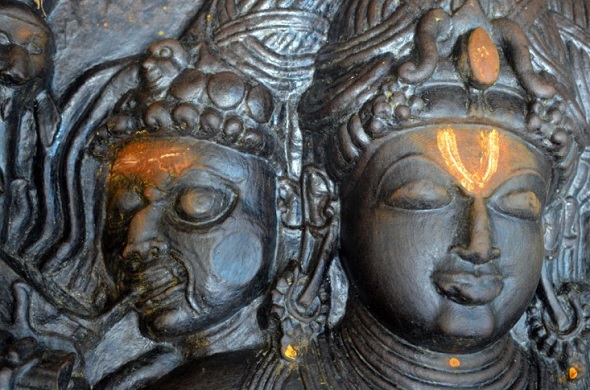 8. Fierce right-face of Shiva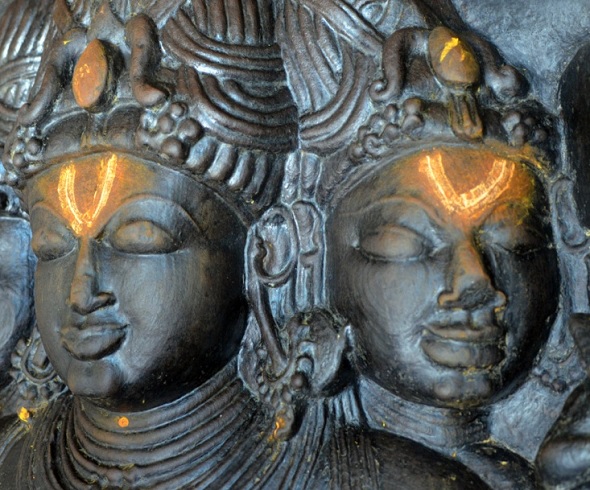 9. Calm left-face of Shiva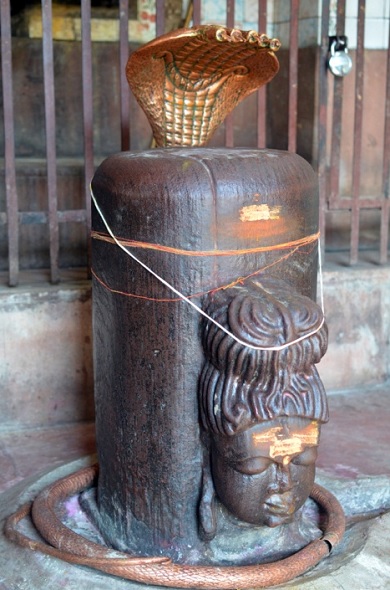 10. Mukha Lingam

And of course, Ganesha has to be there in his father's temple.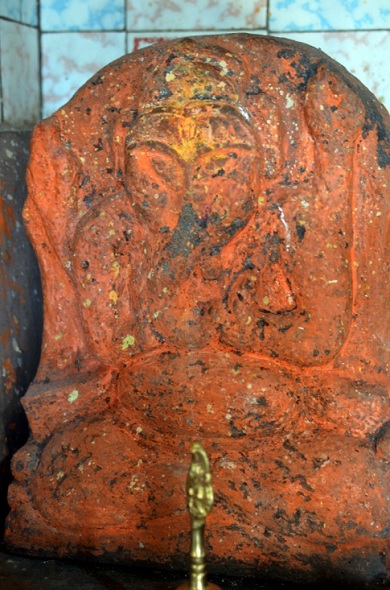 Ganesha

After Darshana and photography, with hearts' content and an elevated mind, we now boarded our car for our next destination –the unique Rock-cut Narasimha …

Continued to Bundelkhand Romance: Rock-Cut Narasimha Of Dudhai
[1] "The Chandelas of Jejakabhukti were a royal dynasty in Central India. They ruled much of the Bundelkhand region (then called Jejakabhukti) between the 9th and the 13th centuries. The Chandelas initially ruled as feudatories of the Gurjara-Pratiharas of Kanyakubja (Kannauj). The 10th century Chandela ruler Yashovarman became practically independent, although he continued to acknowledge the Pratihara suzerainty. By the time of his successor Dhanga, the Chandelas had become a sovereign power. Their power rose and declined as they fought battles with the neighbouring dynasties, especially the Paramaras of Malwa and the Kalachuris of Tripuri. From the 11th century onwards, the Chandelas faced raids by the northern Muslim dynasties, including the Ghaznavids and the Ghurids. The Chandela power effectively ended around the beginning of the 13th century, following Chahamana and Ghurid invasions. The Chandelas are well known for their art and architecture, most notably for the temples at their original capital Khajuraho. They also commissioned a number of temples, water bodies, palaces and forts at other places, including their strongholds of Ajaigarh, Kalinjar and their later capital Mahoba. The origin of the Chandelas is obscured by mythical legends. The epigraphic records of the dynasty, as well as contemporary texts such as Balabhadra-vilasa and Prabodha-chandrodaya, suggest that the Chandelas belonged to the legendary Lunar dynasty (Chandravansha). A 954 CE Khajuraho inscription states that the dynasty's first king Nannuka was a descendant of sage Chandratreya, who was a son of Atri. A 1002 CE Khajuraho inscription gives a slightly different account, in which Chandratreya is mentioned as a son of Indu (the Moon) and a grandson of Atri. The 1195 CE Baghari inscription and the 1260 CE Ajaygadh inscription contain similar mythical accounts. The Balabhadra-vilasa also names Atri among the ancestors of the Chandelas. Another Khajuraho inscription describes the Chandela king Dhanga as a member of the Vrishni clan of the Yadavas (who also claimed to be part of the Lunar dynasty). The later medieval texts include Chandelas among the 36 Rajput clans." (ref – wiki)