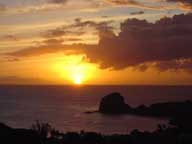 The musical symphony is both natural and man made. The tune is provided by man, the rhythm by nature and the song by the Heavens. The three components of the symphony are called the ragam (tune), thanam (rhythm) and pallavi (song), in the classical south Indian musical tradition. The paintbrush that stroked nature so broadly and boldly is celestial. This inspires the background for the song, in which man perceives the tune and the nature provides the beat and the rhythm.
Ragam – The Tune
Ragam is the intuited tune for a melody. The inspirations for the melody are introspection as well as meditation. It is the impulse of man that gives form to the tune.
Thanam – The Rhythm
Thanam is the rhythm that occurs naturally. The natural phenomenon in the world is guided by 'Rta', the unity of nature, an order that is constant and repetitive akin to the beat of a drum.
Pallavi – The Song
Pallavi is the coming together of ragam and thanam. The tune created by the human mind blends with the surrounding nature, and in its cohesiveness springs forth the song. The combination is purely celestial.
The moods of this Caribbean Island come alive in these photographs taken by Marco Tan, a student at St. George's University in Grenada, over a period of two years, while living in Granada.