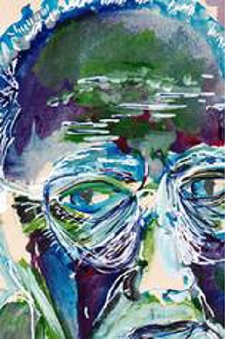 Rakshat Puri, one of India's most renowned journalist, writer and poet had covered China's Border War against India in 1962 for The Hindustan Times and subsequently was a correspondent for the same newspaper in East and South-East Asia and covered the Vietnam War up to 1969. He also covered Indonesia's "Confrontation" (Konfrontasi) of Malaysia and other developments in the region.

From 1969 to 1978 Puri was at the newspaper's headquarters in New Delhi, writing editorials and a weekly column. In 1978, Rakshat Puri went as The Hindustan Times's West Europe correspondent based in London. He returned to New Delhi in 1987.

He also wrote a weekly column "Midstream" as a freelance journalist, which was distributed by Asia Features and published in number newspapers across the country and abroad.
Rakshat as a teenager was an accomplished painter following the classical style of Rembrandt and other old masters. He studied in Government College, Lahore and after Partition in Government College, Ludhiana. After college he took to journalism. He gave up serious painting and became a leading art critic of Delhi. He also took to writing poetry. He was greatly inspired by the writings of mystic saints and poets such as Kabir, Nanak, Farid, Bulleh Shah, and others.

Although a journalist of great distinction, Rakshat's main love remained poetry. He was never too interested in the fluctuations of politics. He later wrote poems in Punjabi in addition to his English writing. He has over half a dozen books of poems published. He helped set up the Poetry Society of India in Delhi and later became President of the Society which post he held till his death.

- Input by Rajinder Puri
Rakshat Puri wrote poems when he was student in the Punjab University, in the early 1940s. His poems have appeared in various magazines, journals and anthologies in and outside India.

Decades later a selection of his poems, The Illuminations of Words, appeared in 1996. This was followed by a prose work in 1998, Blossoms of Apricot, in which he wrote of his experience with words, meaning and rhythm. In 1999 came a selection of poems Edge. This was followed by Wordoodles (2002), Verse Inverse (2003), The Sun was Young (March 2005), Dreams Map Life (July 2005) and Pursuit of Meaning (Sterling).

Rakshat Puri wrote in English and in Punjabi.

He remains to be one of India's most versatile writers with a deep sense of history and its relevance to human existence, behavior and relationships. His poems play with an easy sweetness on the surface of one's mind and slowly enter into the domain of deeper consciousness hitting the deeper cords of human emotion. His grasp of the craft of poetry gives him all the necessary liberty to mould his subject matter into any shape he wants to.

Richard Bartholomew describes Rakshat Puri's poems as ... "springing from a concern with articulating precise images devised as analogy and allusion, and also from giving verse a palpable shape and form" in a "contemplative tone tending to be introspective."
Saying
Strike sound from metal.
Wood, string, wind in reed,say your
Say in movement

Of head, arms, legs, neck, eyes.
Mime your scream, fling your meaning
Urgently across

Unbridged, unbridgeable
Space. Put symbols on clay, put
Love in stone.
Each breath on season as plate
For prints that will speak your scream
As you pass by

In a streak of living or dying.
And leave the darkness virgin
Leave the still sky unscarred.

The flower years
Have passed and words will not
Alone bear your saying

Range wide then in time's; fashion fresh
To say what you must,
Then go.
August 1947
Light brick-red
The house stood quiet
In the forlorn night.

Those who gave it sound
Of life and living had left
Early in the day forever — torn out,

Cast out,
After the planned split,
Planned for placement of drilled religionists
By those
Who had held sword and scepter

In iron-handed rule of conquest,
In hard-structured wealth-extraction.

Dawn brought unfamiliarity.
The birds twittered clichés.

High on the eucalyptus a rook
Called to sing an alien day.

The morning sun rose a stranger to time.

For long the house stood wondering
When to start, where to turn.

Then turned to exile.

The light brick-red house went
With the hours, days, months, years,

Became a shadowy image
Of lost meaning.
The Painter
Vainly in the loft
the painter makes to seize all
the aspects at once

He re-undoes his
work. Does, undoes it again.
Light moves all things.

Unheld the image
confronts the painter with dark
sense of falling leaves
Summer
Spring; thunder comes down
From the blue mountain

waking and the gulmohar and
and the flame of the forest
on the thirsty ridge,

stunning tense pigeons
to elliptic flight across
the grey, unbordered expanse.

freezing the honey cat lost
in soft Euclidian measure
of fertile roof tops,

punctuating timeless pledges
at wayside tea stalls,

sending the black
buffalo's mate to fantasies
of dust and lusty play;

and the glow worm to cleaning
its lamp for nightfall
Two Poems
1

In the flesh-rounded known of spring
when every gesture is tested of the sun
and things are deep in perspective light,
her whispering hair gives
credence to the wind.

2

Evening will have us grown
shadow length. The nervous shapes we know
speak nothing.

In the wayside sunset leaves
blows from yesterday
a garden
has slept forever
and the agony of singing grass is
illusion
This Year
This year the rains came late.

In the swirling floods and eddies.
Flotsam has drifted into winter.

The sun falls now gently as flakes of snow

and memory brings back the old
concerns of an innocent revolution.
The Sun was Young
The sun was young then
This image returns, and returns again,
From days now lost to will and wit:

Visitors ushered in
Grandmother's gracious welcome, smiles.
Hushed flowers in a vase white
On peacock blue.

On the faded wall hangs
A fading oleograph of odalisques
In dalliance with a Moghul prince

Old silent voices, old silent laughter
Carefully conscious
Of custom's careful demeanour
Measure a room now given to memory

Outside the room a landscape of shadows
Silhouetted in the slow afternoon's
Now lost leisure

Ridiculed then
The irrelevance of time's
Presumptuous summons
From a long wait for some unknown nothing

The fading light in the oleograph
On the faded wall leaves the prince
In dalliance forever
The odalisques in summer's fine lawn
Crowd untiring.
Fawn around the loose silken robe
And the strewn goblets

Time's irrelevance is imaged in grandmother's
Gracious welcome of many yesterdays ago –
Old smiles, old voices in a room now lost
To relevance in time's irrelevant beckoning
From a long wait,

In memory-held room
With faded walls in fading light
The eyes look without seeing
The sun was young then.
Tomorrow
Self-sentenced to words that float
And waver in their meaning

Wavering mirage floating in old deserts
Where saints and prophets passed,
Where sand and dry cactus
Thrive drinkless

I pass summerwards through stanzas
Of truth-lie litaniesand the litanies
Of song-struck birds, humming bees

That settle and fly with words
To a notion shaping
Some mystical balance of being, not-being

As day in and day out
Tomorrow calls
In some far-away dog's irrelevant bark.
Portrait in Gouache by Amitabh Mitra