A Conversation with Nandini Sahu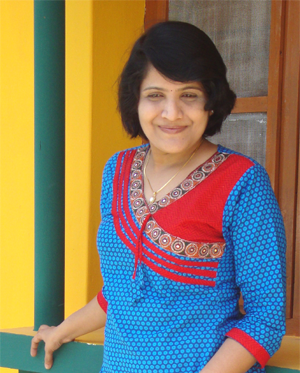 Dr. Nandini Sahu, one among the youngest yet eminent poets of Indian English literature, is a golden daughter of the soil of India. Sahu was born in 1973 in Udayagiri, a tribal, underdeveloped, marginalized, sleepy, small town of Odisha, India. She is from a family of all girls from a village having the social taboos for a girl child. She has reached the pinnacle of glory while swimming in the opposite direction of the stream. Throughout her life, she has been a brilliant student of English literature, and took to teaching literature at a very young age, even before the completion of her post-graduation. Presently, she is an Associate Professor of English at IGNOU, New Delhi, India.
Sahu is a well-known Indian English poet in her own right, (perhaps the only Odia woman poet writing in English) who prefers to compose and divulge her feelings through poetry. Her poems are the exceptional lexis of the landscape, natural scenarios, mythological stories and places as well as historical events of Odisha state. She has made her poetry voice the ancient majestic tales of the state. Through her poems Sahu also expresses the tales of humanity and benevolence—thus, she is truly an eco-feminist.
The uniqueness of Sahu lies in her use of metaphors and the natural landscapes in her literary creations. She has tinted the beauty of poetry and its fragrance in the interested readers by her sophistication and magnanimous outlook. Some of her poetry collections are 'The Other Voice', 'The Silence', 'Silver Poems on My Lips' and 'Sukamaa and Other Poems' (under publication). Eminent Indian English poet Jayanta Mahapatra writes about her, "What I am attracted to is Sahu's ability to bring together elements of her imagination with an outer world she envisages around her."
This is an exclusive dialogue with Nandini Sahu:

SP: Dear madam, you are born in Odisha and Odishan landscapes are rich in your poetry. Would you please focus how do these landscapes impress you to write poems?
NS: My work replicates my life; what I have experienced and seen eventually enters into my poetry. I had lived a major part of my life in Odisha. I am in New Delhi since last seven years. I think that being an outsider gives me a different perspective on life and of the new culture here together with my own. Nostalgic reminiscence of Odishan landscape makes the background of my poetry. I am avowedly an elitist, and my poetry can be called the lyrical biography of a woman.
SP: Madam, kindly assert the roots of your poetry as are brought up in Odishan landscapes.
NS: I am an Odia to the roots, even though my medium of self-expression has always been English, may be because I am more comfortable with the language. But my heart and soul lie in the spaces of temples and the icons, the ritual worships and festivals, the legends and myths, the food, fabric and the culture of Odisha. Naturally enough, these themes dominate my poetry.
SP: Your poetry resembles to that of Jayanta Mahapatra and Niranjan Mohanty. Are you really influenced by them?
NS: Yes, definitely. I have worked for my Ph.D under the guidance of Late Prof. Niranjan Mohanty, who was a renowned poet himself. Jayanta Mahapatra, the Father of Indian English poetry, has been a role model for us young Indian poets. I am inspired by the language, the poetic diction, use of the Odishan landscape, mythology and the racial and cultural history of India by both of them in their poetry. My main sources of inspiration are my land, people, place and what social and political inequalities I see everywhere
SP: Certain poems are echoing like that of Kamala Das's. Is she, too, your model poet? Or, what are your views on Kamala Das?
NS: I have been compared to Kamala Das by most critics. Well, I am a great admirer of her language and style in comparison to her themes. Most of the women writers make voyages into the outside world. But the extended entourage into the deepest hollows of their minds has always been inadequate, given the feminine ambition nourished in their hearts. The intriguing wonders they see 'within' and their capabilities clothed in flamboyant fancy, give birth to literature. However, the charm lies in altering the pains of life into incredible pearls of inestimable literature. Perhaps, Kamala Das can be taken as the best representative of all women writers who had no formal education, but mastered the art of creative writing. Writing about one's own experiences is challenging in the sense that one is at the risk of contradicting oneself—which both Kamala Das and I experiment with. For both of us, the mind, like a kaleidoscope, offers diverse images of the same entity on different occasions.
SP: One can easily find a feminist voice in your poetry rightly beginning from your maiden volume, The Other Voice. What do you like to say on feminism?

NS: For me, feminism may stand for the solidarity between man and woman. I would prefer ecofeminism to feminism, since it advocates for the wellbeing of the universe at large. Yes, in my first collection, The Other Voice, there are a lot of poems that are female oriented, like: The Mother, Draupadi, An Opened Frog, Other Passions, To the Fetus Growing in Me, In the Operation Theatre, Sepia Afternoons, The Serpent, Ritual, Aside, On All who Suffer from Sleeplessness, Pain, Patch Works, etc. In all these poems, there is the distinct voice of a woman, who is not struggling for an identity, rather she has a strong identity of her own. The personae seems to rejoice at the beauty of the creation, she is ecstatic about being a woman; again, she is disturbed by the mental slavery of the human and the subjugation of women.
SP: Another aspect I have observed that you celebrate the 'self' in your poetry. Could you please elaborate the concept of self in your poetry?
NS: I think poetry is important because it augments our innermost feelings. Personally, I cannot imagine living without poetry. I cannot find any tangible or utilitarian worth of poetry, but it conveys something that cannot be priced. The 'self', in my poem could be an image, something I dream of or something I observe. Sometimes a poem can also be stimulated by a piece of music or a rare experience – displacement and the desire to 'belong' has sometimes steered unexpected poems in me. There's no one thing - almost everything can enthuse a poem. I might read about something to which I respond with a poem. The self is constantly in a dialogue with the self, leading to poetry; and poetry also encompasses allegory and a delicate distinction with language. When I am in a reverie, and I am not conscious of where the words or images come from, they just do. And I think one arrives at a very secluded and innermost world where the most cherished things can be enunciated in a poem.
SP: What I have marked as well as focused an article on your poetry earlier that there are both private and personal self. Don't you feel so?
NS: My poetry is lucid, honest, accurate and sincere without any hyperbole, hypocrisy—which is my 'private self'. My tone is conversational, attitude bold and defiant, voice is clear and direct. Courage, conviction and truthfulness are the attributes of my poetry. My 'personal self' experiments with a feminine sensibility that demands woman's equality with man and examines love and life from a woman's point of view, for which, I candidly admit that my scope of writing may be narrow like that of Jane Austen. Without imitating the Anglo-Americans, I use a native accent. I write as an Indian speaks and understands in a subjective, individualistic and recollective mode. In one of my most recent poems titled Bridge-in-Making, I am talking about my use of English:
"I guess what I write is no English.
Still it's a negotiable alternative
to breathing, to the art of living.
…
I am Indian, Odia by birth, with
wheatish brown skin, dark eyes.
I am just a poet
– English or no English--
my taverns filled with Muses."
SP: Many poems of your articulation bear the testimony of narrating the second person, 'you', a male entity, perhaps your love, life and laughter. But in certain poems it remains ambiguous. How do you assess?
NS: My approach in poetry is linked with psychological interplay of emotions and passions. I question the traditional role of woman as a good wife, mother and homemaker. But I am not a thorough feminist, for after all questionings and probing, I realize that love is the last resort. In many poems I speak of a return to the lover, imperfect though he may be. Who is perfect, anyway?
SP: When one reads your poems, (s)he would find you both as an optimist and pessimist. How do you reconcile?
NS: I am an optimist when it comes to looking at life from a futuristic perspective. In fact Percy Bysshe Shelley, with his optimism, has influenced me to a great extent. Sometimes there is a pessimism in my poetry, which is calm, nervy and un-protesting. I write poetry which serves as a purgatorial to an aching self in me.
SP: I have another query on your poetry as a metaphor of the sea. Is your poetic journey ocean ward?
NS: You are absolutely right. Water has always been a motif in my poetry, perhaps because I was born and brought up in a coastal state. In some poems even there are mermen and mermaids. My blue eyed man's eyes have been compared to the sea blue. I have written poems on the Puri beach, and on the Andaman's. Even the river image appears quite often in my poetry. By the term 'ocean ward' if you mean that my poetic journey is becoming vast and expansive, and I am moving from a micro world to a macrocosmic experience of empathy towards humanity, then I would gladly accept that.

SP: You are too young and accomplished. But why do you write like old and aged? For example, your poems on the theme of death!
NS: Do I, in fact, write mature poems than my age? I guess, in a good number of my poems I celebrate my family and relate myself to the visible and invisible scopes of 'home' or its members living or dead with a view to defining my quest for the roots and identity. It has both positive and negative sides. As long as it strengthens my identity and saves me from the loss of face, as long as it becomes a veritable link between the past, present and future, death is a gifted metaphor. But at the same time this death consciousness creeps into my mind to create deep wounds of isolation in me. Poetry and pain, in fact, go hand-in-gloves. Without the experience of pain, how can one become a poet? Some of my poems are, thus, a reflection of the personal tragedy of human beings. Of course this doesn't lead me to a metaphysical pessimism as I regard death and suffering as the inextricable part of the rotating wheel of life.
SP: You are mnemonic. To recollect the past at present makes you a poet of worldwide reputation. What is the secrecy of sharpening memory in poetry?
NS: The narrator 'I' in my poems always inclines between two worlds: a paradisiacal past and an isolated present. In my poems, I draw a fine line between these two worlds and show how recollection of that golden past works as a mode of purgation for me, to pacify my aching heart and tormented soul in the present. Escaping from the agonizing present, sometimes I choose to take rest in my familial, personal history and the mythical past of India as a whole. The sense of loss which I experience in my poetry stems partly from the past and partly from the present. It stems from the past because it existed and happened once and it cannot be achieved now except revisited through memory. It stems from the present because of a realization that the present is devoid of any operative system of values. I have encountered loneliness, betrayal, violence, disease and death in life. In trying to seek a release from the torment of the present, I fall back on the past.
SP: Your poetry is also enriched by Indian myth and mythology. You are trying to epitomize certain characters from the Ramayana and the Mahabharata. Is it to enliven the richest tradition? Kindly explain your prayer motive on Lord Jagannath.
NS: You are right. I have the perceptions of mythical, contemporary and cosmic worlds because of my roots. My past lies in these places. The culture, the rich tradition of Odisha, the devotion of the Odia for the living Lord Jagannath have always haunted me, which you will find in my poems like The Odisha Landscape, Puri Beach and such other. My consciousness, enriched by such recognition, tries to trace my ultimate philosophical and metaphysical roots. There are characters like Draupadi and Sita from Indian mythology that are my poetic personae sometimes. Jagannath Puri, river Daya, the Konark Temple are also there in some of my poems.
SP: (Curiously enough) the images of the blurbs (the front cover) of your first two collections of poetry, The Other Voice (2004) and The Silence (2005) depict two quite different voices. I am sure you have thought a lot on both the pictures. Now I request you to analyze the distinction.
NS: No, there are not two different voices. In The Other Voice, alienation and existential absurdity interfuse my personal as well as social consciousness to write poetry, thus, purify the self. The Silence is one step forward. The poetic personae has understood life from deeper angles now, and she still continues to unravel the mysteries of the universe through her verse lines.
SP: What I want to ask you perhaps the last one on your Silver Poems on My Lips-you are struggling a lot in your life from pillar to post. What the secrets of success are as reflected in the poems of this collection?
NS:
"Can I gather myself now
from the destroyed sand-shore?
Can I search
for the new pastures now?
Can I start living now?"
I guess you mean these few lines have made you state about my struggle. My struggle has been the struggle of a woman, the individual at odds with the system, an idealist perpetually in rebellion against the reality—to which the traditional values has rendered an archetypal category—the feminist.
SP: Besides, you are a folklorist. Your recent publications of two edited volumes, Folklore and the Alternative Modernities are indeed rare and unique collections. What does make you have a jump and jerk from being a poet to a folklorist?
NS: Well, that's not a jerk and jump. Poetry is always my first love. Poetry is my creativity and folklore is my research. I am interested in the aboriginal and indigenous cultures. I have designed academic programs on folklore and culture studies for my University, IGNOU. Also I have the two edited volumes on folklore studies that you are talking of, released in the World Book Fair this year. For these two volumes, I have done a lot of research on oral literature, material culture, social customs, performing arts, the theories and methods of folklore such as historical-geographical, historical-re-constructional, ideological, functional, psycho-analytical, cross-cultural, structural and contextual-- all of which demand an inter-disciplinary approach. My research has become, of late, inter-disciplinary. In fact, I am working on a bi-annual refereed journal as the Chief Editor, it is titled as Interdisciplinary Journal of Literature and Language, to be launched this year. Again, my fourth poetry collection (under publication) Sukamaa and Other Poems is a tribute to the marginal, the subaltern. Most poems, in this collection, are imbued with a revolutionary zeal to set the record straight between the less and the more fortunate—to even out the confusion. Sukamaa is my folklore.
SP: Madam, your cosmopolitan world vision is too much appreciating. What is your future planning and message for the young poets?
NS: Thank you, Dr.Padhy, for your kind words. Well, my suggestion to the poets of our generation would be—read classical literature. And of course, read poetry—both classical and modern. To be able to write good poetry, one must be honest to the core. Poetry is the other name for truth and beauty.