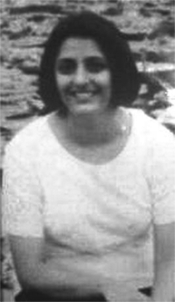 Reshma Aquil passed away yesterday in Allahabad, India. I always wanted to meet her at Delhi. Tonight as I sit before my desktop and think about her and her poems, I realize that the best way to remember her would be to republish her poems that I had published a few years back.

Reshma lived in the beautiful city of Allahabad. She studied and later taught English Literature at the University of Allahabad. We have a common friend, the great musical maestro, Susmit Bose of Delhi. Semeen Ali also a well-known poet is her niece.

She was a contemporary of Professor Arvind Krishna Mehrotra and Adil Jussawala. Poetry had to happen in an unique way with Reshma Aquil, such a poetry in contemporary times that has never been witnessed before. One of the most widely published poet, India ever had, Reshma Aquil's work stands to remain immortal for ever.

To explain Reshma and her poetry would be to explain Allahabad itself. Poetry, its sinuous nuances, narrow streets stretching a sky, a muddy river indulging in glowful glance, a memory slants another corner, Reshma's poetry involves such a cortical expanse hithetro unknown to the world of Indo-English Poetry. I believe that it's not poetry, an immaculate image in words that Reshma created but many such images in a crescendo of colors, she showered on to us till her end. Basking in her words, her music and small talk I wonder if Reshma can ever pass away from us.
From Tonight, An Anthology of World Love Poetry
– August 2008 – Poets Printery, South Africa
You Tell Me
You tell me of a desert greening in June
Breathtaking in its bloom
Tadpoles swishing in waterholes
Spawning lives in a granule;

Of the sand-dune clasp
On a car, camel, man
Over which the sand piles warm and generous
We sink in delicious delirium;

Of being trapped in an Iceland blizzard
Burning gasoline and clothes
Yanked to consciousness over a bowl of porridge
By the army on patrol;

Of nights in an Inuit's skin-bag
Kept alive by body heat
And by cracking the ice
Harpooning quick fishes for meat.
The Orange Leap
I

Skipping stubbled fields, barbed wires, sheaves
All at once.

My incessant talk,
The air spread, the closing sun.

Later, when silence folded my feminine flight,
Your voice still beckoned mind's orange leap.

Green in courage I flew again,
Sowing fresh fields, unheeding whistling winds.

II

Memory slants another corner

Of a roofless brick enclosure,

The sun heating bare-backs, a half stone
Towels, clothes;

From a dark corner,
A samovar chugging smoke,

Water boiling to the whisper of ash.
From A Hudson View
– Spring 2008 – Skyline Publishing, New York
Shelf Life
Within my bookshelf
Invisible insects
Are quietly gnawing wood

Raining upon my books
And Atlas
A steady rush of gold dust

Nothing stops them
Shredding nations
Puncturing skies

Neither DDT
Woodkeeper
Nor linseed oil.

The carpenter
Blames the wood;
Once in a beam in our room

Within its hollows
Nested swallows
Nestlings with closed blue eyes

But now its wood
Holds my books
And these small lives
Catapult
Between the space of wood and leather,
Imaging, holding the forest and its beast;

Within my palm and pull of pebble,
Time and attention peaked.

The bird's ignorant moment
Out in the clearing.

No laughter of hit glass, no peals followed
No clap of a tin and no warning

A soundless surprise –
How much flesh can take!