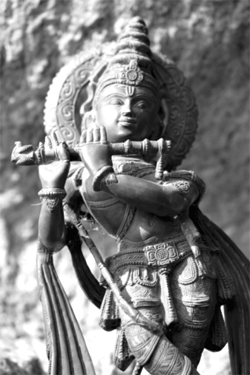 (Composed for the forthcoming 'holi' celebrations. Happy 'holi' to all the readers)

No, I shall never say,
your heraldry shalln't make you one either
for you have cheated a doting mother
and betrayed an innocent lover!
After you have crossed over Yamuna,
have you seen its blue ripples again?
Can you again come under the Kadamb on its bank
to play the flute to intoxicate the simple hearts?
Divine charms you cannot spread again,
milk and curd you cannot steal again,
Nor be dragged to mother Yashoda
to be punished again!
Loser you are…I feel sad for you, oh, the king of kings!!
After leaving Vrindavan, can you see a deer on the run,
a peacock on a trot with the backdrop of dark clouds?
Those lovely days shall never be back again,
you shall trail the mirage instead of nectar, tears to gain!
Mother Yashoda you shall never get again,
The yearning heart of Radha is just one on this earth,
at the cost of seven heavens and years of penance
you can not dream of it once again…
A poor king you are with a big kingdom,
You are crownless after losing the crown of love,
The flute in your hand has lost its luster,
the lotus you hold shall merely wither…

I see more tears in your smiles
than pearls of joy in your laughter;
No, I shall never say,
you are the winner…