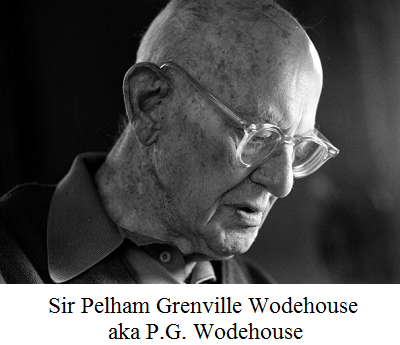 (PG Wodehouse: 15 October, 1881 – 14 February, 1975)

Subtle humour's ultimate powerhouse
Was none other than P G Wodehouse!

The antics of Bertie Wooster
Often landed him in disaster!
The loyal Jeeves, his Man Friday
Rescued him – sometimes with delay…!
After several mind-boggling antics
That would beat the jumpers of Olympics!

Wooster loved his good old Aunt Dahlia,
'Cos her cook Antole provided instant euphoria
With the mouth watering food he dished out
And thus enjoyed much power and clout!

Of His wily Aunt Agatha, Wooster was terrified
Her stern demeanor and ways had him petrified!

Who can forget from "Ring for Jeeves"
These lines that blow away all peeves:

"Which is bigger, Capt. Biggar or Mrs. Biggar?
Mrs. Biggar, because she became Biggar"!!!
"Which is bigger, Capt. Biggar or Master Biggar?"
Master Biggar because he is just a little Biggar"!!!

The "wooly" Lord Emsworth of Blandings
And his pet Empress with some standing
Because of her "well fed and contented look"
That ranked her above pigs from every nook!

And then there was Sir Roderick Glossop
Whose voice made Wooster jump and hop..!
It was like a "cave woman yelling for her demon lover"
That made people instantly run all over for cover
From this "noted nerve specialist"
And "loony doc", as many would insist!

My favourite surely is PG's Psmith series
That made me smile through all my worries!
"Psmith in the City" is about Psmith's exploits as a banker
"Psmith Journalist" sees him handling a deadly gangster!
"Leave it to Psmith" - he deftly tackles Peavy and Cootes
Who enter Blandings Castle to steal a necklace and scoot!

I can just go on and on…
PG's humour always a turn on!
Thanks Wodehouse for making me smile
And grin in circs most sad and vile!


Image (c) gettyimages.com