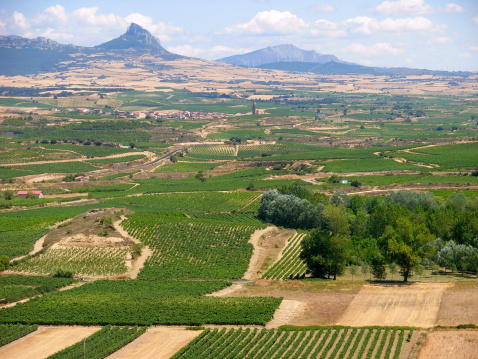 Oh! Spain, my Spain.
Land of Quixotic dreamers,
realistic Sancho Panza's.
Relishing life,
defying death.

Land formed by
many cultures.
Iberians, Romans,
Celts, Jews, Moors
Christians.
Land of the Golden Age.

Horrific Inquisitors,
courageous explorers
of the New World,
indefatigable conquistadors.

Country of great contrasts
black or white,
cruelty, passion, love,
chivalrous, honorable, proud.

From castanets
to bagpipes
from flamenco
to muneiras.
Fierce individuality,
created by chain
of mountains
separating regions
throughout centuries.

Dramatic, lyrical
joyful, inexhaustible fountain of life.

Sweet oranges perfuming the air in Valencia
warm valleys of ancient olives in the south.

Sounds of bagpipes over
green golden mountains,
surrounded by Atlantic sea
in Celtic north.
Moorish historic flavor
Flamenco guitars,
music and dancing.
Beautiful Mediterranean Sea
in the south.

Fierce bulls
sun and blood.
Masterful art,
great writers,
mystical poets.
Castles and Cathedrals,
everywhere.

Continuous Fiestas.
Animated conversation,
wine, laughter
in old taverns
delicious food,
music springs from their soul,
graceful colorful dances,
hands clapping
to rhythms of gaping guitars,
songs expand
into long night life.

Moon spinning, shuddering
over old street lights.
Comments on this Poem
---
| | | |
| --- | --- | --- |
| | Much as gracias Kulbir for su comentario. | |
---
Seinora,

Usted escribe muen bien.
---
Señora,
Usted escribe muen bien.
---
| | | |
| --- | --- | --- |
| | Nathmal , thank you so very much for a very meaningful comment . | |
---
The poem shows your patriotism for Spain in every line.You have created
all the main aspects of your motherland.There are great memories of your
your country.Even childhood, adolescence,maturing age, even school time,
And so many social relationship which you experienced in Spain,are all
looked alive today.I pray to God that your love for your motherland may
always remain in your heart.You have described it in a chivalrous manner.
Thank you very much for expressing all round qualities of Spainese. Again
a lot of thanks,Mam.I liked it.
---
| | | |
| --- | --- | --- |
| | Thank you so very much my friend. | |
---
| | | |
| --- | --- | --- |
| | excellent description of Spain!! | |
---