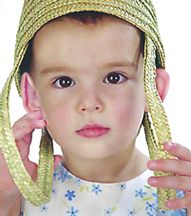 Flying on wings of time,
can see the house
of my childhood
as I daydream.

Feeling weary
starved for affection
I call their names,
deafening silence.
All doors are closed,
no arms extended
eager to embrace,
can't kiss those faces
that I loved so much.
All... Forever gone.
Inundated now
by overwhelming grief
the child in me cries.

Gone are the long nights
curled in grandma's lap,
exciting my young imagination
relating old stories
of those before me,
becoming alive
in my fertile mind.

I have silver temples now,
sitting in a rocking chair
I feel the warm body
of my granddaughter
curled in my lap.
Wide open eyes
expecting in wonder
old family stories
about those before her.
Oh...So recent
those days seem,
still alive in my heart!

Pulling me strongly
out of my past
with sweet demanding voice,

I hear her call,
Grandma, Grandma!
(The Picture is of my granddaughter Katie)