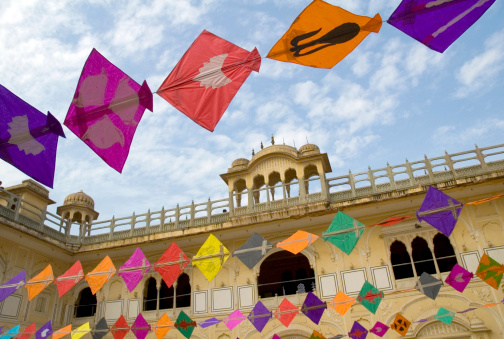 Lovely beautiful kites
Decorate the sky with delight.
The Children and the kites
all ready to show their talents
adding pleasure to the
festive moments.

Children let loose
the strings of their kites.
The kites toss their heads with pride
Fly high with all power and might.
What a wonderful sight!

Environment gets filled
with happiness and cheers.
All engrossed in adjusting their kites
According to the breezy layers
Trying their best to make them
reach greater heights.

Happy to see the youth
filled with optimism.
Trying with all efforts,
Dedication and determination.
Free from all worries and tensions.

Makar Sankranti adds sweetness
Like sweet gul in our life and
Warmth of love like morning sunlight.
Let us all enjoy this festival and
never ever miss this wonderful sight
Do watch and enjoy flying kites.