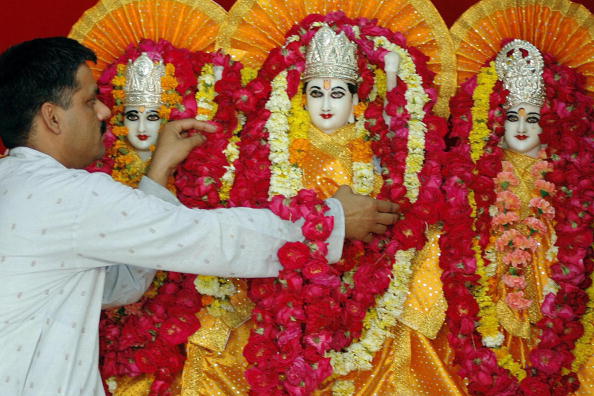 The birth celebrations of the seventh avatar of Sri Vishnu,
Lord Rama or Ramchandra
Born as child to
King Dashrath and Kaushalya
Of Ayodhya

And the festival begins in commemoration
Of his halo and glory,
People worshipping the sun,
Singing bhajans,
Reading from the Ramayana
Or Ramcharitmanas.

And simultaneously with it continues
The akal-bodhan (untimely worship) of Rama
As for his triumph over Ravana
And the freeing of Sita
Held hostage by him
After a worship of Bhagavati with blue lotuses,
Rarer and falling shorter.

When the day appears to be hot and longer,
The earth parching and dry,
The festivity marks the day,
Entwined with Lord Rama's as well as that
Of the worship of Bhagavati
With the neel kamal and utmost devotion.

Whatever be the reality we do not know,
But the Rama stories get a facelift,
Somewhere the processions hold the sway,
Somewhere the kirtans do the rounds,
Sita-Ram, Sita-Ram
Or Hare Rama, Hare Krishna.

The golden idol of Ram with his consort Sita
And brother Lakshmana and devotee Hanuman,
The little little idols looking golden
And decorated well
Or somewhere one may find it
With the statue of Hanuman
Showing the heart torn,
With the names of Ram and Sita written over,
The devotion as such,
Jai Shri Ram.