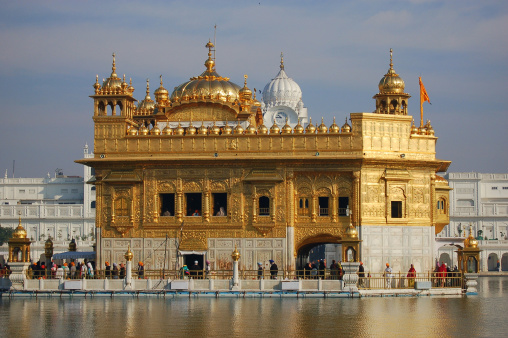 I found my seat today,
Today I found my seat
Across the water from the temple, the temple of burnished gold;
I sat across the water from the Golden Temple of Amritsar.

I found my seat on hard cold marble
And took my seat on that stone floor,
Legs crossed, eyes closed, breath soft and slow
And not a worry stirred me as I sat with my eyes closed.

The Gurus had called me across this holy water,
Across this holy water I heard the Gurus' call:
Sit my brother, sit quietly, and let your spirit flow,
Let your spirit flow in this holy place of prayer.

Cross-legged and eyes closed
I let their call run through me,
Through me ran their call and peace was mine to see;
Through eyes closed shut yet I could see this holy peace run through me.

For half an hour I sat there,
I sat cross-legged for one hour halved
And not one movement did I make,
Moved not one foot or finger.

Peace was mine to be there,
To be there was all peace of mind
And when I stood when day was shot the night softly descended
And my prayers had all been answered.