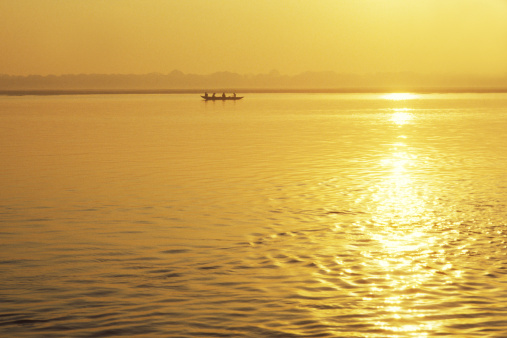 I bathed in the Mother today.
She was gentle with this foolish man
Who came to ask forgiveness
For the sins he has committed.

Only her voice among the stones
Calling, ever calling sweetly,
Filled the air with harmony
And told me of her grace.

Her sandy shores sparkled
With tiny flecks of sunlight
Reflecting off her minerals
Washed down from mountain-sides.

These fragments of golden light
As countless as the stars
Were as elusive as fireflies
And as ephemeral as life.

The rocks and trees now gave voice
As if to sing her holy name,
Birds and lapping waves and stones
All joined in refrain.

Thank you Mother for this blessing
Thank you for being here
Thank you for calling me
So far from my home.

Ganga Chaalisa:
Jai jai jai java pavani, jayati devasari Ganga
Jai Shiva jata nivasini, anupama tumga taramga.

Glory, glory, all glory to you, O sanctifier of the world
Glory to you O Ganga, sacred river of the gods
Victory to you O dweller among Shiva's locks
Your bouncing and rippling waves
Are incomparably beautiful.