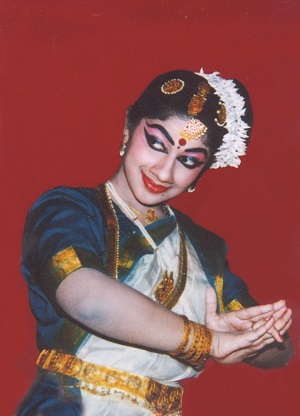 Mohiniattam – the dance of the enchantress,
Exuding abundant grace,
Lasya – the charming pulchritude
That weaves around the style
In silken threads of refined sentiments
With stylish gaits, stunning postures.

The dancing step,
Soft, delicate movements;
Gentle taps and subtle moves,
Flexible body easing into exhilaration;
The lucid fingers rotating
Into mystical Mudras!

Fingers curved like floral designs,
Sculptor's fancy angles,
Chiseled and polished,
Magnetic Mudras
That boasts of spectacular curves
Of beauty and allurement!

Mohiniattam danseuse enters
The centre stage
Attired in beige or off-white pleated Saree
Shimmering with golden border
Eye-catching
A picture of loveliness!

The hair swept like a crown
Raised to left into a Coiffure
Circled with sweet scented jasmine
In rows of thick profusion!
The white buds so small,
Powerful and fragrant!

The umbrella-cup shaped earrings
Dangling and swinging,
To the rhythmic beats of the drums
The gentle 'Rechakas' of the neck
The mesmerising eyes
Prancing like a fish in blue lagoons.

A long golden chain
Closely knit with 'Lakshmi' coins
Rests majestically on the bosom of the dancer!
The 'Lakshmis' are ever vibrant
Bouncing jubilantly
With each beat, each melody!

The tinkling sound of the anklets
Unfurls ripples of joy.
The feet tapping like a tap dancer
The toes pointing like a ballerina
The heels striking like folk dancers
The arms like wings of an exotic bird.

The dancer springs up and down
Swings and sways to 'Edakka' beats
And to the symphony of 'Sopanam' Music
The languorous grace of the 'Adavus'
Reminds one of the symmetrical sway of palm leaves
Against the bubbling backwaters of Kerala.

The horizontal motion of the dancer's body
Like the palm's willing submission
To the caresses of the gentle breeze
The graceful dart of the body
Like the sweeping waves of the sea
As they lovingly stir the sandy beaches.

Sringara – the queen of emotions
Sensitive expressions
Intoxicating eyes
Unfolding the glamorous emotions of love
The dark bow-shaped eyebrows
Supporting the subtle intentions!

Mudras!
The soft touch of rose petals
The dancer portrays the sentiments
Of joy and ecstasy
In eager anticipation of the arrival
Or the warmth of a lover's embrace!

The Rasas!
Gamut of exciting human emotions
Portrayed with much eagerness
The Pathos – of separation from the lover
The anger - at an unfaithful One
The jealousy - at the sight of a temptress!

The romantic songs of Maharaja Swathi Thirunal
And the resplendent lyrics of Irayimman Thampi
Spell magical metaphors
In Manipravalam – a language of the bards
Weaving imageries of love-struck maidens
Translated into enchanting song and dance!

Mohiniattam - a soft, lyrical style
Instructs the dancers
To overcome the afflictions of the body
Fluctuations of the mind
And to control and concentrate
With Yogic discipline!

The slow, ethereal motion of the body
Seemingly easy, effortless and charming
Is but a misconceived notion!
The dance is all about restraint and control
A meditative journey towards perfection!
I bow down in humility at the feet of the learned Gurus!