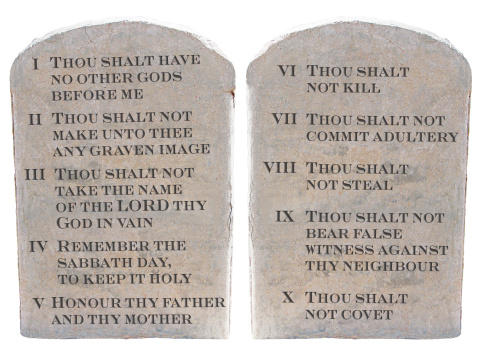 To get closer to God, we must attend Church and pray,
And there are Ten Commandments everybody must obey.
We must live the way that Jehovah wants us to live.
When we are wronged by people, we must forgive.
If we put God first, Heaven is where we'll go.
God's Ten Commandments are listed below:

1. You shall have no other Gods before me.
2. You shall not worship idols.
3. You shall not take the name of the Lord in vain.
4. Remember the Sabbath Day, to keep it Holy.
5. Honour your father and mother.
6. You shall not murder.
7. You shall not commit adultery.
8. You shall not steal.
9. You shall not bear false witness.
10. You shall not covet your neighbor's things.
Comments on this Poem
---
| | | |
| --- | --- | --- |
| | This is the old covenant. The new covenant initiated by Jesus Christ, has one commandment, it is to love. Love covers all the commandments of the old covenant, while showing them up as deficient, so that the law-abiding are less pleasing in the sight of God than the repentant sinner with love in his heart. This love is in the form of charity. To love one's neighbour is to love God. St Paul says the old commandments are nothing but an articulation of condemnation, since they do not in themselves guarantee being kept; whereas love assures one acts charitably, and this is what is pleasing to God. | |
---