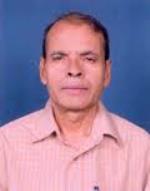 I wish someone could take up
The poetry of Kumarendra Mallick
For his MPhil or PhD degree
If the content be as such.

A haiku specialist, a master craftsman
He can marvel and outwit
With his haiku, senryu and tanka
And the layers of meaning.

The more one peels the onion
The more one finds it layered, cocooned,
Poetry as cobwebs of words
Glistening as the gossamer.

His biography, his diary we want
To peruse and go through,
A scientist, a geophysicist,
How could he be grounded in literature?

The less he says, the more it means,
Making us remember
The physics background of Jayanta Mahapatra,
The medical background of Gieve Patel.

A unique command over English,
English phrase and syntax,
He can even fail the literature students
With his knowledge and wisdom.

Had Ezra Pound been around, he would have
Applauded and admired him
For writing succinct verses
So condensed and crammed with imagery.

There is a quest for values,
A search for truth,
A delving into the realms unknown
Adding depth and variety to poetry.

Poetry to him is
Beautiful words,
Ideas and imagery,
Thought and reflection
So nicely tendered.
Comments on this Poem
---
Strange is the history of Indian English verse right from the beginning, from the days of colonial hang-over to the present times and it passed through several tests of recognition and approbation and ordeals as there was none to acknowledge and appreciate it, should it be Indo-English, Anglo-Indian or Anglo-Indian, Should the Indians write in English, is it Indian poetry in English or Indian English poetry, has it come of age?
So in the paucity of established writers as many dared not write though were good enough, Indian English verse made a way with the mediocre ones, the rhymers, non-poets, commoners, versifiers and poetasters wanting to be the poets and poetesses of English language and literature. But where will recognition come from, from England or India? Even Vikram Seth's book was rejected in the West and it saw the light of the day from Writers' Workshop, Calcutta. Even Ruskin Bond is a verse-writer, but what sort of, I cannot say it? Some of the poets have got recognition and some lie in unrecognized.
When have we started giving awards Sahitya Akademi awards for poetry in English, do you know it? From 1981 and it went to Jayanta Mahapatra for his book Relationship. Even the critic M.K.Naik is an amateur writer of light verse which many of us know it not.
---
| | | |
| --- | --- | --- |
| | What we seem to have lost track of in this poetry forum is that the ultimate test of poetry - as opposed to preaching, which is always for free - is its saleability. The great poets as they are called always wrote for money, without which motive, I dare say, we would have no Shakespearean works. Shakespeare had his financial sponsor, 'the onlie begetter' of the sonnets. The plays were commercial successes, providing the incentive in Shakespeare to write them. Likewise, Eliot, Auden and Pound, the latter whom you mention, were proved in the market-place. Dr Mallick is an amateur, as he would be the first to admit, and has zero sales. One cannot then expect students to take his poems as a subject for a PhD on your personal affection-based say so. He has obviously to prove himself in the market-place, the real world of poetry sales, where poets achieve distinction. Then students can take him seriously. As a comment, this does not detract from your sincere, even eloquent tribute to him, but puts it into proper perspective. | |
---