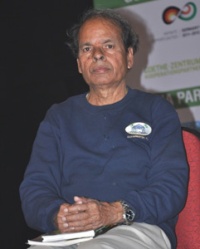 Photographic,
Scenic
And picturesque,
Is your poetry.

Linguistic,
Ornate
And flowery,
Is your style of writing.

Aesthetic,
Artistic
And pleasure-giving,
Are your lines of poesy.

On reading you, I think,
A cameraman,
A dreamer
Or an image-maker, what are you?

Art, art for art's sake,
Not for didacticism,
Pure art and sheer pleasure,
Is your idea and imagery.

Picture and image,
Dream and colour,
Idea and reflection
Keep swapping positions in your poetry.

Against the backdrop of
The daybreak, the twilight
And the setting sun,
You snap the photos.

A cheek, rosy and blushing,
In dimples or twinkles,
Studded with stars or the moon
And jasmines,
You clutch an expression.

A blooming lotus,
A jasmine in fragrance,
A glow-worm glimmering,
The curl hanging,
Take you by chance.

The cattle returning
With the bells tinkling at twilight
And you taking the pictures
Against the backdrop of the glowing sun
Retreating.
Comments on this Poem
---
| | | |
| --- | --- | --- |
| | I would like to reassure readers that I sympathise with their feelings at hearing so much rubbish all over again. I would like to assure readers that I have no desire to spoil their appreciation of the website. Particularly inexplicable were adverse comments on the subject of old age mental powers, when we are well aware of the intellectual prowess of people well into their eighties. | |
---
| | | |
| --- | --- | --- |
| | I realise now all that was needed initially was an apology, which I sincerely tender now both to you and, subsequently, to all members and readers of Boloji; also, to apologise for and withdraw the last comment on the age-related nature of the trauma. | |
---
| | | |
| --- | --- | --- |
| | One final comment, please. You will have noticed from the outset of the comment addressed 'Dear Bijay' confusion of language and ideas, contradictions and repeated lies, and insertions of 'ha ha' that at the time sounded so appropriate, yet in a calmer state of mind crazy. Peculiar verbal constructions that made little sense, such as 'do not represent malicious intent, only appear to', mock bravado as ' I am able to'. Love of God and neighbour contradicted by unkindness to neighbour being not considered evil. This sort of conflict in reasoning can only be attributed to stress-related symptoms of old age disorientation, where what at the time makes sense, is in calmer state of mind nonsense. I will be 73 in September, and my powers of thinking are subject to this sort of episode - I now discover to my horror. The very lack of point of the whole comment as addressed to you but really expressing my own sense of being a hero and actually the victim, shows signs of age-related mental disfunction. The reader should not make judgments on the writer as a serial liar and hypocrite, vile and cruel, but as an old man actually expressing himself truthfully, without realising the many contradictions he passes over. | |
---
| | | |
| --- | --- | --- |
| | I had asked the editor to delete the comment below, but it is the prerogative of the author of the poem. I wish therefore to apologise for its delusional and incoherent content, and can only say it was written and posted in a state of mental trauma caused by prolonged feelings of guilt for having re-initiated what was a concluded matter. I withdraw all allegations concerning the editors, who have displayed nothing but kindness since with not a trace of being offended. My remarks on the nature of website comments are skewed reflecting more a disturbed state of mind. A genuine comment springs from a desire to bring out the truth in what is stated. It is accordingly sustained. Thank you. | |
---
| | | |
| --- | --- | --- |
| | Dear Bijay, I just want you to know that however decided and permanent website comments appear in print for the general gloat of all, to me they are nothing but ephemeral utterances that are dessicated of intent and meaning. My underlying respect for you as a person is the abiding element, so that if I should meet you today I would warmly shake your hand and heed not a jot of comments made in print. The pernicious nature of website comments is that they are supposed to represent one, when in actual fact they are as good as dead frozen in time. Ha ha. They do not represent malicious intent, though they appear to, and convince both oneself and readers as of words carved in stone, causing much suffering to those who cannot dispel the illusion with a laugh. I am able to, and comments mean nothing as the ink that sustains them. What matters is my relationship to God and my love of neighbour, and though the spontaneous comment lacks charity many a time, and appears to fix this, to me it is as good as deleted when said. The website editors enjoy bating people one against the other, I know this for a fact, and they feel people define themselves to others in comments, sometimes causing agony and sleepless nights when a comment made is sustained in print, as though a judgment on oneself. They promote the impression that one must be truly evil if a comment is of an unkind nature - and there it is for all to see and permanently. Ha ha ha.. I tell you they are mistaken in my case. I wish you the very best, friend, and heed not any comment made after ten seconds flat - even this one will turn to stone after you read it, whether deleted or not, as far as I am concerned. | |
---
| | | |
| --- | --- | --- |
| | The problem appears to be that you do not understand my poetry and consistently tend to pigeon-hole it into a medieval or dualistic cast, where the Cartesian dualism of mind and matter prevailed. In Donne's case, in his later metaphysical phase, and the subject of his sermons, it was the good of the spirit and evil of the flesh, or the God and creation of GM Hopkins. whereas my consciousness is about unification of the two in a common identity theory, whereby matter and spirit are defined. This is why I consider the views expressed in your poem under the summary captions of duality and metaphysics unrepresentative. | |
---
| | | |
| --- | --- | --- |
| | The term 'duality of truth' is nonsense unless it imputes someone to be a speaker of falsehood as in the expression 'speaking with a forked tongue'. In your reply, referring to Hopkins and Donne, poets whose works I am familiar, you modify this to 'duality', which is something different. Thus in 'Pied Beauty' Hopkins says beauty can be also be found in things with a mottled surfaces implying a dual quality. Both poets would be horrified to be accused of 'duality of truth' The opening phrase of your poem R D Ashby, 'There lies duality of truth' sets the offensive tone for the rest of the poem. I challenge you to define what you mean by 'duality of truth', rather than falsely accuse me of lack of understanding. My protest was valid, and the poem subsequently deleted by the editor. | |
---
| | | |
| --- | --- | --- |
| | Lastly, do not think that Bijay Kant Dubey is a very small writer. A writer of so many texts, he has nothing to please anybody or get from other men's praise nor does he expect favour. | |
---
I would request the poetry editor most humbly to delete the poem on R.D.Ashby if he thinks it based on paradox and duality of statement, drawing parallels from John Donne and other metaphysicals dealing in conceits and far-fetched images.
And after that I shall never comment on his poetry nor will he on mine. These are not the things of a trader's stock I use. As for researches I also do not lag behind as have worked on D.H.Lawrence, Indian English poetry and so on for many years. What I have if I an show it it will be a news and those things I do not want to show now. If it be a case of promotion, whom have I not promoted? In my book How Far Indian Is Indian English Poetry?, many a writer I have promoted and they are the topics of M.Phil. and Ph.Ds. D.H.Kabadi, R.K.Singh, Hazara Singh, Kulwant Singh Gill, Simanchal Patnaik, M.N.Sharma and so on.
If you think I have hurt you then I wish to withdraw my poem on you.
---
Actually, you have misread and misunderstood my poem named R.D.Ashby which has but been written in admiration and appreciation, not as to cringe and stooping to conquer. I am not a man like that who will like to force his ideas and opinions on someone. If you do not like my poem on you, I shall request the poetry editor to delete it from the forum's website.The words duality and metaphysics actually here refer to Hopkins' use of these in God's Grandeur and Pied Beauty rather than what you have read into the lines wrongly.
The word embarrassment I have not taken it lightly. Had I embarrassed then the editor would not have selected the poem. To be frank with, if you think by writing a poem on you I have hurt your feelings and sentiments then sorry for that. You ask the editor please to remove it for which I shall have no qualm. Are there not biographical poems, autobiographical and pen portraits?
---
| | | |
| --- | --- | --- |
| | Yeats wrote a forward to what was unseen to promote it; Bridges did the same for GM Hopkins posthumously. Both promoted the poems for sales. Dr Mallick's poems are already freely published, people have already read them, and you launch your promotion on what is already known - not once, to his embarrassment, but twice, to fulsome effect, as if to force your opinion on everyone else's already formed. The muddled arguments you raise are but your stock in trade, which perhaps has led to some misunderstanding on my part regarding the sentiments expressed in R D Ashby, the poem. It's not as if I am someone on the cusp of a career for you to have bothered. My role in this poetry forum is as a septuagenarian (72) purely one of charity to my fellow man. My real forte is in my research theme as already set forth in several articles. . | |
---
Bye-bye, goodbye, if poet R.D.Ashby forbids to comment upon, I shall try my best to keep mum as far as possible, I shall not take to attempted criticism if I can check myself from putting and if not, I shall jump again to join the bandwagon to register my presence. Does a fellow writer not write the preface? Did W.B.Yeats not write the introduction to Tagore's Gitanjali? Did he not criticize the same Tagore for being loose and sentimental in the latter works? Who brought out G.M.Hopkins to light? Did Robert Bridges not do anything else for him perhaps posthumously? Had Thomas Traherne got the light of the day in his time? There is no question of attacks as I do not have the stockpiles of nuclear warheads and ballistic missiles. My radar is a poetical radar on whom conjure up the pictures of passing fighter planes.
I liked the poems of R.D.Ashby and he is asking, Mr.Dubey, why did you? But he should know it that this man takes to liking after perusing the pros and cons.
---
| | | |
| --- | --- | --- |
| | It is the height of bad taste to dedicate a poem to a fellow contributor in a poetry forum, where criticism or praise should be restricted to the comments box. Worse, ,a veiled attack on a named fellow contributor in a so slanted poem, as in my case, only creates an atmosphere of tension in what should be a friendly forum of many contributors and readers. The poetry editor should wise up and put a restriction on names of fellow contributors being mentioned in titles or content of published poems. All praise and criticism of a poet's work should be restricted to the comments box. | |
---