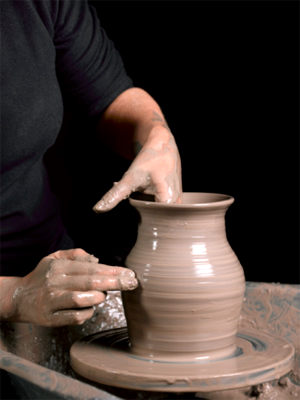 What wonder, your hands do weave
With a simple heap!
And with a swing in the wheel
You make a heavenly sprig!
Oh! You, great potter's wheel!

What creations are manifest
From the simple wheel.
With tender loving hands
The potter carves a feast
For many an eye to please!

Oh, potter's wheel,
What magic in you dwells
That such true to life images
Do spring up and linger
Pleasing the eyes and the soul.

As your wheels do turn
Weaving a pattern intricate
So does life's wheel run
To create a pattern
Leaving some remnants too intricate.

Image (c) Gettyimages from Kabir page on boloji.com