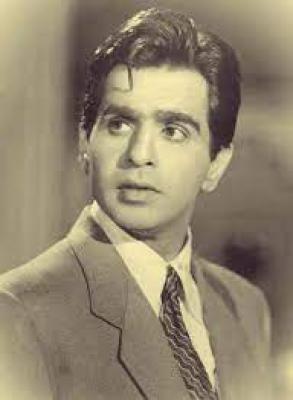 You were the boy from Peshawar
from the market of story-tellers*
followers of the Frontier Gandhi**
were massacred mercilessly
during our freedom struggle.
You strayed into the fairyland of Bombay -
like forest pools filled by monsoon rains,
with an undying smile always on your lips,
disciplined hairdo often misbehaving,
deep yet casual demeanour and style.
the man who became our tragedy king,
venerated by millions and millions
spellbound in the cinema halls
Delhi and distant Madras,
also elsewhere across the hinterlands
of the subcontinent where the Ganges flows.
You were adept at the art of pausing,
using the drama of silence between lines
delivered in soul-stirring voice
that spoke an impeccable accent.
Your swaggy gait that shamed the breeze
made you the man everyone liked to ape.
Whether it was Salim, the lovelorn prince,
or the heartbroken Devdas
giving himself up to wine,
you played on our emotions
shifting between exuberance unreined,
despair, frustration and pain
to become the book from which
Bachchan and other youngsters learnt their trade.
Perhaps, you wept in lonely nights
in the tinsel town of Bombay
reminiscing your Peshawar days -
a place destiny estranged and robbed you off
in the tragedy of a heartless partition
that bled a nation's psyche.
Perhaps you carried that pain in your eyes and heart
into the tragic roles you played.
You are nothing less than a new story
from the market of story-tellers.
You are the son of silent undivided India
that never ever can be divided,
no matter by whatever names
broken chunks of land are christened -
INDIA Remains and DILIP KUMAR Remains –
Peaks, valleys sing shrouded in mist
in the splendour of moonlit nights:
"Oh, stranger, come back, come back"
Hero of Madhumati***: "Please return to our midst
In a new avatar to enthrall us again".
*The birthplace of Dilip Kumar was Qissa Khwani Bazaar in Peshawar (now in Pakistan). The name of the place translates "Market of Story-Tellers".
**Khan Abdul Ghaffar Khan, the non-violent freedom fighter of undivided India who was against the partition of the country.
***Madhumati is one of Dilip Kumar's very successful films based on the theme of rebirth. "Oh, stranger come back…" is an oft-repeated song in that movie.
Image sourced from Google