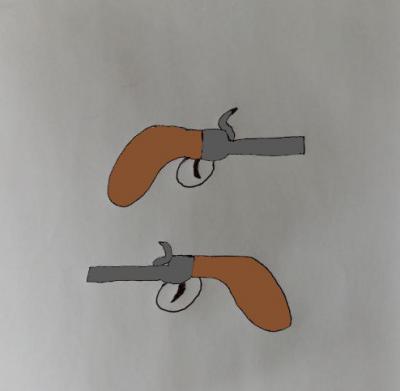 Two men died over a woman who was as beautiful as a jewel.
They both loved her and they both died when they had a duel.
This horrible incident occurred in the year 1802.
Two lives were lost when both men were through.
They turned and fired their pistols at the same time and killed each other.
What made the situation so horrible was that the two men were brothers.
But both men were being played by their lover, she was using both of them.
She was married to a wealthy man and she had no intention of leaving him.
Her husband was surprised and shocked because of what happened and because she felt no remorse.
When he learned that she cheated on him and used those two men, he was going to file for a divorce.
Because a prenuptial agreement would've left her penniless, she wanted her husband dead.
She tried to make it look like he committed suicide after she shot him in the head.
She pretended to be a grieving widow who was in pain.
But the jury wasn't fooled and she was executed in Spain.
Three men ended up dead and she didn't care in the least.
Before she was taken to the gallows, she asked for a priest.
She became a murderess and the judge, jury and executioner evened the score.
It was brother against brother like what happened during the American Civil War.
Image © Randy Johnson