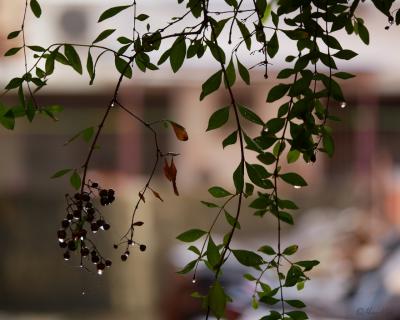 Copious rain has quenched their thirst
Fruits still cling to water globules
Still too dazed in the cloud outburst
While leaves revel in new costumes.
The near dry leaf on its way out
To comrades bids goodbye smiling
Whispering, almost in a shout-
Life is certainly beguiling!
Said a seed: Hold on to dear life!
Leaf said: "letting go yields much joy.
Life is filled with some peace and strife
You leave, to get back and enjoy."
'But I hate to leave' said the seed.
"The breeze will blow you off the tree
On your journey you will proceed
Past lands and end up in the sea.
Despair not, all will soon be well
From seashore to land once again
Into shoot you will spring and swell
In the new life, lost joys regain."