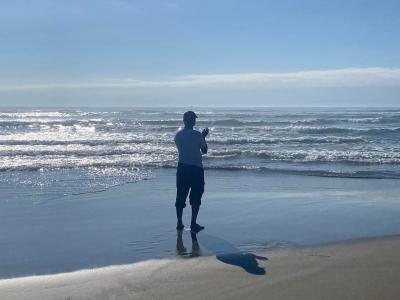 A road trip through the Pacific West,
from Seattle along Sequim,
all the way to San Francisco.
The Pacific roared beside.
Frequent signs warned of Tsunami hazard
While a warning at a trinket shop
showed an evacuation route,
an ice cream ad promised a tsunami of delight.
People thronged the beaches en route,
least worried, all in mirth;
a gigantic tide was last on their list.
At Ocean Shore, a man and woman stood in tight embrace,
the lady sobbing without respite,
a personal tsunami on the heave,
wreaking havoc on their aching psyche.
The Pacific just looked on beside.
Humanity seemed a cluster of ants
on the rim of a tea-cup left under a tap
savouring their last greedy grabs,
weeping over what is not.
Yet, away, unknown to them
two superpowers were locked
in an eye-ball confrontation
over things of least real concern
portending a nuclear conflagration.
Lo, the Pacific stands for peace
as her name really means,
while men portend real nemesis,
Image Copyright - Madathil Rajendran Nair