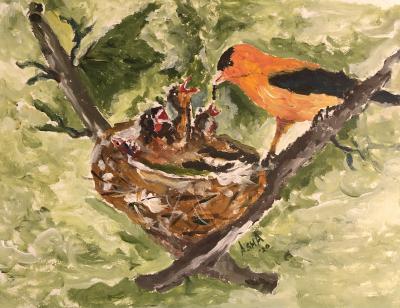 But I am the Mother!
Yes of course,
Yes! You are the Mother!
You were the chosen One,
Blessed to bring those Divine Souls,
For Sojourning their Earthly Goals.
Cosmic plots all Set,
Karmic games all Played,
In perfection all Plans so made,
Yes! For you the Mother Sublime.
But I am the mother!
I crave to say!
Open your Soul,
Say what Your heart
Desires to say!
It was that love innate,
Beyond a fathomable sign.
It all happened perhaps as
Divinely Grace was Graced.
I enjoyed and did what all
I could for needs and
Comfort of Souls,
Souls those blissfully
Chose to come through
This Being of mine.
Now all Grown, And on their Own,
Handling Challenges life gives as Known.
Being none of Me My Mine
In the Soul to find,
Scenes changed, Players changed,
For no reasons explained.
Still the Ownership of
"I Am the Mother"
Stays uncontrolled.
Perhaps the mother in me just
Forgot to Grow,
Forgetting, Role it was, Role it will be,
For every mother.
Yet the adamant little "i"
Lingers on with
But I am the Mother!
Yes! Of Course,
Yes! You are the Mother!
Blessed ever you'll be,
For bringing and caring for
Those Sojourning Souls for their
Umpteen earthly scenes.
You are the mother,
Mother Unconditionally Kind,
Perhaps can now offer the
Role of mother, Gratefully,
To merge with the Universe Divine.
Image Copyright - Asha Nigam