In a quiet Gurugram, under skies so blue,
Lived Catherine, a soul kind and true.
Her heart bloomed brightly with each rose she'd find,
A love affair with nature, forever entwined.

Around her gate, a rose bush she'd sow,
A testament of love, that would forever grow.
With gentle hands, she nurtured each seed,
Watching them flourish, her heart would heed.

Through dappled sunlight and gentle rain showers,
Catherine's presence whispered amidst the flowers.
She'd walk among them, their secrets she'd share,
Lost in their beauty, amidst gardens so rare.

From afar, Catherine sent a rose cutting,
To New York, her affection for Meera unrelenting.
Meera, tender-hearted, planted it with care,
Nurturing its growth, with devoted love to bear.

But fate after few years, its hand dealt,
Catherine's spirit soared, her presence left.
Her mortal form may leave this Earth,
Yet her essence remained, in joy and mirth.

In Catherine's absence, Meera's hands now tend,
With love and care, the rose bush, her friend.
She nurtures each bloom with tender embrace,
Preserving Catherine's legacy and grace.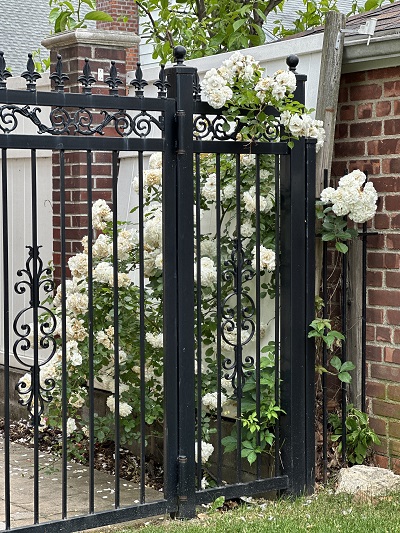 In Meera's care, the roses thrive and bloom,
Their vibrant colors dispel any gloom.
A testament to friendship and sweet devotion,
A living tribute to Catherine's emotion.

For Meera knows, in her tender embrace,
Lies the essence of Catherine's enduring grace.
She tends to the roses with love and delight,
Ensuring their beauty remains a guiding light.

So let us celebrate Meera's gentle reign,
Her hands, a symphony, nurturing the terrain.
In her care, Catherine's legacy will reside,
In the beauty of roses, forever tied.

Now, as twilight paints the sky with gold,
Her rose bush thrives, a tale to be told.
A tribute to Catherine, forever embraced,
Her spirit, entwined, will never be erased.
Image (c) Rajender Krishan