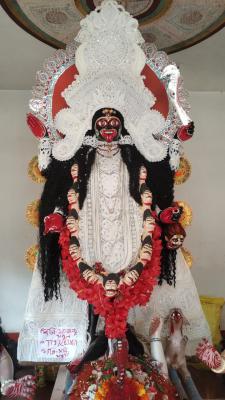 All say the NIGHT is nothing but you
After repellent darkness a day new,
The firefly that takes the PRIDE
Is none other than luminescent light,
A bud gets its fulfilment lonely
In darkness is YOU (mother) the latency,
The sun has got the ball of fire
From YOU, O SWEET MOTHER!
The cloud is devoid of guile white
Sailing in the space so bright:
Whiteness of impeccability is yours
The golden wings that the sun endures,
The moon is smiling among the stars
Glowing like thousands of night flowers.
O Mother: the beauty of the beauties
Give me endless strength as the bliss
To ruin the weaknesses inside me.
The ointment to the grave wounds
Is MOTHER KALI the power no bounds
I bend my HEAD down to thee!
Image © Ujjal Mandal