(Kevin Carter, the lensman from South Africa, was in Sudan in 1993 to cover the Rebel Movement that left the country hungry and famished. While taking photographs of famine victims, he spotted a little girl crawling to a UN food centre about one kilometer away. As he was adjusting the frame for her, a vulture appeared inside the frame. This photo revealed the misery so intensely that Carter won 1994 Pulitzer Prize. However, this shocking photograph invited criticism on the ethics of photo journalism. Unable to bear the guilt, Carter committed suicide on July 27, 1994 barely two months after receiving the prize.)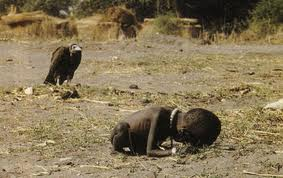 A famished skeleton,
age in single digits,
can hardly be called a girl
was crawling to a feeding centre
for a morsel of food and little water...

On the canvas of the war fields in Sudan,
thanks to the ruthless rebels,
her misery, her plight formed
a perfect object for an artist,
or behind the lens was there a sadist?

Kevin Carter, the photo journalist,
chanced upon the poor little thing,
one among the countless unknowns,
and adjusted the frame for her
when slow landed a vulture...

Kevin, the kid and the vulture -
three characters of the sordid drama,
had one thing in common - hunger!
Kevin to take the world by surprise for fame,
the kid for grains of food
and waiting for death of the kid by the vulture...

Hunger in different forms
is a fellow traveller of man,
it leaves man behind
and travels to destinations unknown to human

* * *
This picture of human tragedy
caught every body's eye,
Kevin received applause and Pulitzer prize,
but soon he was saddened
for when questioned he had no answer
to the girl's future:
whether she reached the feeding centre,
or became feast to the vulture?

A cloud of guilt
hung low on Kevin's sky,
he fell victim to his fame.
He followed the narrow row
of Marilyn Monroe, the fairy,
the lonely path of Sylvia Plath
and the sea way of Hemingway...
All longed for love and care!